German Unification Transport Project: New Marshalling Yard Opens in Halle
The German Unification Transport Project is made up of major transport infrastructure projects for road and rail and water to improve transport links between East and West Germany.
Of these projects, nine are rail-related. So far, projects 2–7 have been completed, with projects 8 and 9 currently under way. In addition, two sections of project 1 are currently not being pursued further.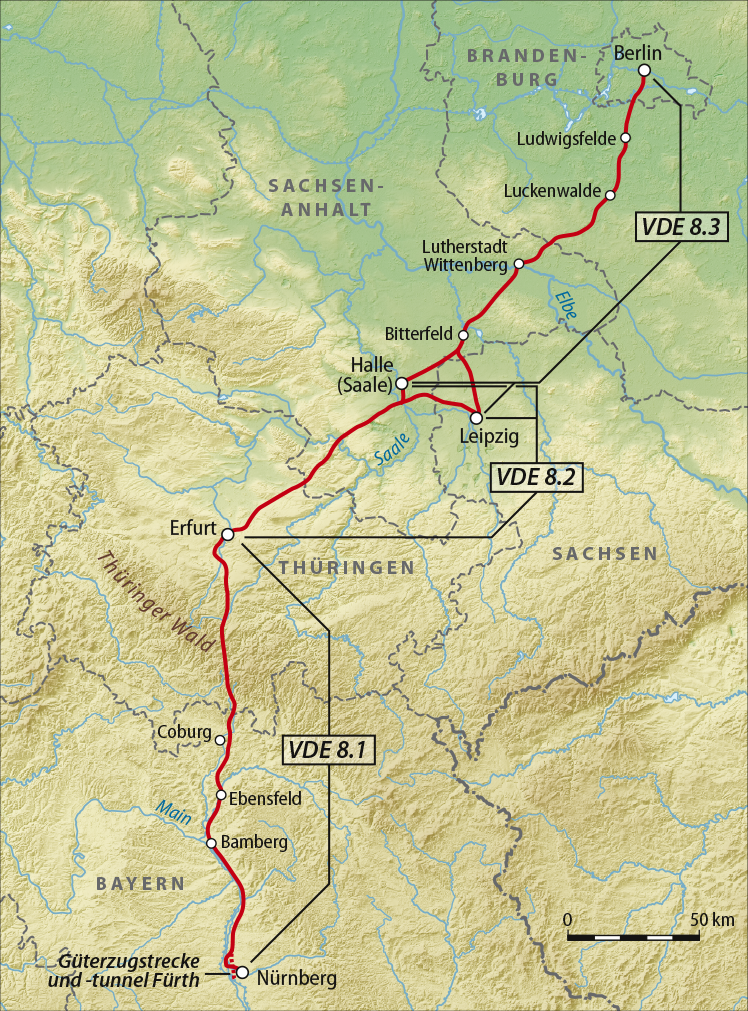 Project 8 is a high-speed line from Berlin to Nuremberg. It is subdivided into three sections:
1: Nuremberg-Erfurt
2: Erfurt-Leipzig/Halle
3: Halle-Berlin
The Halle Marshalling Yard
After a four and a half-year construction project the new railway marshalling yard in Halle has now begun operations. Built on the site of the former freight terminal in Halle, the new facility will be one of the most modern in Europe. The German government and Deutsche Bahn invested a total of 180 million euros. A cutting-edge feature of this yard is that the entire shunting and marshalling operations on the 36 tracks are controlled and monitored entirely electronically. The yard has a planned capacity of 2,400 rail cars per day, giving it sufficient capacity to increase freight traffic along the Berlin-Munich axis as well as towards southeast Europe.
Thomas Webel, Minister for State Development and Transport, Saxony-Anhalt, said:
"Saxony-Anhalt is long-established as a freight hub. This marshalling yard will open new prospects for national and international freight rail traffic. This modern shunting yard has a positive effect on the whole of central Germany; it will provide important economic stimuli and will secure jobs in the region."
Dr Gerhard Schulz, Secretary of State in the Federal Ministry for Transport and Digital Infrastructure, said:
"Halle has already become a significant hub in high-speed transport. Now Halle will become a modern hub in central Germany in freight transport too. With the federal investment of 150 million euros we are contributing to improving growth in freight transport and to shifting more freight to environmentally friendly rail transport."
Dr Roland Bosch, CEO of DB Cargo, said:
"Our customers in the steel and chemicals industries will benefit particularly well. The new marshalling yard will be an important hub in the European freight rail network as it is connected to the central German chemicals triangle and allows steel transports to and from the Czech Republic."
Dr Bernd Wiegand, Mayor of Halle, said:
"This makes the city of Halle one of the most important hubs for freight transport in Europe. The shunting terminal in Halle has existed for 130 years. With this cutting-edge marshalling yard Deutsche Bahn is following in the tradition that it has had in Halle and will continue it for the future."