Transport Sustainability: Much More Than Your Carbon Footprint
In this article, Nico Den Ouden, Global Sales and Marketing Director at ELeather, explores how customers are becoming increasingly focused on sustainability and environmental issues, and how transport providers are taking this into consideration when it comes to future designs. The article also considers how the travel industry as a whole can adapt to these changing demands.
By Nico Den Ouden, Global Sales and Marketing Director, ELeather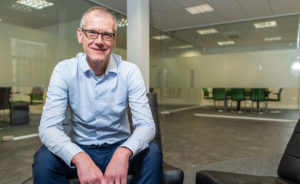 Most of us are concerned about our impact on the environment – until we start booking our summer holiday. Just as a glance at the restaurant dessert menu can spell the end of this week's healthy eating plan, the lure of foreign travel can make our good intentions fly out of the window. The south of Spain, Tuscany, the Seychelles – who considers their carbon footprint once they sit down to a session on TripAdvisor?
But that's changing. The Extinction Rebellion protest that paralysed central London in April showcased the power and size of the green movement. Campaigners highlighted the impact of travel on the environment, since tourism accounts for almost one in every ten tons of carbon emitted into the atmosphere.
There is more to sustainable travel than cutting out unnecessary flying. There is a burgeoning ecotourism industry that believes in minimising the impact on the environment, and in some cases even making a positive contribution to it. This is no fringe movement of New Age Travellers: one estimate is that there are more than 100 million "sustainable travellers" in the USA alone.
The trend for eco-friendly tourism looks set to continue with new generations, too. Younger consumers are significantly more likely to be concerned about sustainability, to the extent of being willing to pay more for eco-friendly products, which bodes well for the eco-tourism industry.
There's also a great deal more to sustainable travel than what you do on holiday and which resort you choose. How you get there is obviously important. Rail travel, for example, is increasingly possible for UK travellers now that Eurostar has massively expanded its list of direct European destinations from St Pancras.
Let the Train Take the Strain
Rail travel is an often-overlooked option for international travel, but the rise of eco-conscious travel promises a railway renaissance.
Even in the age of electric locomotives, rail travel still retains its sense of glamour, adventure, and comfort. While a fully-flat aeroplane bed is available only to those with deep pockets, a sleeping berth on a night train is well within any holiday-maker's budget. But there are other very good reasons for the eco-conscious traveller to choose alternate options.
A single return flight from London to Paris by aircraft will emit almost a quarter of a ton of carbon, while taking the same trip by train will cost only 22kg – perhaps less than your luggage weighs. Of course, not every international destination can be reached by rail, and not every traveller is intrepid enough to reach Beijing by rail (although it can be done – an adventure holiday in itself!).
Rail travel's green credentials should be obvious, but carbon emissions only tell part of the story. Not all trains are equally friendly to the environment. Just compare dirty diesels – belching out great clouds of soot, nitrous oxide and other nasties into the atmosphere – to the sleek, modern electric trainsets familiar to European rail travellers. But sustainability doesn't begin and end with the engine. It might not seem obvious given that they lack an engine, but carriages need to be eco-friendly and sustainable too.
Beyond the Carbon Footprint
Unless you've been lucky enough to ride on the footplate of an old steam locomotive, your experience of train travel will probably have involved sitting in an upholstered chair (discounting, of course, the plastic seating found in most Mass Rapid Transit carriages).
The materials that cover the seats in train carriages and other modes of transport are made from a range of materials, from the luxurious leather of first-class airline seats to the cheap fibres that most of us have to endure. And, remember, it's not just seats – many passenger cabins have trim material too.
Each transport operator has its own unique requirements when it comes to selecting materials for seating and cladding. These range from practical requirements such as durability, hygiene and easy cleaning, to safety concerns like fire resistance, to factors such as comfort and luxury – and, of course, colours that match the brand's colour palette. Whatever the passenger class, operators are looking for materials that tick all of the boxes.
In the quest for suitable and affordable materials, sustainability is rarely considered. It's easy to think that this extra attention to detail will cost train and other transport providers millions in the search for the perfect upholstery. In fact, you don't have to travel to the ends of the earth to find the perfect material.
Are You Sitting Sustainably?
There is a material that combines luxury softness with ease of cleaning and, what's more, is considerably lighter than many of other alternatives. (This last point may not sound like a particularly important consideration but for airlines – where every gram has a bearing on fuel efficiency – it can make a big difference.)
Engineered leather is created by taking unused leather diverted from landfill and then turning it into a material that maintains the comfort of traditional leather while gaining all the qualities that train operators and other transport providers are looking for.
So, what's the sustainability angle? Well, in common with many other industries, leather production is extremely wasteful. In fact, up to three quarters of traditional leather goes unused, with off-cuts heading straight to landfill. That's not to mention the greenhouse gases involved in raising cattle – in particular methane, a greenhouse gas that is far much more potent than CO2 – as well as deforestation and emissions from the supply chain.
It's easy to see how engineered leather involves a significantly lower environmental footprint compared to traditional leather, but the benefits don't end there. Rather than being an ersatz, less-refined material than traditional leather, the engineered version is almost indistinguishable from the real thing – certainly after you've sunk deep into a comfortable engineered leather armchair for a long journey. It's also easy to clean, low-maintenance, highly durable, and lightweight (a boon, as we've seen, for the aviation industry).
Engineered leather has yet more advantages, not least its versatility. It can be produced in an almost endless selection of colours and a wide variety of textures and grains. It's also easy to replicate these qualities across different batches, which is critical for maintaining uniformity across a cabin or carriage, and for ensuring that each passenger receives the same level of luxury.
So, if this magical material is all it's cracked up to be, why isn't it being used across the transport industry? Well, it is. To date, at ELeather we have supplied over 12,000 trains with our materials, and a further 12,000 buses as well. We have also helped over 200 airlines to become more sustainable. In fact, you might well have sat in an engineered leather chair and not noticed it – other than the fact that the seat seemed unusually luxurious.
Making Sustainability Fashionable
If you're still sceptical about whether engineered leather can really replace traditional leather, a look at the fashion industry should help you change your mind. That's because engineered leather isn't just used in trains, planes and automobiles – nor even solely for upholstery: some of the world's top clothing brands are also beginning to catch on to the benefits of this material.
For example, Nike launched its Flyleather shoes in 2017, manufactured using our own engineered leather – the footwear of choice, perhaps, for those who want to be sustainable without having to go 'full vegan'.
The desire to reduce our impact on the environment is not a fad or fashion, though – it comes from a deep-seated desire to do the right thing. And while sustainability might be an important and increasingly discussed topic, it's very much like the colour black: it will never go out of fashion.
That should provide food for thought for train operating companies and other transport providers. Basing your environmental credentials entirely on improved efficiency and a lower carbon footprint isn't going to cut much ice with younger generations who are intimately informed about green issues. They will expect this as a matter of course and will instead be questioning provenance and sustainability in areas such as the materials used in construction and outfitting trains, buses, aeroplanes and other modes of transport.
Engineered leather not only provides a way for transport operators to demonstrate a commitment to the environment: it is an investment that will more than repay itself over its lifetime in cheaper cleaning and improved durability, all while enabling any operator to provide a little bit of luxury for their passengers. As such, it promises that rarest of things when it comes to eco-friendliness: the chance to enhance your sustainability credentials while sacrificing nothing; to have your cake and eat it.