Transmashholding Acquires Rolling Stock Facility in South Africa
Transmashholding, the largest manufacturer of locomotives in Russia, announced on Monday, 29 October that it has received full acquisition rights of a 45,000 square metre rolling stock facility in Boksburg, South Africa. This is the result of the company having closed a sales deal with DCD Group Pty Ltd, a South African manufacturing and engineering solutions provider supplying a number of sectors including rail.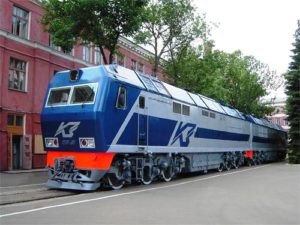 TMH Africa
This acquisition was made by TMH Africa, a subsidiary of Transmashholding. It is 70 percent owned by Transmashholding and 30 percent owned by Mjisa Investments, the Black Economic Empowerment partner. Transmashholding entered the South African market in June 2018 when it invested 50 billion South African Rand (3 billion euros / 3.4 billion US dollars) into acquiring a new subsidiary, TMH Africa.
The funds for acquiring the rolling stock manufacturing facility have come from this 50 billion Rand investment. Transmashholding says that this acquisition will allow it and its partner Mjisa to do its part for South Africa's inclusive economy by creating jobs and developing workers' skills, following the main priorities in the South Africa National Development Plan.
The Boksburg production site will be TMH Africa's gateway location in the country. It will be used for the assembly, maintenance and refurbishment of rolling stock.
Martin Vaujour, TMH International AG CEO, said:
"We are very proud of closing this deal. This is a major milestone in our investment strategy to create local champions in our markets. Boksburg becomes the TMH Group narrow gauge industrial site, and we are looking forward to serving customers worldwide from our African setup for both services and sub-assembly manufacturing."
Jerome Boyet, CEO for TMH Africa, said:
"This newly acquired renowned world class manufacturing facility demonstrates our Africa growth strategy, giving TMH an unparalleled position in the railway sector. Combined with the TMH full suite of innovative technologies, this facility will be the home of African produced and African designed rolling stock solutions. The acquisition will unlock our global expansion strategy, which will pave the way to capture further growth opportunities in South Africa, Africa and worldwide narrow gauge markets."