Trackmobile Rail Car Movers Keep the Workflow on Schedule in Yards and Facilities
A Trackmobile rail car mover pulls a train of rail cars filled with yellow sulfur at the Enersul sulfur processing plant near Pincher Creek, Alberta, Canada. A byproduct of oil and natural gas refining, trainloads of sulfur arrive, where it is processed, formed, and eventually shipped out for use in other products.
Enersul moves all its sulfur by rail. Instead of moving rail cars with locomotives that are expensive and confined to track use, Enersul relies on Trackmobile rail car movers offering bimodal flexibility to go on and off the rail.
The company's newest model, the Atlas, features up to 27,306 kilograms (60,200 pounds) of tractive effort, making it possible to pull from 20 up to 50 freight cars under the right conditions. The Atlas is one of four rail car movers manufactured by Trackmobile LLC of LaGrange, Georgia. Since the company's inception in 1948, it has manufactured its rail car movers with steel wheels because of the longevity and consistent traction in varied weather conditions.
The Titan (shown at Enersul) was the largest rail car mover, prior to the launch of the Atlas model, at 22,453 kilograms (49,500 pounds). David Puddell, Enersul plant superintendent, says:
The Titan is a muscle machine. It has all the pulling capacity for what we need to do.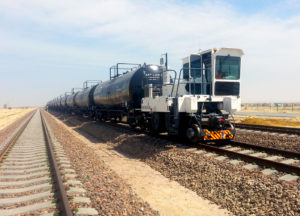 Next in line is the Hercules, a mid- range class vehicle with up to 20,865 kilograms (46,000 pounds) of tractive effort. There's also the Viking, the nimblest of the three, with up to 20,336 kilograms (44,900 pounds) of tractive effort. With a flip of a lever inside the cab, operators can temporarily increase the tractive effort by hydraulically lifting the rail car and transferring up to 22,226 kilograms (49,000 pounds) to the wheels of the rail car mover.
Power is transmitted to the rail-drive axles through a FunkTM PowerShift DF150 transmission with a torque converter mount that delivers four speeds forward and reverse with selectable automatic or manual shift. Trackmobile now offers telematics standard on all these rail car movers, making it possible to monitor the entire Trackmobile system, including the PowerShift transmission, from a remote location via the internet.
While telematics capabilities are relatively new to the rail car movers, PowerShift transmissions are not. Trackmobile has been installing them on its rail car movers for more than two decades and today purchases them from its distributor, Flint Equipment Company. Michael Young, Trackmobile sales and marketing manager, attributes this to years of proven performance:
The powertrain is so critical. The average rail car loaded with product weighs about 268,000 pounds (121,563 kilograms), which is a lot of weight. Multiply that by 40 rail cars, and the Trackmobile is pulling over 10 million pounds (4,862 metrics tons) of weight — and that comes to bear on the transmission and drive system. It's really pretty incredible what the PowerShift transmission does.
Performance goes beyond pulling heavy loads. Conditions at the Enersul sulfur plant in Alberta are extreme. Young says:
It's miserably cold in the wintertime — and the environment is harsh, with large amounts of corrosive chemical. It works in a tough environment in a tough application.
Puddell can attest to these harsh conditions, as well as the pressure to keep rail operations flowing day in and day out. He adds:
Our partners that we deal with every day are in the oil and gas business. We have a deadline once our rail arrives, and we cannot have anything that can hinder us from accomplishing our goal. If we have any type of glitch that stops that flow, it will shut down the entire gas plant. The Titan performs exactly as we expect it to do.
Enersul has been using Trackmobile rail car movers for years, and most are still running after decades of hard use. Young concludes:
We think it's due to the quality of the components that we have, specifically the Funk PowerShift transmission. It's very robust.
Author Rights
Publication rights: Article republished with permission from John Deere Power Systems, copyright 2017. Article originally appeared in the Fall, 2017 issue of Industrial PowerSource, a publication of John Deere Power Systems. For more information or to read the entire magazine, visit our website www.JohnDeere.com/powersource.
FOR ALL THE LATEST INFORMATION, NEWS, IMAGES, VIDEOS AND DOCUMENTS FROM TRACKMOBILE PLEASE CLICK HERE.