Products and Services for More Safety, Reliability and Availability of Your Railway Tracks from Thermit Welding (GB) Ltd
Thermit Welding (GB) Ltd, part of the Goldschmidt Thermit Group, offers a wide range of new and innovative solutions to provide significant improvements all across the railways. From enhanced rail cooling devices to improvements in digital monitoring of the weld process, Thermit Welding and the whole Goldschmidt Thermit Group are pioneering advancements to the railways worldwide.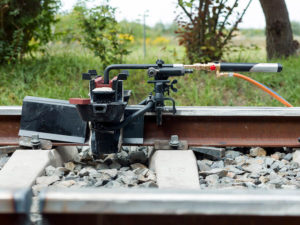 GOLDSCHMIDT GOES DIGITAL
A big priority in 2018 for Thermit Welding is to increase the use of digital solutions. The SMARTWELD RECORD is one such device that highlights our answer to this requirement for digitisation. The SMARTWELD RECORD allows for digital recording of the entire weld process, including preheating pressures. This is facilitated by the SMARTWELD Application, part of the GOLDSCHMIDT DIGITAL APP, with the data being stored to an android device with further options to export the data to the cloud. With devices such as the SMARTWELD RECORD digital weld inspection and automated weld data gathering are no longer ideas of the future.
EFFICIENT TOOLS AND MACHINES FOR TRACK WORKS
Following along with our focus on both safety and efficiency Thermit Welding offers new enhancements to our range of tools and machines for track works. One example of these tools is the RD 300 P, the latest rail drill from the Goldschmidt Thermit Group. The RD 300 P enables quick and precise drilling of the rail web, allowing drilling times of 20 to 60 seconds dependent on the hole diameter and rail hardness, and comes equipped with an enhanced quick clamp device. The device also brings ergonomic benefits due to its light weight and perfect centre of gravity. Through safer and higher performance our tools enrich the day-to-day working of a rail engineer.
One of the latest devices, pioneered by Thermit Welding (GB), is the SMARTWELD ACE (Accelerated Cooling Equipment) that has been designed to decrease the overall cooling time of a weld. The SMARTWELD ACE is a purpose-built battery-powered water misting system, engineered to be placed on top of an aluminothermic weld following the shearing of the weld. By removing a greater proportion of the weld waste material (via the Gull wing shear blade) and then applying a fine water mist to the cooling weld approximately 15 minutes can be saved per weld. Thanks to careful development and testing Thermit Welding can guarantee that this time-saving method will have no effect on the high quality that a THERMIT® weld is known for. Further to this, cost savings are also possible with this device as it allows for more welds to take place in given possession times.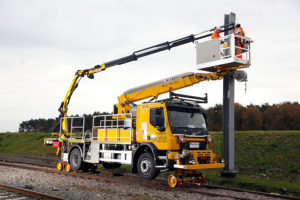 © Goldschmidt
ROAD-RAIL VEHICLES: UNBEATABLE MOBILITY ON THE TRACKS
The road-rail vehicles from the Swedish group company SRS Sjölanders AB can be used both on rail and on the road and are custom-made to meet your needs and requirements thanks to different attachments and superstructures. Road-rail vehicles are available for the installation, inspection and maintenance of overhead lines, bridges & tunnels and welding as well as cranes & rescue applications. We can also offer special road-rail vehicles in modular construction, with heavy cranes and trolleys and road vehicles for different applications.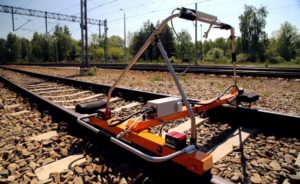 © Goldschmidt
RAIL MEASURING SYSTEMS FROM GRAW
GRAW, the latest member of the Goldschmidt Thermit Group specialises in the development and production of computer-controlled geometry measurement devices and systems for tracks and switches and for the rolling stock wheels. They manufacture portable devices and also develop real- time systems for track geometry vehicles as well as stationary wheel geometry systems. Furthermore, GRAW has extensive experience in developing software for the collection, processing, analysis and storage of measurement data.
For more information and to see Goldschmidt's products demonstrated live, visit them at Rail Live Booth E21