Thales Launch BV600 On-Board Validator
Thales Transportation has launched its next generation on-board validator at the Transports Publics Exhibition 2016 in Paris. The BV600 offers multiple modes of payment on-board trams and buses, including swiping contactless bank cards and mobile phones. Its robust and compact module is the result of Thales considerable experience in the area of on-board payment methods.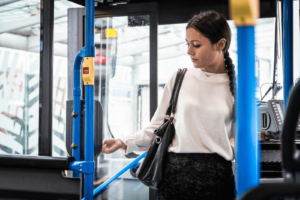 The BV600 is part of its TransCitytm offer of ticketing solutions. The BV600 is innovative and offers a comprehensive ticketing solution which is based on web orientated technology. It will vastly improve the passenger experience and simplify operations for operators.
The current generation of TransCitytm ticketing equipment is being rolled out now in Bordeaux in France, Lusail in Qatar, Hoekse Lijn in the Netherlands and Gautrain in South Africa. Thales is currently the only ticketing solutions provider delivering national interoperable systems to the Netherlands and Denmark.
Passengers can use multiple methods of payments, from traditional travel cards to cellphones and contactless bank cards. It is anticipated that other formats, such as barcodes and Bluetooth, will soon be available.
The BV600 unit itself is small and compact, as well as reliable and robust. It can be situated on various modes of transport, including trams, buses and taxis. It also offers interoperability on all modes of transport which will enable seamless travel.
Thales is an international leader in multimodal, multi-operator, public transport ticketing systems, with operations in more than 100 cities around the world. Thales processes more than €15 billion of transactions every year.