Ruggedized Industrial Ethernet Switches for Cabinet-Free Networking Directly in the Field
Reliable, robust and efficient networking of machines, trains, commercial vehicles and agricultural machinery, decentralized without a control cabinet directly in the field.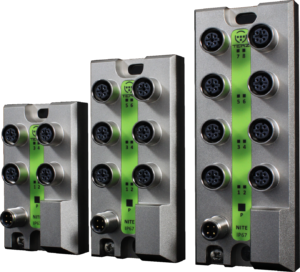 Ruggedized Industrial Ethernet Switches M12 IP65/67
NITE-XS
The new NITE-XS M12 Ruggedized Industrial Ethernet Switches from TERZ are perfectly suited for use in harsh industrial environments outside the control cabinet and for networks in passenger trains, buses, commercial vehicles and agricultural machinery.
Dust-proofed and protected against water jets, the world's most compact IP65/67 TERZ Industrial Ethernet switches save valuable space in control cabinets and reduce the costs and expense of network cabling. The retrofitting of existing applications in which the installation space in the control cabinet is exhausted, is just as possible as the construction of optimized new installations with the focus on the decentralization of the components.
The ultra-compact switches come with 4,6 and 8 D-coded M12 ports and provide a 24 VAC/VDC power supply with inrush current limiting and reverse polarity protection. Due to the extended temperature range of -40°C to +70°C, a dielectric strength of 2.25 kVDC, excellent EMC performance (DIN EN 50121-3-2) and fire protection according to DIN EN 45545, the NITE-XS Industrial Ethernet Switches are suitable for use in trains and comply with DIN EN 50155.
With two different frame forwarding/blocking variants (LLDP/PTCP), all applications are optimally supported. By supporting Autonegotiation and Auto MDI-X a quick and easy commissioning is possible.
The TERZ NITE-XS Ethernet switches integrate seamlessly and transparently into any industrial network and PROFINET application.