Successful Graffiti Removal and Prevention: Sustainable As a Basic Standard
Get Rid Of Graffiti Straight Away!
Rolling stock is the preferred target of rebels and would-be artists who leave their tags behind as a parting gift – inside and out or anywhere around. Railway companies and operators often get caught up in this game of cat and mouse. Get rid of graffiti straight away to help keep copycats at bay! And take good care of your reputation at the same time.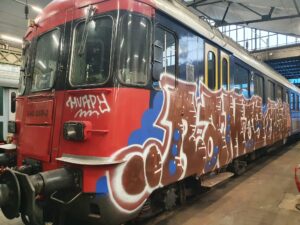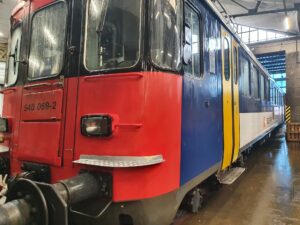 Customer expectations are high, when it comes to feeling comfortable and safe. The feeling of security plays a major role for customers, especially at train stations and in public places. All the efforts of the railroad companies are very much appreciated there and no matter the time or location, BIOforte's experts will be there in a flash – even while trains and stations are in use.
Successful Removal in Challenging Locations
Graffiti artists are very creative in leaving their art in hard-to-reach places. BIOforte can rely on an experienced and skilled team that can do a great job even in unusual locations. Whether along railroad tracks, on bridges, in underpasses, on building façades or even monuments, art objects or towers, BIOforte is happy to restore cleanliness. BIOforte removes unsightly infestations of microorganisms on all kinds of materials such as masonry, concrete or Eternit, and will deliver protection against new infestations (5-year guarantee). BIOforte can also offer convincing results for the removal of chalking from metal façades, incl. paint refreshment and graffiti protection.
Good Preventive Care Pays Off
"Good, prompt planning saves money, effort and frustration.
Exposed surfaces and valuable rolling stock can be given lasting protection even when brand new, so that, even if they do become targets for graffiti, they can be cleaned fully, quickly and efficiently without delay using appropriate, VOC-free cleaning products – and not just by cleaning experts, but by your own staff too."
This also avoids the need for costly service disruptions, logistical replanning, and other expenditure.
Use of Sustainable Products & New Technology Coming up for Easier Handling
At the request of customers and because it is the company's aim to take care of people, the environment and materials, we at BIOforte only use environmentally friendly and resource-saving products – biodegradable and free from microplastics and VOCs. And soon a new era for graffiti cleaning products awaits us with the new tab technology. It offers the advantages of lower storage costs, less waste and with a CO2 reduction in the entire logistics chain, the products remain convincing with the same strong cleaning power and easier handling.
NextGen in Place
Anja Mannartz and Filippo Elefante, NextGen at BIOforte, have already gained many years of experience in this specialised field and are now ready to support leading the management into the future.

"The situation with graffiti is similar all over the world and we see our role in providing a contribution to making the world a cleaner and safer place in the future.
This is where our long-time expertise of BIOforte comes in. We can advise the people charged with removing graffiti, offer further training for their staff and deploy our own experts to deal with critical cases or particularly sensitive surfaces."
BIOforte Offers You the Following Advantages:
Specialist services in any location at a time that suits you
Rolling stock is soon ready for use again
Use of non-toxic, high-performing removal and protection products tried and tested in a wide variety of situations and approved by major railway companies
Training, advice and sales of professional products and equipment
20 years of experience across Europe with an extensive list of references