Stadler KISS Double Decked Trains Presented in Georgia
Stadler Bussnang AG presented the latest Stadler Kiss double decked trains at a ceremony at Batumi Centrali on 22 July 2016. The first of four two new electric trains entered the station for guests to inspect them inside and out. The acquisition of the trains was made possible by revenue from freight transportation in Georgia in 2014-2015.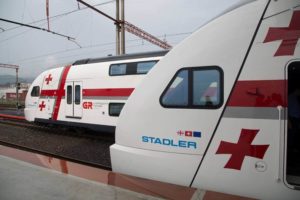 Four Stadler Kiss double decked trains were purchased by the JSC (Georgian Railway). The trains will operate services from Tbilisi to the Black Sea Coast from next week. The trains meet European standards as well as those in Georgia. They are also the first trains in Georgia to meet the needs of disabled passengers.
Konstantin Guntsadze, Chairman of the Supervisory Board of JSC, said:
"It is a new stage in the history of the Georgian railway. The Georgian railway continues the implementation of a new strategy, an integration in a global transportation logistic network – execution in our shortest Euroasia corridor of special, considerable and active function and what is the most important, the contribution and servicing of the growing flow of tourists in our region. I'd like to take an opportunity and thank everyone who has brought an active contribution in this noble initiative."
Mamuka Bakhtadze Director General of JSC, said:
"We today in the history of the Georgian railway are the witnesses of the beginning of a new stage of the development. I'd like to declare with full responsibility, that for all its history the Georgian railway had no so high-class and standard rolling stock. Respectively, it is a new step in the development of history of our company. I want to tell you that the Stadler company is one of the leading brands in the railway industry. Many railways of the European countries are equipped with their technologies and today to this number the Georgian railway is added as well and this is a great honour to us."
Markus Zauyerbrukh, Director General and Executive Vice-president of Stadler Altenrhein AG, said:
"It is a considerable factor for our company that we are presented at the market, we are proud that the delivered trains differ in high technologies and advanced design."
Giorgy Chogovadze, Head of National Administration of Tourism of Georgia, said:
"It is difficult to speak without an emotion when the product of such level and infrastructure enter Georgia. It was possible to dream of it several years ago. Such fact is especially pleasant on the background when the number of tourists dynamically grows in Georgia. I am glad that the Georgian railway has offered such type of a product – of which many countries still dream – not only to tourists, but also to our citizens traveling in the direction of Adjara."