Rocky Mountaineer – Stadler Partnership
Stadler Rail and luxury tourist train operator Rocky Mountaineer have announced their partnership to develop a new railcar for the Canadian fleet of custom-built GoldLeaf railcars. The Rocky Mountaineer – Stadler Rail partnership relates to ten new completely new railcars to be delivered in 2018. The partnership will develop a re-engineered, efficient railcar with high levels of passenger comfort. The railcars will be manufactured in Stadler's facilities in Switzerland and Germany.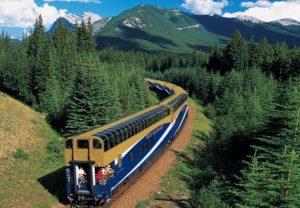 Rocky Mountaineer is currently undertaking an overhaul of GoldLeaf and SilverLeaf fleet of railcars. The overhaul marks the biggest capital investment in Rocky Mountaineer's history, since it began running in 1990. The newly designed railcars will feature its iconic, bespoke bi-level glass domed railcar – the first to be added to the fleet since 2007.
Rocky Mountaineer – Stadler Rail Partnership
Rocky Mountaineer is a Vancouver-based company, offering a total of 65 holiday packages on trains running through Seattle, WA, Vancouver BC and the Canadian Rockies, as well as luxury cruises. This partnership with Stadler, is a demonstration of its success in innovation and strategic growth.
Steve Sammut, president Rocky Mountaineer, said:
"We are constantly looking for ways to improve our guest experience which is the core of our business. The care and attention that has gone into every detail of this car build is remarkable. We are focused on redefining comfort for our guests. Stadler is a leader in railcar engineering, and working with them allows us to re-invent our most luxurious class of service from the ground up."
Peter Spuhler, CEO and owner of the Stadler Rail Group, said:
"We are very proud to have won this order for these high-quality coaches and would like to express our gratitude for the trust that has been placed in us. Tailor-made is one of our core business areas and therefore, we are convinced that we will deliver on all wishes and needs to the complete satisfaction of our new business partner together with our Stadler team."