EMS provide an exceptional range of aluminium grid entrance matting systems with a selection of heavy duty infill materials, including specialist natural rubber specifically design for the Rail and Transport sector.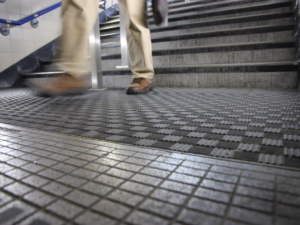 Why choose EMS Rail & Transport entrance matting systems? Here are some reasons why EMS is the best for Rail & Transport entrance matting:
100% recycled and recyclable aluminium grid systems and frames
Section 12 natural rubber infill material
Multi-directional anti-slip design
Extra Heavy Duty
Recycled and recyclable infill materials
Drainage options
Bespoke sizes and easily cut on site
Experienced installers
Want to match your Rail or Transport Network colours with your entrance matting? EMS have a selection of coloured scraper bars to choose from or contemporary anodised aluminium colours.
EMS started in 1999 offering a huge choice of colours in a very grey industry.
EMS continues to develop and add to the colour choices throughout all of the entrance matting ranges on offer. This includes Rail and Transport specific entrance matting with the addition of anodised aluminium grid systems and frames as well as EMS's unique colourful scraper bars.
Adding colour to entrance and exit areas is a great way to show brand colours as well as regional colours as well as the ideal solution to many visibility and other safety concerns. EMS Colortread entrance matting is specified at numerous Railways in their specific colours.  A recent example is Willesden Junction Railway Station chose Colortread CT005 ribbed rubber infills with contrasting orange scraper bars (as shown below).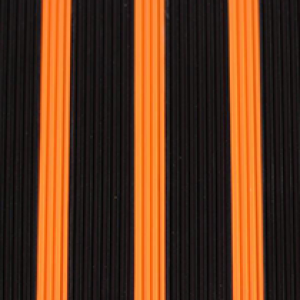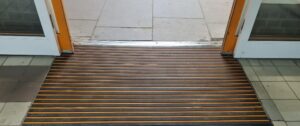 © Entrance Matting Systems Limited
The London Underground
The London Underground has the strictest health and safety requirements for entrance matting, especially in relation to fire and smoke emissions. EMS LU Multi-track section 12 entrance matting system was specifically designed to meet these requirements.
EMS Multi-Track entrance matting system comprises of a solid aluminium grid system, with debris channels to collect dirt and other debris. The aluminium is 100% recycled.
The Natural Rubber infill strips are manufactured in the UK, using natural rubber and moulded into EMS's exclusive and unique multi-track design. The rubber infill material has been designed and manufactured to produce this specialist section 12 low smoke emission rubber. EMS Multi-Track entrance matting is extremely Heavy Duty, anti-slip in multiple directions and sustainable.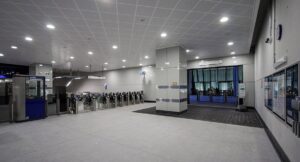 © Entrance Matting Systems Limited
EMS Section 12 Multi-Track Natural Rubber Entrance Matting System
The same moulds have been successfully used with the non-section 12 multi-directional rubber infill; this offers similar infill material properties as above at a lower price for non-section 12 stations.
Both systems have been successfully trialled and specified in numerous stations across the UK. EMS have worked with contractors to resolve particular station's complications as well as adapting our products to suit specific drainage systems; for example the 80/20 drainage system used at several LU stations.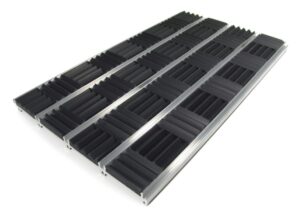 Not just Rail – The LU section 12 and non-section 12 multi-track entrance matting systems are suitable for any high traffic areas, especially suited to other Transport and marine applications.
If you have any questions, would like further information or a quotation, please give EMS a call on +44 1205 761757 or email sales: [email protected]
This article was originally published by Entrance Matting Systems Ltd.