SNCF's First Coradia Liner Enters Service
The first Coradia Liner V160 trains entered commercial service on Monday, welcoming the first passengers on the Paris-Troyes-Belfort Intercity line. This new generation of main line trains has been developed from Alstom's Coradia Polyvalent platform. Coradia Liner supports the policy of renewing Corail trains on Intercity lines.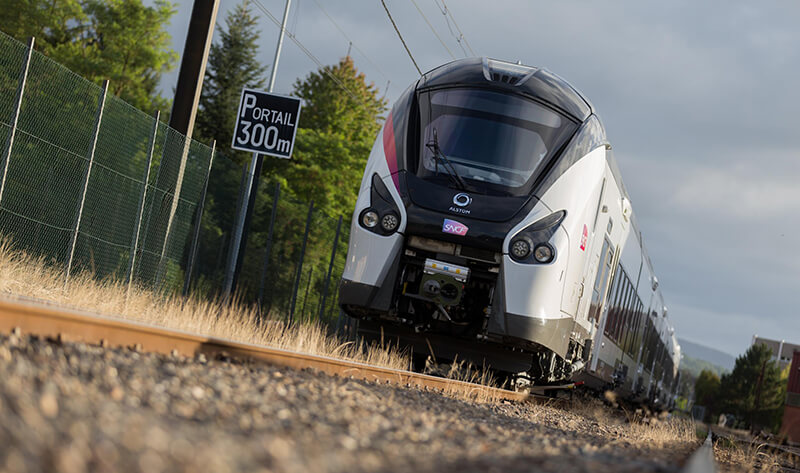 In October 2013, SNCF ordered 34 Coradia Liners, the latest generation of Alstom main line trains, for approximately €350 million.  This new material will mainly be deployed on non-electrified and partially electrified lines: Paris-Troyes-Belfort, Quimper-Nantes-Bordeaux-Toulouse, Paris-Amiens-Boulogne, Nantes-Lyon   and Bordeaux-Lyon.
Jean-Baptiste Eyméoud, President of Alstom in France, said:
"Intercity passengers will benefit from new trains that are accessible, comfortable and very reliable. Coradia Liner has been developed from the Coradia Polyvalent platform which benefits from the return on experience of the 178 trains already delivered thanks to the excellent cooperation between the SNCF and Alstom teams"
Alstom's Coradia Liner
Coradia Liner V160 comes in two lengths (72 and 110 metres) and two types of engines (electric or bimodal diesel/electric). These trains can accommodate up to 269 passengers, and run at 160 km/h.
Benefiting from the proven core technologies of the Coradia Polyvalent trains, Coradia Liner meets SNCF's requirements perfectly in terms of performance, comfort and passenger service. The low floor throughout facilitates access to the train, in particular for passengers with reduced mobility; on-board movement is more fluid, with spacious passenger zones. New reclining seats are equipped with fully upholstered armrests and equipped with electric sockets and a coat hanger. The specifically designed floor covering softens the ambient noise. Finally, large bay windows, partitioned areas and soft LED lighting enhance passengers' feelings of comfort. The on-board service agents benefit from their own dedicated area.
The design of this new main line train allows the operator to offer a large number of on-board services to passengers (meals brought to your seat…). Innovative technical solutions allow Coradia Liner to reduce travel times: wide doors and platforms optimise passenger circulation. Acceleration and braking capacities have been improved thanks to distributed power throughout the entire train.  Lighter, the train's energy consumption will be much lower than the previous generation of main line trains. The train's architecture has been specifically designed for ease of maintenance. Coradia Liner complies with current European standards and can be used on all tracks of the conventional network.
The design and manufacture of the Coradia trains secure over 4000 jobs in France with Alstom and its suppliers. Six of the twelve sites of Alstom in France are involved: Reichshoffen for the design and assembly, Ornans for the motors, Le Creusot for the bogies, Tarbes for the traction chains, Villeurbanne for the on-board electronics and Saint-Ouen for the design.
Original Article © Alstom