Alstom Delivers Coradia Polyvalent Regional Train to Romania
Alstom presented its Coradia Polyvalent regional train in the Northern Railway Station of Bucharest, on the occasion of the "Railway Pro Investment Summit" event. Designed and produced in France, the train, especially built for Romania, is fully functional but without interior fittings.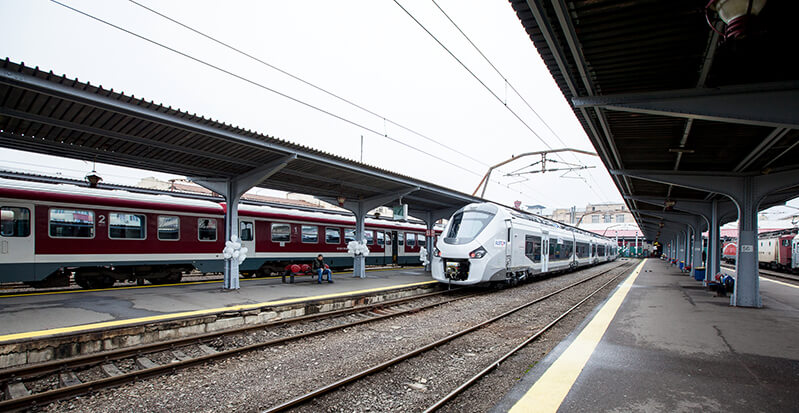 The design, configuration and fitting of its interiors will be entirely performed locally in accordance with specific requests from the customer. These works are expected to be completed in the first quarter of 2017. The delivery of this train, fully equipped with testing capabilities, is part of the Sighișoara-Simeria signalling rehabilitation project signed in 2014 with CFR Infrastructura.

The project consists in the extensive modernisation and signalling works on the 170 km high–speed railway segment Sighișoara-Coșlariu-Simeria to be equipped with Atlas 200, Alstom's ERTMS Level2 solution. It includes the delivery to CFR of one regional train, a Coradia Polyvalent dual-mode (electric and diesel) in order to test and measure the performances of the supplied systems.

Gabriel Stanciu, Alstom Managing Director for Romania, Bulgaria and Republic of Moldova, said:
"Alstom is one of the leading train manufacturers in the world and yet Romania didn't have any Alstom train until now. This is about to change with the arrival of this Coradia Polyvalent, which I hope to be one of many Alstom trains, urban or regional, to circulate in Romania. Although this first train will have a very specific destination for CFR Infrastructura, for its railway infrastructure rehabilitation projects, this highly performing model is ideal as passenger train for our country, given how well it responds to local landscape, technical requirements and capacity needs. This is a landmark train for the entire South-East Europe region." 
This four-car train is part of the Coradia regional train family, one of Alstom's best-selling product ranges in Europe and it displays all the qualities of the Coradia range: high degree of modularity, safety and respect for the environment, 90% of its components being recyclable. It is able to circulate on both electrified and non-electrified lines at a maximum speed of 160 km/h.
Please click here for the original article.