Siemens Completes First Brightline Trainset
The first Siemens built Brightline trainset, comprised of two locomotives and four coaches adorned in Brightline Blue, is complete and has left the company's manufacturing hub in Sacramento, California. Prior to its departure, hundreds of Siemens employees who worked on the trainset gathered to commemorate the completion and say "bon voyage."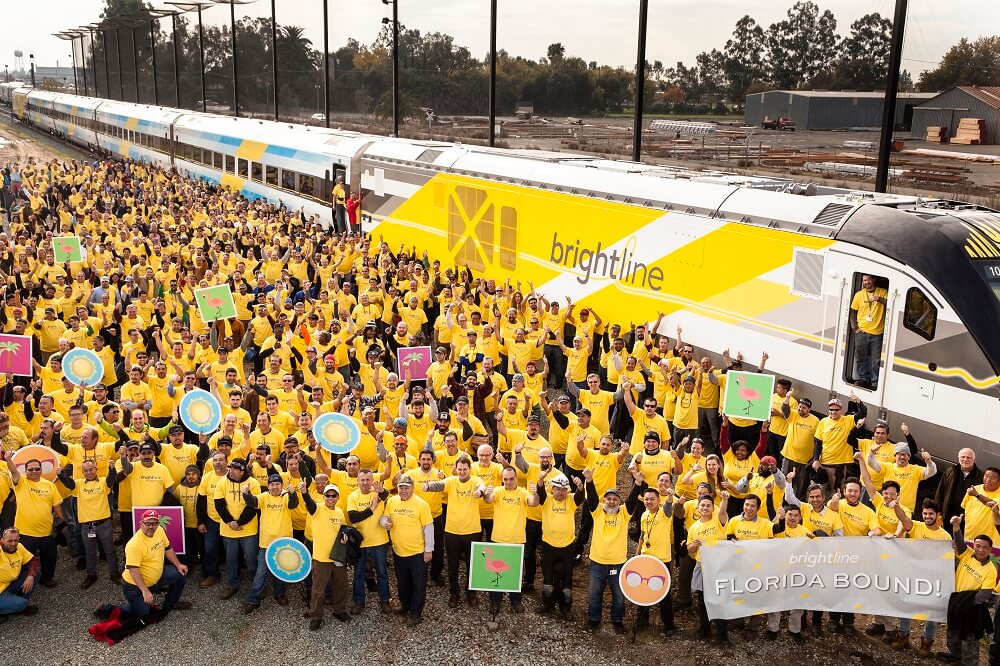 The first trainset is approximately 489 feet long and is being transported across the country via rail, journeying 3,052 miles from Sacramento to Florida. Construction on the first car shell began in July 2015. Four additional trainsets for Brightline's first phase are being built at Siemens. Brightline expects delivery of these additional trainsets in four additional bright hues: pink, red, orange and green by the end of March.
"Having our first Brightline trainset completed and on its way to Florida is a major accomplishment and brings us one step closer to the introduction of our innovative new train service"

"Once in Florida, our operations team will begin the required testing as we ready to launch Brightline between Miami, Fort Lauderdale and West Palm Beach next summer."
Michael Cahill, president of Siemens Rolling Stock, added:
"Building the first full trainset for Brightline is an extremely exciting milestone both for future riders in Florida and also for the many professionals who worked hard at our Sacramento manufacturing hub"

"Building these trainsets utilized the latest in modern manufacturing techniques, a vast supply chain and leveraged the best in Siemens engineering and manufacturing know-how. We are all extremely proud to see the first one come to life and make it one step closer to ushering in a new era of modern transportation in Florida."
Brightline's trains are built as integrated trainsets, comprised of two diesel-electric locomotives and four high quality stainless steel coaches. These clean diesel-electric locomotives will meet the highest emissions standards set by the federal government. The integration improves ride quality and makes for a much quieter ride. There is a bright yellow locomotive on each end, for high reliability and redundancy.
The trains, 100% Buy America compliant, are being built by 1,000 employees at Siemens 60-acre rail manufacturing hub. Siemens has also developed a robust and diverse base of U.S. rail suppliers to support the next-generation of rail manufacturing for Brightline including components from more than 40 suppliers across 20+ states with additional suppliers still being added. The company will also be providing maintenance for the Brightline trains when they are in operation in Florida, supporting full-time employment for approximately 70 Siemens and 40 Brightline employees.
For the original article, please click here.