Shock and Vibration Resistant Industrial Ethernet Switches from TERZ
Robust, vibration-proofed and reliable networking of machines, automation systems and vehicles in harsh environmental conditions.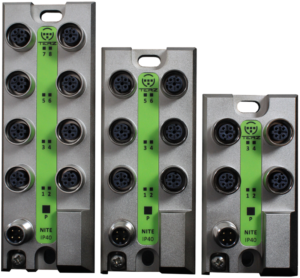 Industrial Ethernet Switches M12 IP40 NITE-XK
Thanks to the secure M12 connection technology, the new NITE-XK shock and vibration resistant Industrial Ethernet switches from TERZ are perfectly suited for use in harsh industrial environments and for networks in passenger trains, buses, commercial vehicles and agricultural machinery.
The 24 Volt AC/DC supply voltage is redundant and protected against polarity reversal and works reliably even with undersupply of less than 10 volts. The tolerance to voltage dips and inrush current limitation allow a stable operation. Due to the extended temperature range of -40°C to +70°C, a dielectric strength of 2.25 kVDC and excellent EMC behaviour, the NITE-XK Industrial Ethernet switches are suitable for use in trains and comply with DIN EN 50155.
The priority-driven packet forwarding (Quality of Service) ensures maximum efficiency in data communication. The ultra-compact switches are the smallest IP40 switches worldwide with a width of only 49 mm are available with 4,6 and 8 Ports M12 D-coded and support Autonegotiation and Auto MDI-X for a quick and easy commissioning.
The TERZ NITE-XK Ethernet switches integrate seamlessly and transparently into any industrial network and PROFINET application.