Enhanced all-round protection for use in harsh environments – with M12 connector or R118 certified.
EAO, the expert partner for innovative, intuitive and reliable Human Machine Interfaces (HMIs), has extended the robust Series 82 with a new product variant with vibration-resistant cable connections.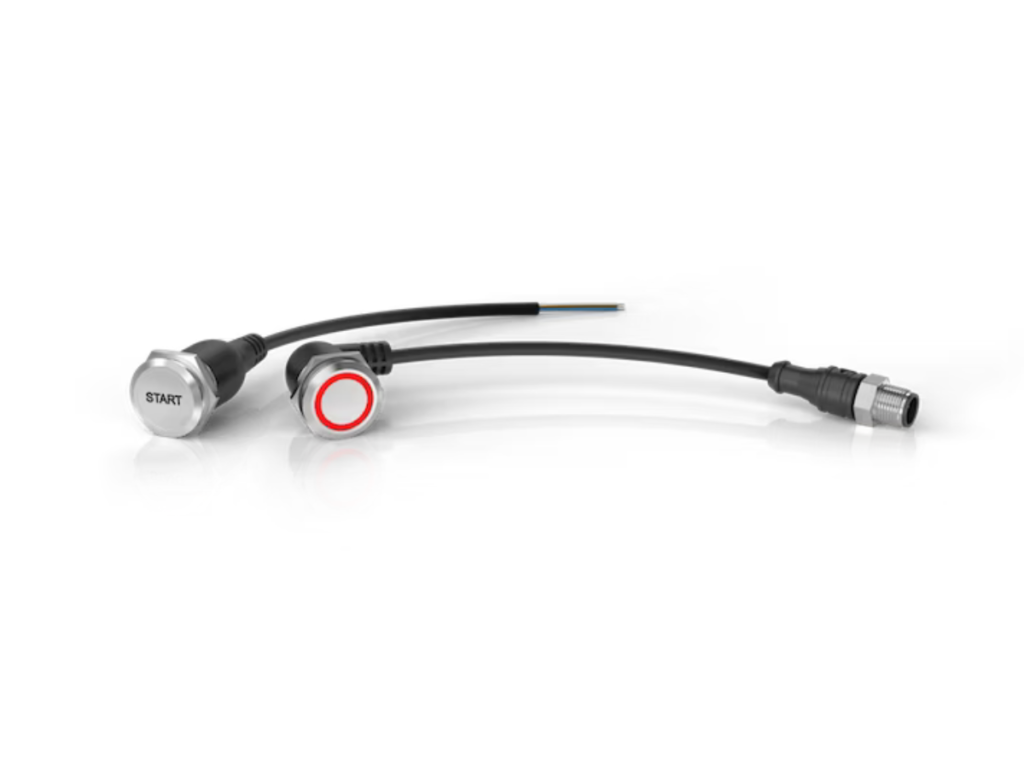 It is common to expose pushbuttons and indicators to extremely harsh operating conditions. For example in the food and beverage industry, where alkaline cleaning agents and corrosion severely affect HMIs. In addition, external factors in the form of hard-to-remove dirt, fine dust, along with severe vibrations and blunt impacts also require HMIs to offer a very high level of resistance. The Series 82 offers product variants that meet these high requirements even better thanks to an overmoulded rear side. These robust pushbuttons are now also available as a version with cable connection.
The pushbuttons are equipped with a 200 mm cable that is available in a straight version or with a 90° offset from the product, depending on the application or customer requirement. This offers advantages in terms of flexibility in mounting, with the 90°-offset cable exit point also enabling use with low-depth back panels.
The products can be optimised for the different application and mounting scenarios by selecting the appropriate connector. The cable version with M12 connector is intended for use in machinery and is impressively robust and easy to mount. The cable version with tin-plated cable though offers R118 certification, making the product version ideal for applications in heavy-duty or special-purpose vehicles.
Typical Applications
Food and beverage industry
Machinery and production facilities
Heavy-duty and special vehicles
Buses and coaches
Passenger transportation systems
Access control and security systems
Ticketing machines and vending machines
Medical equipment
Marine applications
The overmoulded rear, IP67 protection and vibration-resistant connection options enable an extremely resistant HMI connection, making this product option ideal for use in challenging environments.
Advantages
Easy and flexible mounting thanks to M12 connector and cable options
Low back panel depth with 90°-offset version.
Housing made from SUS 316L stainless steel
Cleaning-agent-resistant Tritan light guide
Overmoulded on the rear with IP67 protection and high resistance to vibration and impact
This article was originally published by EAO Group.