SEKISUI KYDEX Launches KYDEX® 2210LT, Formulated to Meet European Rail Interior Specifications
The addition of KYDEX® 2210LT suite to the SEKISUI KYDEX mass transit portfolio expands its offering of thermoplastic materials for European rail interior applications.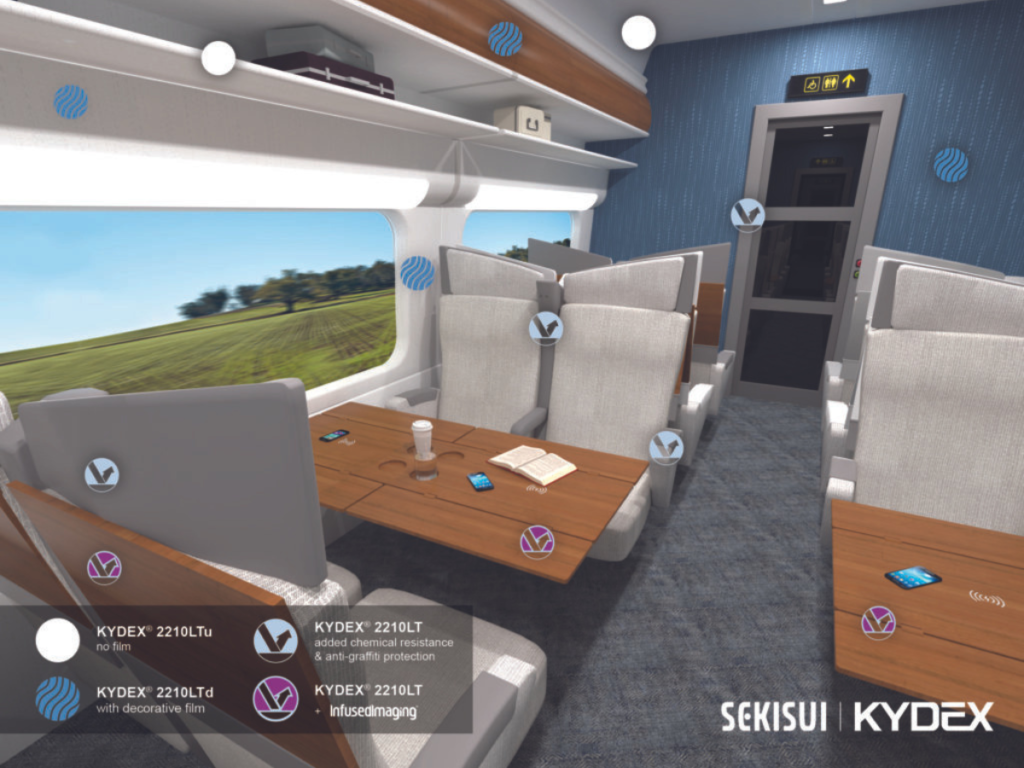 New KYDEX® 2210LT is a proprietary, high performance thermoplastic sheet with integral custom colour, specifically engineered to be compliant with EN (European norm) 45545-2 R1 and R6 Hazard Level 2, and is available in three variations:
KYDEX® 2210LTu:        No film
KYDEX® 2210LT:          Added chemical resistance and anti-graffiti protection
KYDEX® 2210LTd:        Decorative film + added chemical resistance and anti-graffiti protection
KYDEX® 2210LT materials are ideal for rail car interior applications like walls, passenger seat backs, armrests, tray tables, and window masks or shrouds. Long-term durability, and weight savings over FRP, aluminum, or steel make KYDEX® 2210LT a desirable and more sustainable choice for customers who expect rail cars to last 20 years or more. When the rail car reaches the end of its tracks, the KYDEX® parts are 100% recyclable, and ready to be made into something new.
KYDEX® 2210LT materials provide design freedom to incorporate artwork and branding, or prevent unsightly graffiti with its excellent graffiti resistance.
"With the KYDEX® 2210LT line, our rail interiors partners now have a fully compliant material that meets a complex set of regulations backed by the reliable quality and supply chain you expect from SEKISUI KYDEX. Using the entire product line, designers can create multi-faceted, layered designs with low minimums and custom colour."
This specialty sheet is produced using SEKISUI KYDEX's quick response manufacturing (QRM) process, ensuring small minimum order quantities and short lead times. The materials wide processing window and ease of thermoforming make them ideal for complex parts. In addition to availability in a wide range of integral custom colours and effects, no secondary processes are required to achieve desired aesthetics.
This article was originally published by SEKISUI KYDEX.