The last two years have propelled the exploration of new patterns and imagery for designers as they prepared for the comeback of aviation interiors.
At SEKISUI KYDEX, Design Director, Karyn McAlphin, Sr. Graphic Artist, Becky Gallup, and Graphic Artist, Amy Shetler, were on a similar path to explore and create something new.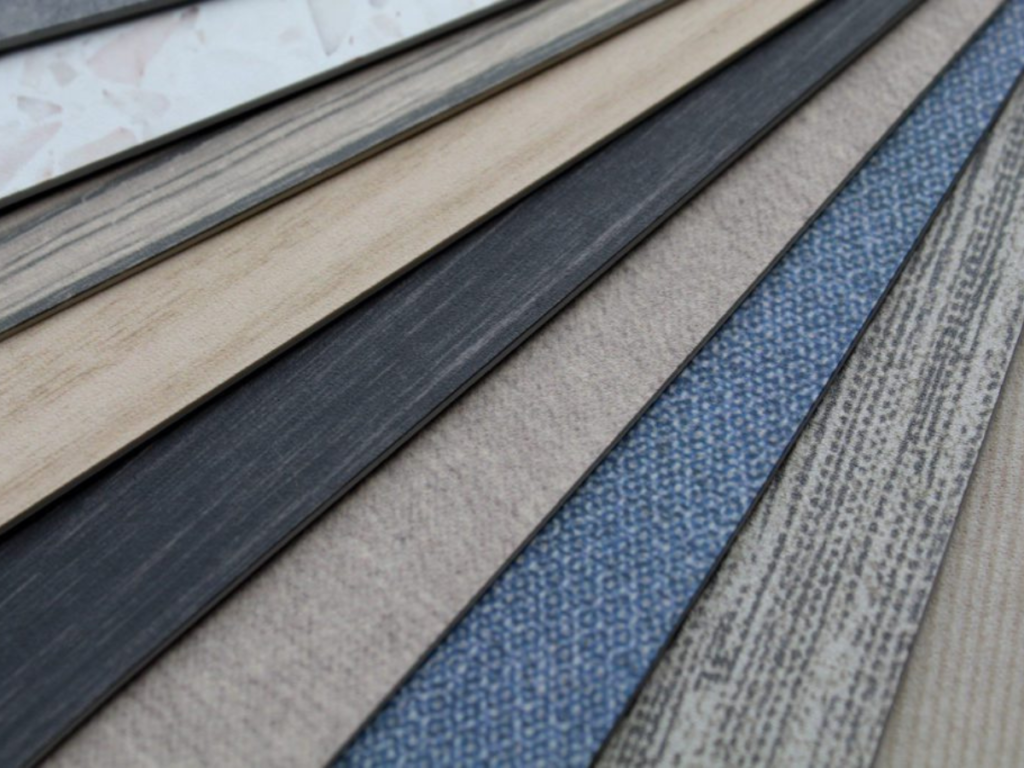 The team set out to design a new Infused Imaging™ Technology collection to inspire designers with carefully crafted artwork that is fresh and enduring. Infused Imaging™ is a Crystal Cabin award-winning, proprietary process that embeds imagery into KYDEX® Thermoplastics, not on it. With Infused Imaging™, designers have the power to create bespoke environments using colour, images, and visual texture without sacrificing strength, durability, and cleanability.
Historically, times of chaos have resulted in significant changes in temperament, colour, and design. Emerging from the pandemic, colours are trending warmer, more comforting, and earth-toned based on the desire to get back to nature. While still relatively neutral, the new collection embraces this trend after years of cooler greys in aviation. Patterns are influenced by elements around us, including geometric patterns, solid surfaces, woodgrains, and textiles.
The collection offers four geometric patterns entitled Veil, Geo, Carbon Fiber, and Marrakesh ranging in subtlety from a small-scale design to a bolder, more colorful statement piece. From afar, Veil looks like a solid color, but provides significant visual appeal close-up, making the design perfect for seat shells and suite interiors. Carbon Fiber meets a long-awaited desire from the design community for a realistic technical solution. Marrakesh showcases how rich, contemporary looks can be perfect for branded accent pieces.
Inspired by hard but inviting elements, the team chose four solid surfaces, White Quartzite, Green Slate, Industrial, and Terrazzo, to illustrate the range of Infused Imaging™. While perfectly flat, Green Slate provides the dimensional appearance of a textured stone, while Industrial features a modern look sure to inspire many consoles and tray tables.
No collection is complete without a selection of woodgrains, and Scandi, Zebrawood, and Brushed Oak go beyond traditional choices. With a washed, minimal appearance in blond, variegated, and charcoal woodgrains, these modern solutions are sure to inspire tomorrow's interiors. Gallup's Zebrawood design is a standout with its eye-tricking faux texture.
Textiles continue to be popular choices to soften the hard appearance of aircraft interiors, and Interlock and Vintage deliver the durability and cleanability of KYDEX® Thermoplastics when actual fabric or leather might not withstand the rigors of the cabin. Motif and Tranquil wrap up the collection with stippled and gradated designs that effortlessly straddle different categories.
"Created by Shetler, Motif is unique because it isn't mimicking something else. It's a blend of bespeckled woodgrain and textile effects, combined with pearlescence."
SEKISUI KYDEX is pleased to share this inspiring Infused Imaging™ Technology collection with you on your journey to design freedom. Stop by stand 5D40 to see them in person!
This article was originally published by SEKISUI KYDEX.