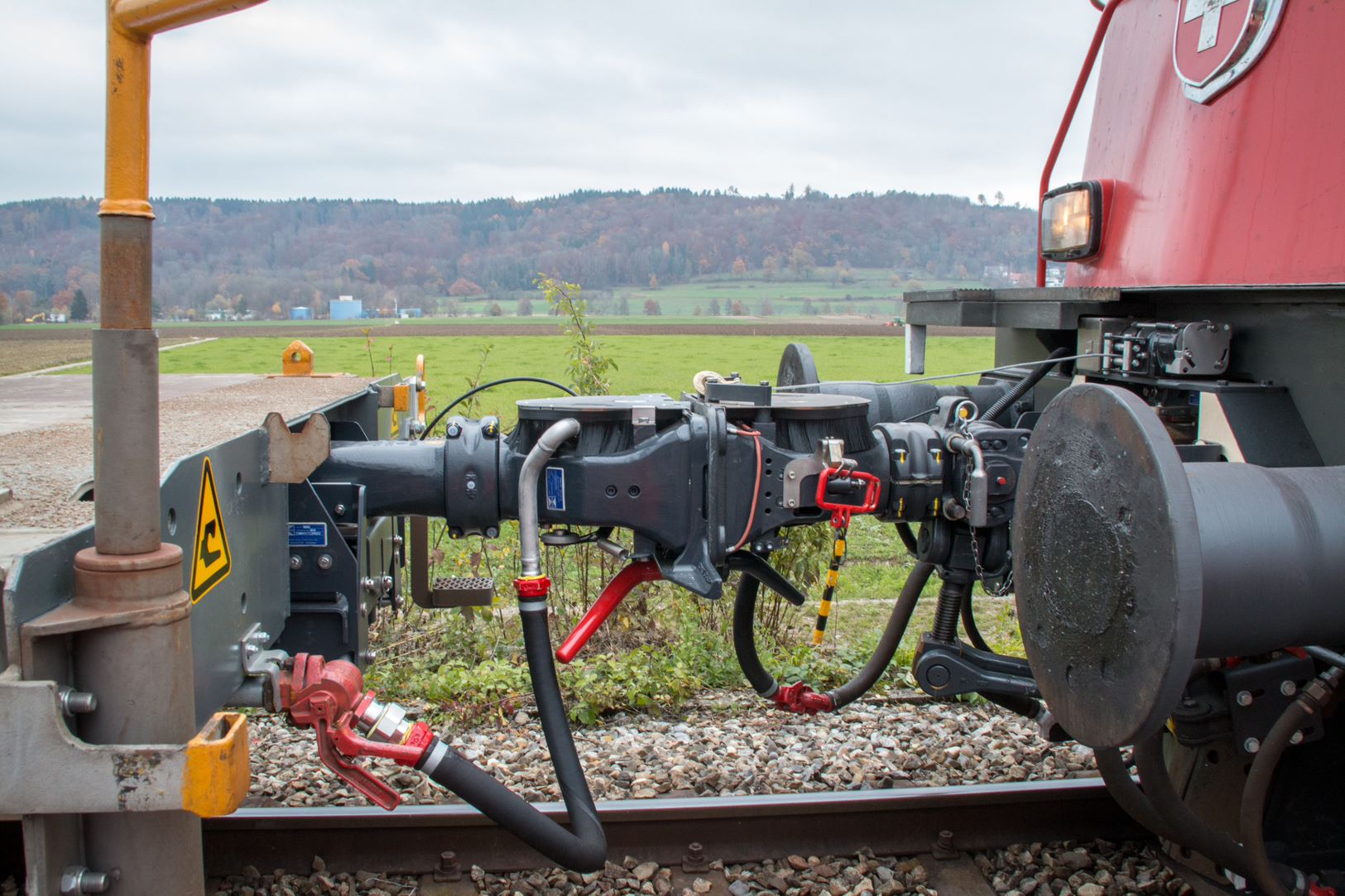 Autocouplers
Autocouplers are an important aspect of making rail freight more efficient and more punctual and therefore more competitive. These new autocouplers will make shunting processes both faster and safer. They make it possible to couple freight cars and locomotives automatically, which means there is no risk of injury to workers. It is equally as simple to de-couple two cars or one car from its locomotive. Up until now this job was a manual one, which was more time and cost-intensive and also required more input from workers.
SBB Cargo says it is vital that rail freight operations rationalise. There is a lot that the sector has to catch up on given technical innovations that are available. It also says the logistics market is undergoing a fundamental change. There is a shift towards smaller shipment sizes. At the same time technological progress in road transport is putting a lot of pressure on rail freight.
However, there are opportunities for rail as well: given that the modernisation process is necessary, SBB Cargo wants to take control and shape it actively, as a pioneer. It wants to increase its competitiveness over road and be a reliable partner for its customers.
In line with Switzerland's freight transport law the government is able to provide financial support. Upgrading its rolling stock will cost SBB Cargo around 15 million Swiss francs (13.31 million euros / 14.88 million USD). The government's contribution lies at around 9 million Swiss francs (7.98 million euros / 8.93 million USD).
Peter Füglistaler, Director at the Federal Transport Ministry (BAV) praised SBB Cargo's pioneering spirit. He also pointed out, however, that this push for more innovation could only unfold its full effect if other stakeholders, such as private freight car owners, pulled their weight and also invested in their rolling stock. He said:
"This is necessary in order for rail freight to meet the increasing demands of the cargo sector and the logistics industry."
SBB Cargo Wants to Collaborate with European Partners
SBB Cargo CEO Nicolas Perrin says the company is striving to improve European standards as a whole. He said:
"By working together we will be able to develop the freight sector together and benefit equally from the advantages."
SBB Cargo has been working on projects such as autocouplers with partners such as Voith, PJM, VTG, Rail Cargo Austria and Mercitalia. For example, the autocouplers SBB Cargo installed on its 100 wagons and 25 locomotives were manufactured by Voith.
Shortage in the Labour Market
SBB Cargo anticipates a significant skilled labour shortage in the shunting yard. It is already the case that vacancies are difficult to fill. Coupled with the fact that a substantial number of its workforce is due to retire, this situation will worsen dramatically in the coming years. Autocouplers are an important step in the partial automation of last-mile operations. Other elements include automatic brake testing and an automatic collision warning system. These three elements mean a job can be overseen by just one employee, compared to at least two, which is the situation now. An example: manual brake testing for a 500m train currently takes 40 minutes. Once automated, it will take just ten minutes.