Russia: Transmashholding Tests New Sleeper Cars
Transmashholding subsidiary Tver Carriage Works is testing new sleeper cars. They are the first in Russia to operate in pairs. Tver's new concept consists of a full set of single-storey cars: first class, sleeper, seating and staff.
Mass producing these new cars will hugely transform long-distance rail travel. It will substantially improve service quality and convenience. By pairing coaches in the factory, the approach to interior planning can be more flexible. At the same time, this method permits improved ergonomics and an effective use of space. Furthermore, advancements in interior solutions mean that the functionality of existing zones will increase. Tver will also add new zones to these trains.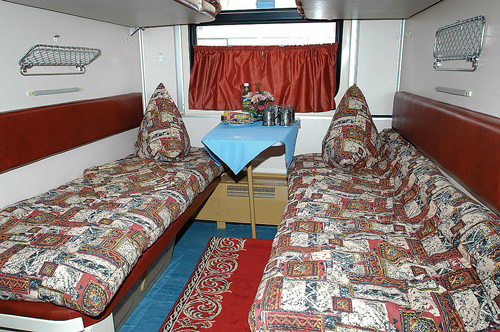 Details of the Tver New Model Trains
Tver will air-seal the gangways. This will make it much easier to control the climate on the train. It will also contribute greatly to noise reduction. Passengers in the sleeping compartments, meanwhile, will be able to control the climate to their liking. In addition, they will be able to open the windows, both those to the outside and those on to the shared corridor. Sleeper car passengers will further benefit from personal safes fitted with electronic locks.
This is the first time that mass-produced carriages will feature showers as well as service areas with openings capable of taking vending machines, coffee points and water purifiers.
In addition to these increased passenger comfort features, these trains will exhibit improved energy performance and operational efficiency.
These sleeper coaches are the first cars Tver is manufacturing as part of its new model line. Before Tver Carriage Works begins mass production, they will put the cars through a host of tests, including dynamic and static testing. The Tver Coach Institute, the Russian Railway Hygiene Research Institute, and the Railway Vehicle and Track Interaction Testing Center will all participate in these tests. Specialised centres of Russian Railways will also take part.
Tver Carriage Works will continue to manufacture both double-decker cars and new model single-floor cars under a contract between Transmashholding and the Federal Passenger Company. This contract will run until 2025. Over the course of seven years Tver will ship 3,730 cars to the customer. The first batches are scheduled for delivery this year.