RSSB: Rail can do More to Tackle Impact of Alcohol
An industry-wide approach to tackling alcohol misuse on the railway is essential to help reduce deaths at the platform edge, according to the industry's independent safety body, RSSB.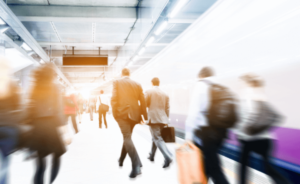 Alcohol Misuse on the Railway
Intoxication was partly to blame for causing two in every three (66%) of the 32 deaths that have occurred at the platform edge in the past 10 years.  Research by RSSB has also shown that 40% of passengers assaulted or abused on Britain's railways believe their assailant was intoxicated and on average staff believe that approximately 60% of assaults (of all types) that they had personally experienced were alcohol-related.
RSSB has now issued updated guidance for rail companies to help them manage the risks to personal safety and security from alcohol.  Aimed at a range of staff including safety directors and station managers, the'Managing alcohol risks to personal safety and security on the railway' guide includes new case studies and links to relevant resources, organisations and websites, to help industry develop a more coordinated approach.
Chairman of the Platform Train Interface (PTI) Strategy Implementation Group, Allan Spence, said: 
"Alcohol and the railway can be a dangerous combination."

"As the safest way to travel, many people use the train to travel to and from their night out. Alcohol consumption can lead to a range of behaviours risking harm to themselves and others, as well as anti-social behaviour and crime.

"This updated guide is built on solid research and details the tactical measures that duty holders can take to reduce the number of accidents that take place at the platform edge. 

Our challenge is to protect the health and welfare of passengers who have consumed alcohol as well as protecting front line staff and other passengers from anti-social or criminal behaviour where alcohol is the inflammatory factor."
For original article and further information on the 'Managing alcohol risks – a good practice guide', please click here.