For over 100 years Robel's principal business has been the design and construction of railway maintenance and renewal machines and systems.
From it's base in Freilassing, Germany, Robel employ a workforce of over 570 people dedicated to supply the best quality, safest and most user-friendly solutions worldwide for the construction and maintenance of railway infrastructure.
Coming September, full scale evidence of this claim is provided during a three day in-house exhibition at the company's own premises in the South of Bavaria.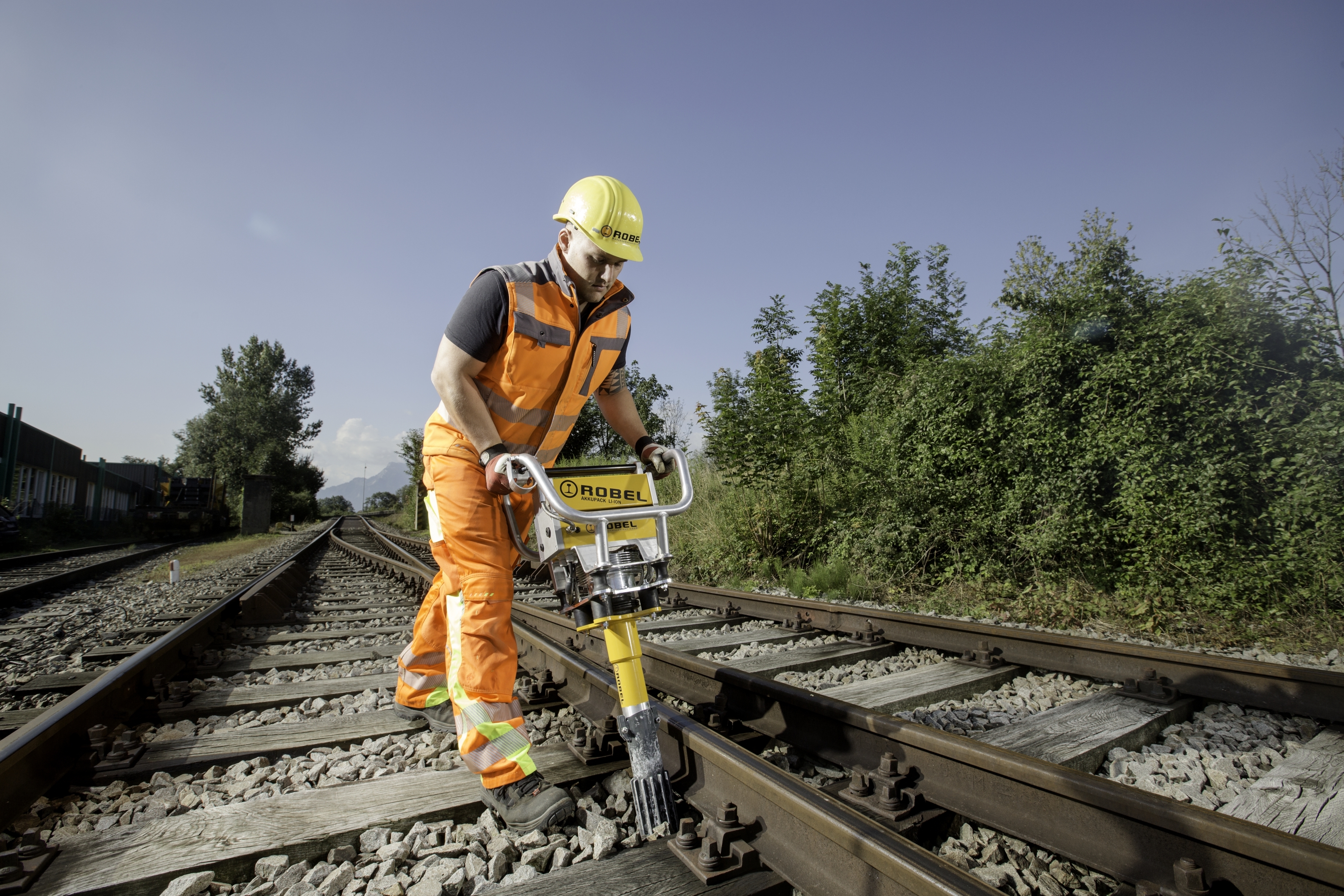 As Robel take a pride in working with their customers, listening to their requirements and developing just the smart solution needed, this factory show is the ideal ground for future projects. Hence, this year's motto "Open House to the Future" will be the programme.
Safe & Smart: Hand Guided Machines
Key to Robel's technologies is innovation. For quite some time now, the development focus for the Machinery & Tools design team centres on eco-friendly battery and hybrid power concepts with less/zero emissions and reduced noise pollution. Workforce safety and welfare are of the uppermost consideration with all that Robel designs. Working with end users, Robel develops machines with optimum ergonomics, light weight and with the lowest hand arm vibration impact.
As a result, Robel's "battery powered family" is expanding fast: The company started as a pioneer in 2013 with a rail drilling machine and an impact wrench with modular rechargeable battery packs. With the addition of a band saw and the battery version of the renowned Vertical Tamper, there are already four battery powered hand-guided machines available with a proven track record for a range of uses in track maintenance:
RODRILL B makes 60 rail holes of 32 mm (11/4″) diameter taking just 20 to 30 seconds per hole.
ROMPACT B is a lightweight, flexible impact wrench with a battery capacity sufficient to deliver 500 fasten/unfasten cycles to a torque of up to 1800 Nm (1330 ft-lb).
ROSAW B does 20 cuts per band/battery charge, is strong enough to cut all grades and cuts normal grade rail in about 1.5 minutes. Still, the machine is ten times quieter than a comparable cutting device with combustion motor.
ROTAMP B is with 25kg (54 lbs) not only a lightweight, but corrects track level errors in less than 2 minutes.
The newest development in this field has its premiere on track in September: At the in-house exhibition, ROCUT B, the new "green" rail cutter will be part of a workshop demonstrating the spot repair worksite of the future – realized with battery powered machines only.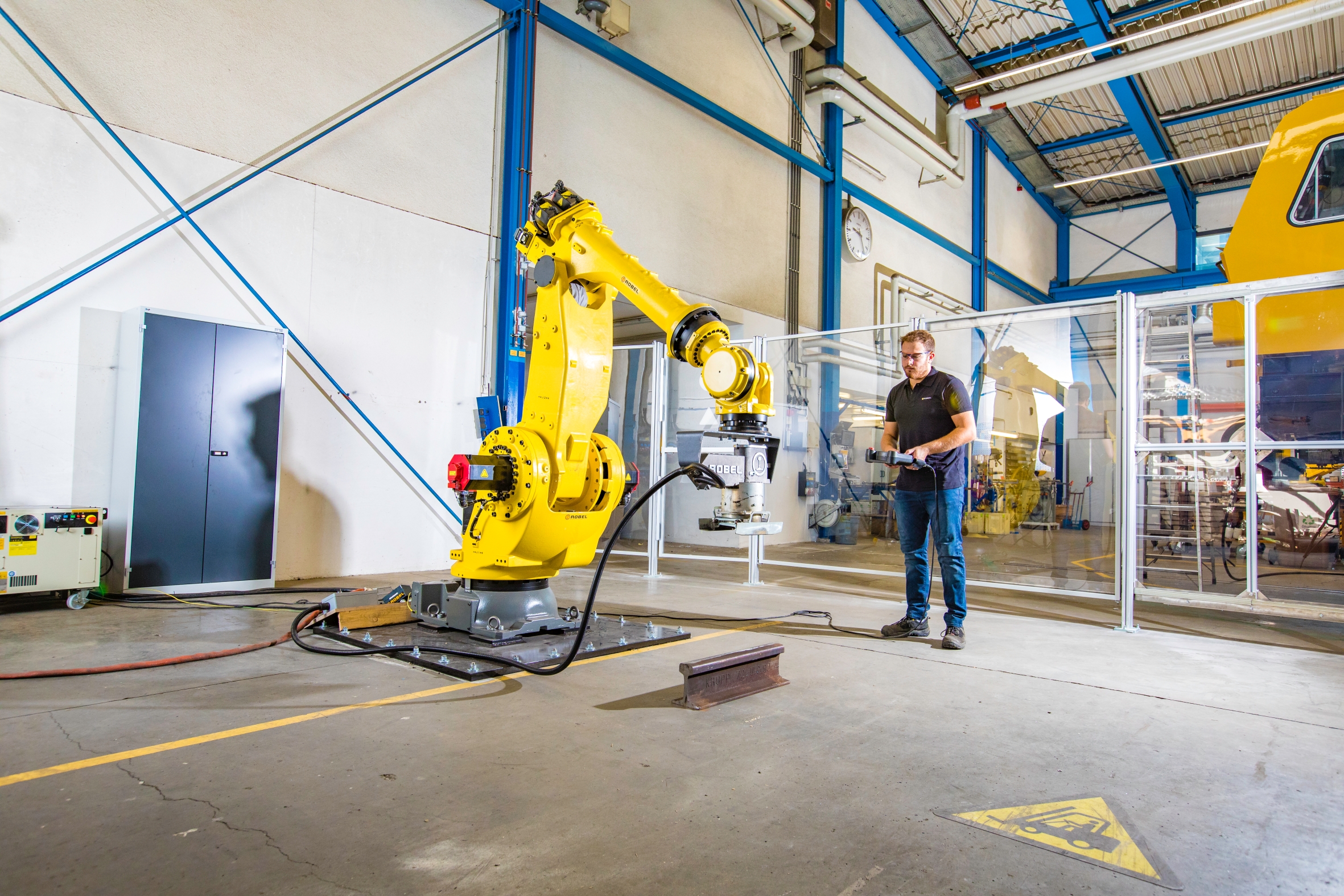 © ROBEL
Fast & Efficient: Track Vehicle Systems
As rail operators strive for greater productivity, cost efficiency and safety, Robel, with their range of larger on track maintenance vehicles and systems, find new ways to protect operators from the dangers of direct track contact and heavy manual labour.
RORUNNER, a multi-purpose power car, which works with transport wagons and a range of work modules to undertake a range of transport, haulage and on track maintenance work activities.
ROMIS, the mobile maintenance system, is a self contained workshop on wheels. The system has a fully integrated power supply for transit and worksite requirements, staff welfare and workshop facility, a storage vehicle with integral gantry cranes and a work unit allowing workers safe access to the track from inside the train. The enclosed working area offers full protection from trains on adjacent lines and the affects of the weather.
ROREXS rail exchange systems deliver and recover long welded rail strings up to 500 m (550 yds) in length and can transport up to 48 rails. Many automated features, including rail clamping, roller gates and end walls, offer ground breaking levels of both safety and productivity.
As automation gradually finds it's way into maintenance systems, Robel is already one step ahead and now looks to pioneer the work of robotics and AI technology in the field of railway track maintenance: At the in-house show in September, two robots will have their premiere in the brand new Robel R&D centre. In special workshops, members of the railway industry are going to meet with scientists and Robel engineers to define the future fields of application for robots on track.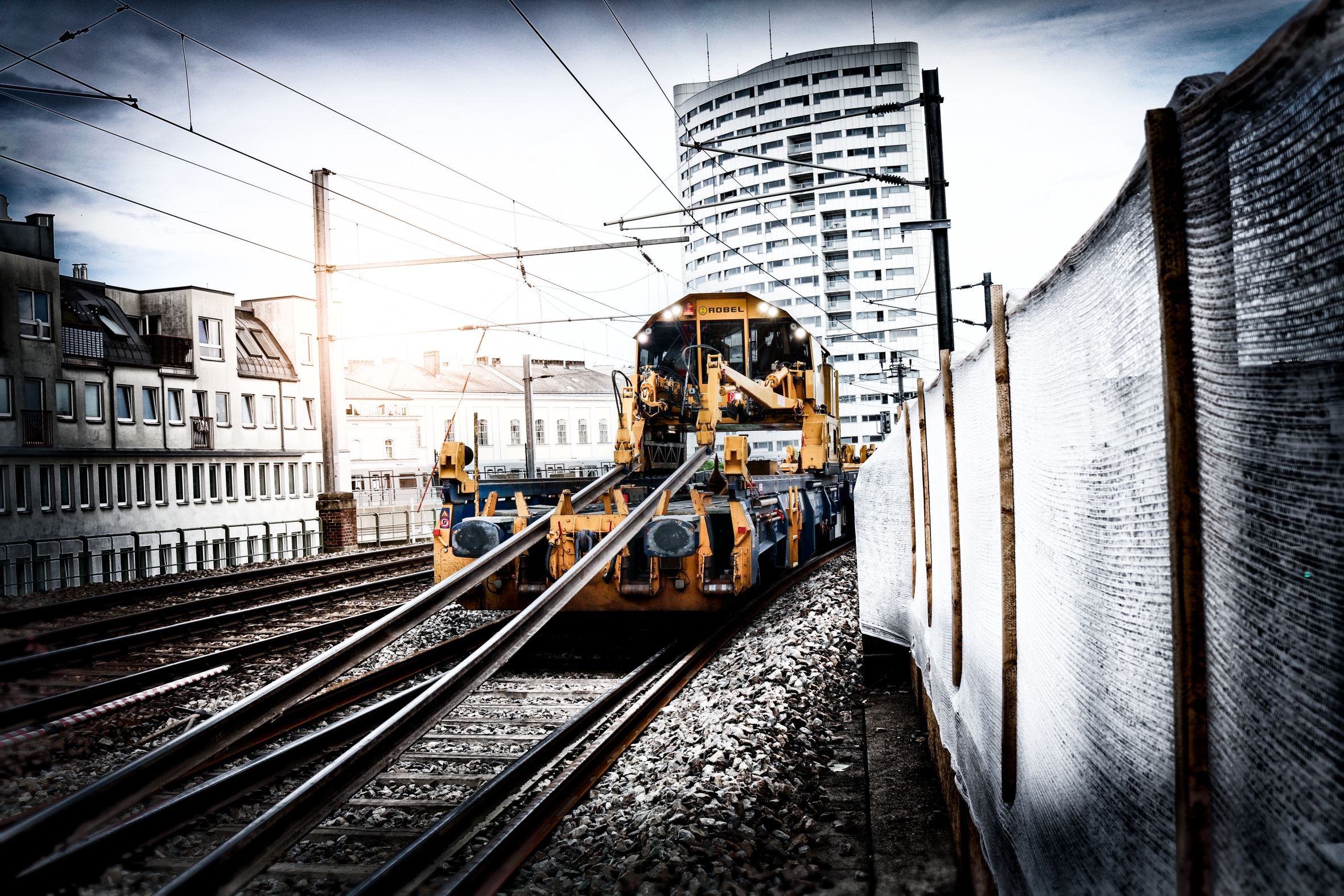 © ROBEL
Competent & Certified: The Service One-Stop Shop
Robel service delivers support across the full range of small and large railway construction machines with the key European workshop approvals from Germany, France, the UK and Scandinavia. The performance includes training, supply of spare parts, machine fault repair, full maintenance servicing schedule, retrofit and revisions. Robel Service & Support also has in it's portfolio the Axle Competence Centre. From there Robel delivers all aspects of axles, wheelsets and bogie overhaul, repair, inspections and also fabrication. So Robel covers the full service range required for rail maintenance throughout Europe – it's up to the customer to determine the scope of services required. During the in-house exhibition in September, Robel offers special "Retrofit" workshops. There, the customer is provided with all the information necessary to decide about the cost-efficiency of a full refurbishment of their existing track vehicles.
ROBEL In-House Exhibition, September 17 – 19/2019, www.robel.com
Discover the Quality of Robel at Railway Interchange
Robel safety, quality and user friendliness are now also available in America: The Robel North America Corporation (RNAC) based in Chesapeake, Virginia distributes a selection of hand guided machines such as vertical tampers, grinding and drilling machines in the United States and Canada. RNAC president Chris Drew, well known in the US track construction sector, is the strong motor for the future success of Robel in the States. Meet Chris, the Robel team from Germany and the new Robel machines at Railway Interchange from 22nd to 25th September in Minneapolis. RNAC have two booths indoor REMSA 1020 and the out-side off track booth 113 where they will be demonstrating the equipment with emphasis on tamping with a special tamping box that shows how efficient the ROBEL tampers are in the field.