Richard Lutz to be New CEO of Deutsche Bahn
Several German newspapers and media outlets including Die Welt have reported this morning that Richard Lutz is to become the new CEO of Deutsche Bahn following the surprise resignation of Rüdiger Grube in January this year.
The official announcement was made on Wednesday 22 March at the meeting of Deutsche Bahn's Supervisory Board. His contract was set for 5 years. He will also remain Deutsche Bahn's CFO. According to WirtschaftsWoche, Richard Lutz will present himself to the public as the new CEO of Deutsche Bahn AG later this afternoon.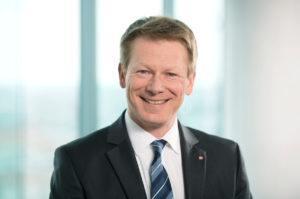 Former CEO Rüdiger Grube Resigns
The former head of Deutsche Bahn AG, Rüdiger Grube, resigned earlier this year over a dispute with his contract.
The extension of his contract had been considered a mere formality. Rüdiger Grube wanted a full three-year extension, until 2020, in return for which he would forego a pay rise.
However,  when the Supervisory Board met, they were only willing to grant him a further two years.
In response, Mr. Grube asked the Board to release him from his contract with immediate effect. His current contract had been due to run until the end of the year. Rüdiger Grube had been at the helm of Deutsche Bahn for almost eight years.
Resignation Speculations
There is speculation about what went on behind the scenes. It is thought that Mr. Grube gambled, believing himself indispensable, and lost. German newspaper Die Zeit reports that the Federal Government had been unhappy with Mr. Grube's performance.
Deutsche Bahn was losing business to private competitors in the regional journey sector. And although Deutsche Bahn saw a record number of passengers on its long-distance services, ticket prices were forced down because of competition from cheap airlines and inexpensive long-distance coach services, meaning that returns were down here as well.
Challenges for Deutsche Bahn AG
Deutsche Bahn faces additional, massive challenges. The freight sector DB Cargo lost 1.3 billion euros in 2015. Deutsche Bahn's infrastructure arm is also in urgent need of money, currently confronted with a debt of almost 20 billion euros.
Rüdiger Grube's plan to access funds was to float Arriva and Schenker on the stock market, a plan that would have generated 4.5 billion euros. However, Grube told the Supervisory Board on 14 December 2016 that he would no longer follow through with this plan. He cited Brexit as the reason. Arriva is Deutsche Bahn's British subsidiary. As a result of the fall of the British pound, such a move would now be foolish and money thrown out of the window, Grube said.
Potential Successors
Fast-forward to January 2017 and Grube resigned, leaving Richard Lutz as the interim CEO. One of the main names touted as Grube's likely successor was former Chief of Staff of the German Chancellery and Federal Minister for Special Affairs (until 2013) Ronald Pofalla.
For many though, Pofalla's links to the German government were too close to make him a good choice for the role.  Germany has elections this year and Chancellor Merkel does not want to irritate her rival party, the SPD, by appointing one of her own.
Richard Lutz is Chosen as New CEO of Deutsche Bahn
Richard Lutz, 52, is a much less controversial figure. He joined Deutsche Bahn in 1994, before being made responsible for Finance and Controlling on 1 April 2010. With Deutsche Bahn being state-owned, the appointment was made by Germany's Transport Minister Alexander Dobrindt. According to the dpa (German press agency), the decision to pick Richard Lutz was made by Dobrindt along with Vice Chancellor Sigmar Gabriel (SPD), the Finance Minister Wolfgang Schäuble (CDU) and Pofalla's successor as Chief of Staff of the German Chancellery, Peter Altmaier (CDU).
Editor's note: This article was originally published on 14 March 2017 when the announcement about Richard Lutz's upcoming appointment was made. It has been updated to confirm the appointment has now taken place.