DB CEO Dr. Rüdiger Grube Resigns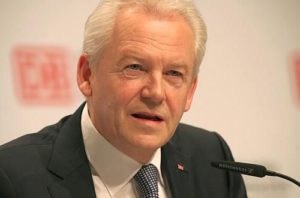 The Supervisory Board of Deutsche Bahn AG yesterday unanimously approved Dr. Rüdiger Grube's request for his appointment to CEO to be rescinded effective immediately and for an agreement to be concluded to terminate his current contract. The Supervisory Board asked the Personnel Committee to arrange the terms of the agreement with Dr. Grube.
The Supervisory Board thanked Dr. Grube for his outstanding commitment to Deutsche Bahn over his nearly eight years as its CEO. The Supervisory Board will make a prompt decision on Grube's successor. As per the applicable rules of procedure, CFO Dr. Richard Lutz will serve as interim CEO until a successor is appointed.
Prof. Dr. Dr. Utz-Hellmuth Felcht, Chairman of the Supervisory Board, said:
"Dr. Rüdiger Grube has made a lasting contribution to DB, in particular through his work to make the company fit for the future"

"He has left his mark on Deutsche Bahn as a driver of both digitalization and the Zukunft Bahn quality program."
Press Release © DB