Review: Wheel Detection Forum 2017 – The Future of Train Tracking
Vienna, AT. The fourth Wheel Detection Forum has set new benchmarks for this now well established industry event. System integrators, operators, manufacturers, representatives from science and other interested associations gathered in Vienna from 4–6 October to discuss the latest trends and innovations in train tracking and related technologies. 262 participants from 36 countries experienced more than 20 speeches and presentations, accompanied by special occasions for networking.
Highly Topical Presentations: Taking a Look into the Future
This year's WDF has been characterised by a highly topical agenda focussing on new technologies for train tracking. In their presentations the speakers contributed to a subject pool which was perceived as interesting, diverse and future oriented by all participants. As delegates from railway markets all over the globe, they brought in a wide range of ideas on how to create "the future of train tracking" together, which were presented in four sessions and one panel discussion.
Trends and visions (Keynotes)
New concepts for train tracking
Innovations with Distributed Acoustic Sensing
Best Practises in wheel detection and axle counting
Mr Romesh Srinivasan, MD of K.L. Consult Associates SDN. BHD., Malaysia, summarised:
…there are many innovative products and a lot of information coming to the markets in the fields of reliability and safety. Today we look forward to more and more artificial intelligence as we go into the fourth industrial revolution. These are the highlights here at the WDF – seeing what the future holds for us in taking these innovations forward for all of us in the rail industry as a whole.
Mike Greenan, Altran UK LTD Global Sector Director – Rail and Transport, emphasized further topics relating to increasing digitisation:
I am really enjoying the forum and I'm learning quite a lot I think from listening to the talks. I'm particularly interested in the advances that are being made in wheel detection and sensor technology. I have been interested to learn about what advancements are happening in the railway sector regarding the Internet of Things, and also similarly Data Analytics. So there have been some great talks so far, but also I think it has been a well organised event because one presentation follows logically from the previous one.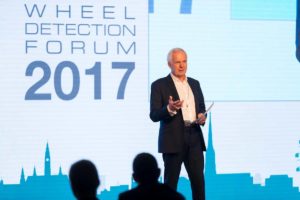 Balancing Technical Inputs with Networking Opportunities
As in previous years, the Wheel Detection Forum 2017 provided international railway experts with great opportunities for networking in a relaxed atmosphere. No session lasted longer than 1.5 hours and each was followed by a break of 30 minutes which were heavily used to discuss the presentations or connect on other topics. A special highlight was the Wheel Detection TALK, which was framed by the historical but elegant atmosphere of the Schönbrunn Palace Orangery. Almost all participants of the forum joined the evening event where they could relax, review the presentations of the day, meet familiar faces and make new contacts.
Akimasa Okada, Signalling System Engineer with East Japan Railway Company said:
The Wheel Detection Forum is an ideal opportunity to connect with each other and to get updated about latest state of the art technologies.
Denis D'Aoust, Co-founder and President of Wayside Inspection Devices Inc., Canada, was very impressed by the diversity of the audience and added:
I am more used to US or Canadian conferences as I come from Canada. Here we have a greater diversity of the speakers, because they come from different countries and different environments – the Wheel Detection Forum was very interesting and I really enjoyed it and hopefully I'll be able to come to another one.
Creating the Future – Together, Now
The philosophy of the WDF is to drive the development of the railway industry forward by working together, focussing on the future and close cooperation.
Christian Pucher, Marketing Director at Frauscher Sensor Technology concluded:
The main challenges faced by railway operators, system integrators, suppliers and other contributors to the railways are similar across the globe, but due to specific legal guidelines and standards, solutions have to be developed to solve the individual market requirements. In times of accelerating developments within and all around our industry it is now more important than ever to build global networks and to learn from each other. Until now, the topics that we are dealing with have meant the main network of most companies in our industry contains signalling experts and manufacturers of axle counters and wheel detection systems. However, considering the latest trends we must now start connecting with data scientists, experts in digitization and those experienced in the development of artificial intelligence. This year's Wheel Detection Forum provided inputs from all of these areas in an effort to highlight the importance of their integration, and how this will allow the industry to push forward together into the future.
For more information and access to presentations, reviews, pictures and videos contact [email protected] or visit www.wheeldetectionforum.com
Original article © Frauscher.
FOR ALL THE LATEST INFORMATION, NEWS, IMAGES, EVENTS, VIDEOS AND DOCUMENTS FROM FRAUSCHER SENSOR TECHNOLOGY, PLEASE CLICK HERE.