InnoTrans 2016 – Day 0: Press Day
InnoTrans 2016 proper officially kicks off tomorrow but there was plenty going on today, with the opening press conference, a tour of just a few of the highlights and press conferences hosted by Frauscher Sensor Technology and Daimler / Mercedes-Benz.

Opening Press Conference
Speaking at the opening press conference were Dr. Christian Göke, the CEO of Messe Berlin, Philippe Citroën, General Manager of UNIFE, the European Rail Industry, Dr. Ben Möbius, the Managing Director of the German Railway Industry Association (VDB), Herbert Zimmermann, Managing Director of the Electro-Industry Association (ZVEI), Dr. Martin Henke, Managing Director, Association of German Transport Companies (VDV) and Dr. Roland Leucker, Managing Director of the German Research Association for Tunnels and Transportation Facilities (STUVA).
This year, InnoTrans 2016 features 2950 exhibitors, with a total of 140 world premieres. 60 countries in total are exhibiting this year, 6 more than in 2014.
Philippe Citroën gave a brief presentation of the main findings of the World Rail Market Study 2016, a study commissioned every two years by UNIFE. He noted that the largest demand would remain in the interurban segment, while the highest growth rates were expected in the urban market, driven by growing populations along with expanding metropolitan areas.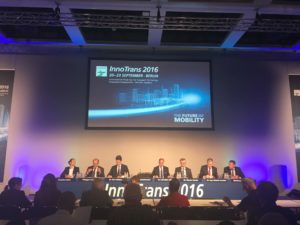 Dr. Möbius spoke highly about digitalisation in rail, saying it was the next fundamental wave of innovation in the sector. Rail 4.0 was the future, being better for the climate, more energy-efficient, more environmentally friendly and offering noise protection. At the same time he said it offered better customer experience, because passengers would experience more reliable journeys. He noted that the EU was rightly pursuing the ambitious goal of reducing greenhouse gases in the transport sector by 60% by 2050.
I personally have an interest in tunnelling so was particularly interested in hearing Dr. Roland Leucker. The biggest tunnel boring machine by diameter was deployed in Hong Kong. Its diameter was 17.6m. 17.6! No really, think about that!
InnoTrans Tour
GE Transportation spoke about their new GoLINC platform and the industrial internet. Thales had a particularly fascinating product on display. They showed how you could apply an augmented reality system in the rail industry. I was super impressed with this. It involved a maintenance engineer wearing the augmented reality glasses so that the Thales technician could see the same thing the engineer was looking at. Then, the Thales technician was able to point and mark things for the engineer so help resolve the maintenance issue. I'm really not doing this technology justice. Go visit them in Hall 4.2 / 103 and see for yourself.
That's before I've even got to the world premieres on display by Bombardier and the innovations presented by Siemens. In fact, Alstom have shown up with a regional train powered by fuel cells. More about this tomorrow! But really, tell me you're not impressed!?!
Frauscher Sensor Technology
After this quick whistle-stop tour around the grounds it was time for a press conference with Frauscher. Now, let me tell you, this was a little gem. Their technology is genuinely exciting. They use the fibre optical cables already installed along railway lines to listen to acoustic signals along the track to help with a whole plethora of applications. From hearing where a rail is broken to where a train is in any given moment to determining whether a train has a wheel flat. Frauscher can hear whether a person is walking or even skateboarding along the track. Their technology can be used to help fight vandalism and theft. They can even detect sheep on the track! Just by sending pulses down cables that already exist, so there's no need for equipment or maintenance along the track. Visit them in Hall 25 /232 to be really impressed.
Daimler AG / Mercedes-Benz Unimogs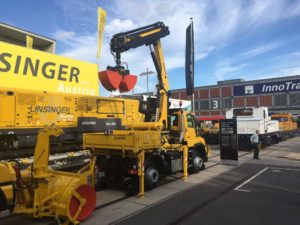 To complete the day, we went to the outdoor display to see the unimogs – vehicles for road and rail – on offer by Mercedes. They are much more energy-efficient than the equivalent rail vehicles that could be used for the same job, using 6 litres of diesel per operating hour rather than maybe even 60 litres of diesel per operating hour used by a locomotive, in part because they are far more compact. They are also highly versatile because they can go on the road at 80km/h and just access rail tracks at the point of need.
All this on the day before the official opening of InnoTrans 2016. We can't wait to see what tomorrow holds in store. We very much look forward to sharing it with you. It'll be a long, but exciting and inspiring day full of innovation and impressive engineering.