Rail Signal Power Protection, Technology & Innovation Webinar
A proven and established supplier to Network Rail and other transport operators, Bender UK is an expert in the design and supply of signal power protection and insulation monitoring systems for the UK's rail network.
For over two decades Bender UK has worked with industry experts to develop customised, intelligent systems which accurately detect and locate insulation failure and cable faults more quickly and cost-effectively. Efficient fault location and identification reduces engineer time, improves uptime, minimises cost of repair and maintenance and helps cut costly penalties incurred by rail operators.
This webinar will focus on solutions for signalling, points heating, motors, on-board systems and underground networks, power quality measurement and long-term value-added predictive maintenance solutions.
Date: 14th May 2020
Time: 10am
Duration: 1 hour 30 minutes (with Q&A)
Register here: https://us02web.zoom.us/webinar/register/WN_Qo7iW1J2Qw67disvFE-WaA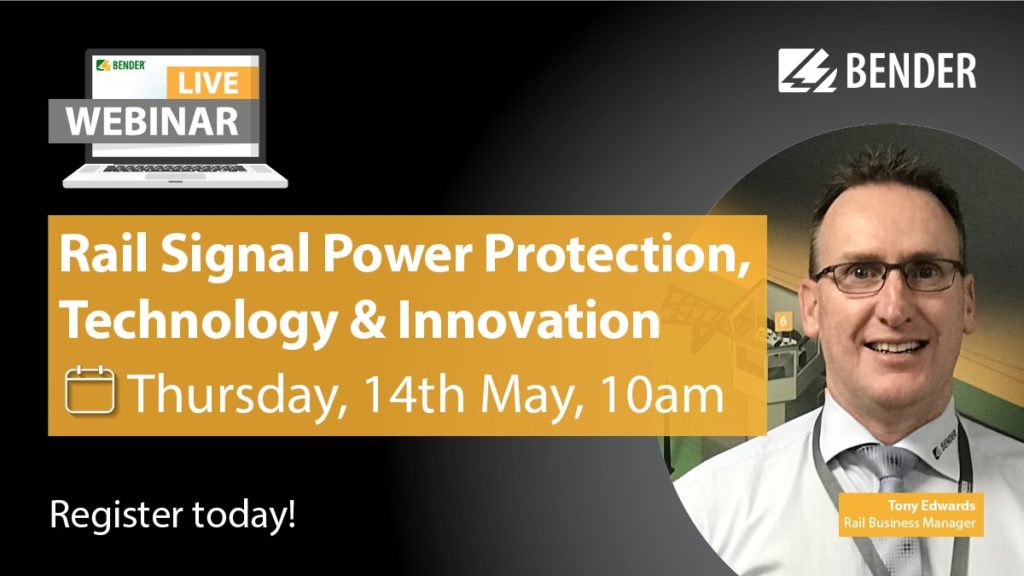 Presenter: Tony Edwards BSc, MBA- Rail Business Manager at Bender UK
Tony Edwards is an expert in the field of electrical safety for industrial and rail systems. Supported by technical, research and development teams, Tony has a consultative approach to end-user systems integration and product development.  He has been instrumental in driving forward continuous improvement of Bender Rail Signal Protection Systems and the approval of Bender RS4.
Key Topics
Condition monitoring options for different tiers of NR/SIGELP/27725
Technology comparison and applications
Key Learning Points
Understand different options & systems available
Features & benefits of different systems
Integration of the equipment on to existing power systems
How monitoring systems can have a positive impact on power system safety and availability
Return on Investment
Health and safety, protection of personnel and fire prevention
Implications for NR/SIGELP/50000
Ensuring compliance with BS7671:2018
Other Applications