The Portable Train Weigher Rolls On into Another Country
Weighwell Engineering Ltd have added to their extensive portfolio and recently installed the patent approved Portable Train Weigher (PTW) at Inchicore Works in Ireland. Working alongside Irish Rail (Iarnród Éireann) and Hyundai Rotem (manufacturer of the 22000 trainset) the PTW 500-VB2X will primarily be used for the maintenance, overhaul and repair of various rail vehicles.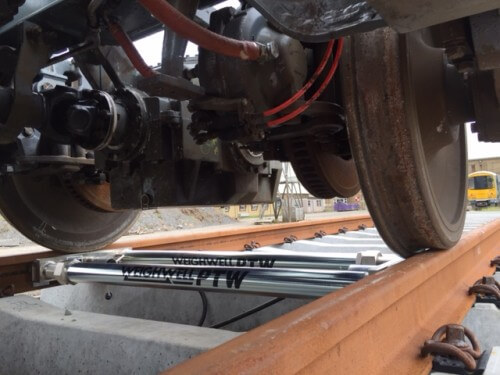 The PTW 500-VB2X is a static train weighing system that provides the flexibility to weigh the 201 locomotive and 22000 InterCity Railcars. The class 201 locomotive (which weighs in excess of 110 tonnes) is similar to the Class 66 locomotive and is used for passenger and freight operation. Whilst the 22000 DMU's are used on the "InterCity" rail service with units travelling approximately 200,000km per annum between Dublin and other major cities throughout Ireland.
The reason for full train weighing?
The PTW 500-VB2X offers Irish Rail the portability to weigh each bogie at a time using three bases which is beneficial for the 201 locomotive but also the use of four bases to weigh each 22000 car instantaneously. The main reason for requiring our full train weighing system is that it can help "solve and bridge" the current knowledge gap.
The Portable Train Weigher (PTW) and mobile train weighing in general is a concept that Weighwell are experts and industry leaders in throughout the world. Weighwell have now supplied 29 different countries worldwide although we have carried out various hires throughout Ireland since 2008.
Paul Horsfall, inventor of the PTW commented:
"receiving the order for a train weighing system at Inchicore Works was very pleasing. Inchicore is a location with rich history and heritage and it is a fantastic opportunity to help support and provide our well renowned train weighing expertise for Irish Rail's requirements."
Weighwell's static and in-motion train weighing equipment is well proven in the rail industry and our dedicated knowledge in portable train weighing is unparalleled. For further information on our flagship product the PTW or information on our ptwX software please don't hesitate to contact us.