Portable Six Axle Train Weighing System for Estonia
AS EVR Cargo are the national railway company of Estonia and provide rolling stock repair at their Muuga and Tapa depots. AS EVR Cargo primarily carry out major assembly and maintenance work on freight wagons and locomotives to extend their service life. Our PTW 500-VB3X can allow AS EVR cargo the ability to weigh their 6 axle locomotives instantaneously but also provide the portability to weigh their 4 axle freight wagons.
The reason for full train weighing?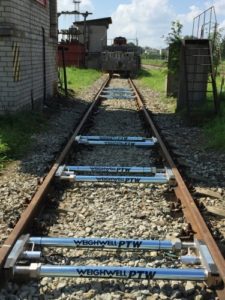 The advantage of using a Portable Train Weigher (PTW) base under each axle is that it can minimise the potential influences that can impact an accurate weighing. This is more applicable when weighing locomotives due to how they are built and various other factors such as the movement of fuel, internal forces and the changing of spring loads which can greatly impact the accuracy.
An added benefit of the PTW 500-VB3X is that the whole car can be weighed resulting in a faster weighing and in regards to making locomotive modifications you can understand the weight differentials across the total locomotive in "real time". The modifications that our static train weighing system will be involved in is the replacement of wheelsets, alterations to bogies and other rail car repair works with AS EVR Cargo's rail car fleet being stripped and rebuilt from the car body chassis.
Paul Horsfall, Managing Director commented:
"We are very pleased with the project in Estonia which demonstrates our extensive train weighing expertise and experience. We are also honoured to support AS EVR Cargo and play a key role in the maintenance and repair of their rolling stock."
Our portable static train weighing systems with ptwX software can display the weight differentials and weight distribution across the whole rail vehicle 'in real time' which allows modifications to be carried out instantaneously without any 'guess work' involved. Helping to improve efficiency and bring about improved performance our static train weighing systems can help optimise the lifecycle of rolling stock, reduce the need for unnecessary changes (with potential maintenance alterations identified) and help improve safety.
For further information please use our contact form or telephone +44 (0) 114 2699955.