Plasser & Theurer Appoint New Chief Sales Officer
Plasser & Theurer, Export von Bahnbaumaschinen, Gesellschaft m.b.H., has appointed Thomas Schöpf as a Managing Director and Chief Sales Officer, effective from 1 January 2019.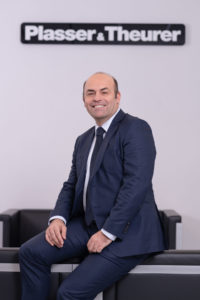 Thomas Schöpf succeeds Gerhard Polterauer, who retired from Plasser & Theurer at the end of 2018.
As a member of the management team and CSO of the world's leading developer and manufacturer of track maintenance machines, Schöpf is responsible for all Sales Departments and Service Departments.
After graduating from a Higher Technical Education Institute for Electrical Engineering and completing his studies at Vienna University of Economics and Business, Ing. Mag. Thomas Schöpf joined the Kapsch Group in 1992, where he held various positions. Prior to his role at Plasser & Theurer, he was a Member of the Board and Chief Operating Officer of Kapsch CarrierCom AG.
Johannes Max-Theurer, CEO and owner, said:
"We are delighted to welcome Thomas Schöpf to our team. His international experience will help us to even further increase the customers' benefit of our products and services."
Plasser & Theurer
The construction and maintenance of railway tracks are among the industrial sectors with the highest level of automation and efficiency. Plasser & Theurer has influenced this progress more substantially than any other company. As a full-range supplier operating worldwide, the Austrian family business supplies track maintenance machines of almost all kinds and sizes and provides high-quality service over the entire life cycle of the machines.
As a manufacturer of machines used for maintaining the most environmentally friendly traffic system, the topic of sustainability has been crucial from the very first day. In this context, the relations to the business environment are of utmost importance. We set great store by long-term partnerships with the customers at railways and railway contractors and maintain an open dialogue with all stakeholders caring about the railway system. Ultimately, the contributions we make towards the cost-efficiency and sustainability of the railway system define our success.