UK: Phase 2a of HS2, connecting the West Midlands to Crewe, has been given royal assent in parliament today (11 February).
Phase 2a measures 36 miles (58km) in length and will feature 2 tunnels, 17 viaducts and 65 bridges as well as a maintenance base. By giving royal assent to the high-speed line up to Crewe, it can now connect to one of the country's principal rail hubs at Crewe. It also means this stage of the project can be built earlier than initially planned.
"Today is a landmark moment in our infrastructure revolution. HS2 is the most significant expansion to our national railways in a generation – transforming connectivity between our town and cities and vastly increasing the capacity of our rail network. By proceeding full steam ahead, we are delivering on our commitment to unite and level up the country.
"The construction of Phase 2a will support thousands of jobs and create opportunities for local businesses as we build back better."
In addition to the estimated 5,000 jobs the construction of Phase 2a will support, there will be 140 permanent jobs at HS2's maintenance base near Stone in Staffordshire.
"Parliament's approval for extending HS2 beyond the West Midlands to the North is a clear sign that MPs recognise the enormous potential of this scheme and continue to give their strong support.
"As the first major railway built in the North for over 100 years, HS2 will spur massive economic growth for our towns and cities, help to level up the country, and provide cleaner, greener public transport for millions. As construction starts, this new phase of work will very quickly support 5,000 jobs in the North, with many more in the supply chain, further cementing HS2's critical role in Britain's economic recovery from the pandemic."
Once Phase 1 and 2a are operational, there will be high-speed rail services connecting London, Birmingham and Crewe, which will free up capacity on existing lines such as the West Coast Main Line, improving local and regional services for passengers as a result.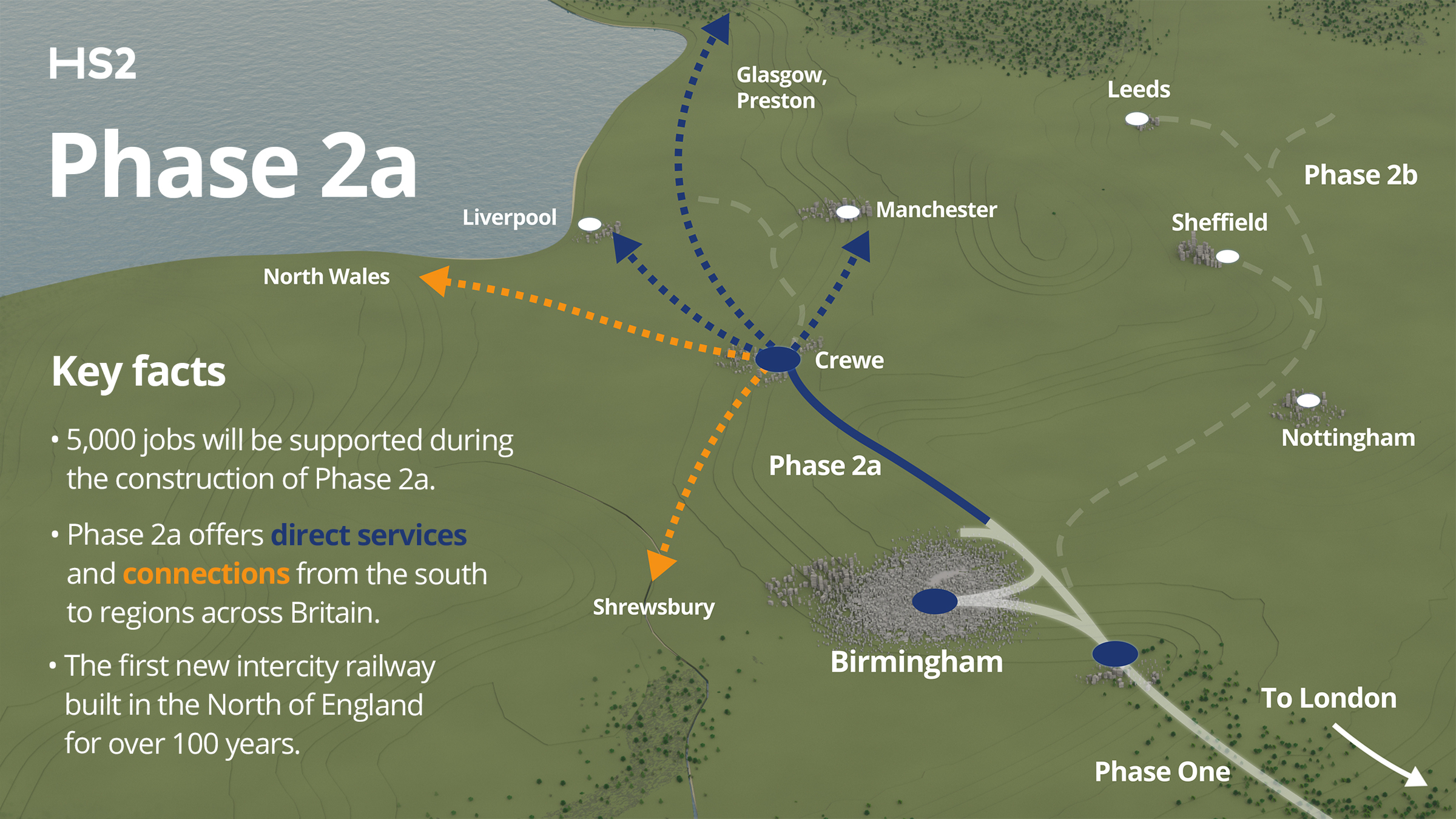 Passenger services are to start between HS2's Old Oak Common station in London and Birmingham Curzon Street between 2029 and 2023. The Phase 2a opening will be aligned with the London-Birmingham route.