Nomad Create New App Prototype in Just Two Weeks
When Nomad embraced the mobile space, we started by identifying future focus areas for mobile applications and general business efficiencies. Through using design thinking methods, the goal was to understand how we could enhance mobile working using technology.
Nomad decided to engage by applying the design thinking method in two, one-week phases: Initial analysis and deep dive.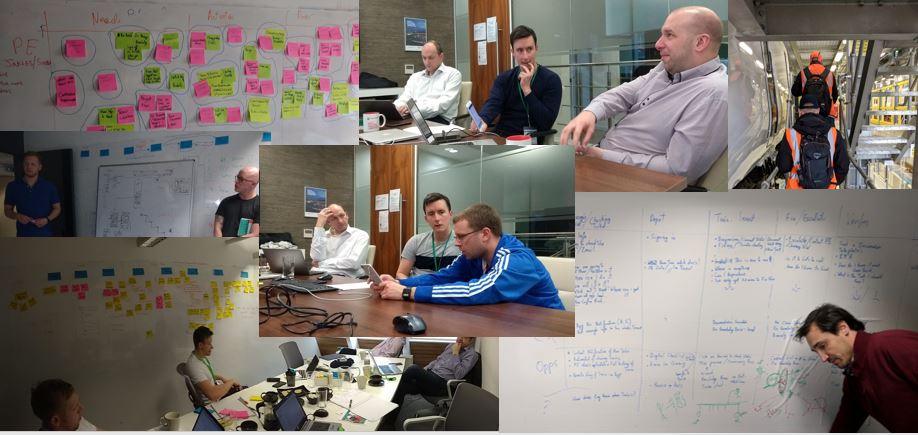 Week One Phase – Empathise, Define and Ideate
The first week initial analysis, started with empathising with the users – the Nomad internal and field engineering teams. By interviewing them, understanding their working process and pains, while shadowing their activities we could then define the application eco-system. We brainstormed around the capabilities and opportunities, finishing the week by identifying five concrete portfolio opportunities that would become business propositions.
Week Two Phase – Exploration, Patterns and Testing
The second week, deep dive, was about further exploration of solutions to pain points discovered in phase one. Using service and experience design we were able to understand and solve some of these pains and identified patterns in terms of the user experience.
The Final Phase – The Prototype
The created prototype entered user testing sessions to collect feedback in terms of concept, usability and functionality. The sessions with users were crucial, we were able to analyse their feedback, refine the prototype and ensure it was fit for purpose.
At end of the second week we had built a working clickable mobile app prototype.
Carlos Palminha, Head of Development, said:
"We are proud to be making a change and a key contribution to rail technology. Making changes are important to Nomad, we see our app as the first step to smart, simple and enjoyable future technology solutions".
For more information on Nomad Digital please contact:
Vicki Sloan, Marketing and Events Manager
+44 (0) 207 096 6966 Ext. 2088
+44 (0) 7703 685 830
About Nomad Digital
Nomad Digital is the world's leading provider of passenger and fleet connectivity solutions to the railway industry. It offers a broad solutions portfolio to both train operators and builders that significantly enhances the passenger experience, and increases fleet operational efficiency.
Its integrated and scalable solutions include the multi-award winning and patent-protected Passenger WiFi, enabling seamless connectivity with the internet and on-board infotainment. In addition, its Passenger Information System for live journey, multi-media information and Passenger Portal Framework simplifies the creation of custom portals for on-board services and entertainment. And Nomad's Remote Online Condition Monitoring, Driver Assist and Power Train products are targeted at identifying efficient fleet maintenance operations and improving fuel economy.
Nomad is the pioneer of the Networked Train – a shared and secure network infrastructure to which all authorised on-board systems and passenger devices may connect