France: Nice Airport Tram Link Inaugurated with Alstom Rolling Stock
The Nice airport tram link started operating on 14 December 2018. The Nice Côte d'Azur east-west light rail extension, which connects the city to its airport, serves 20 stations in total.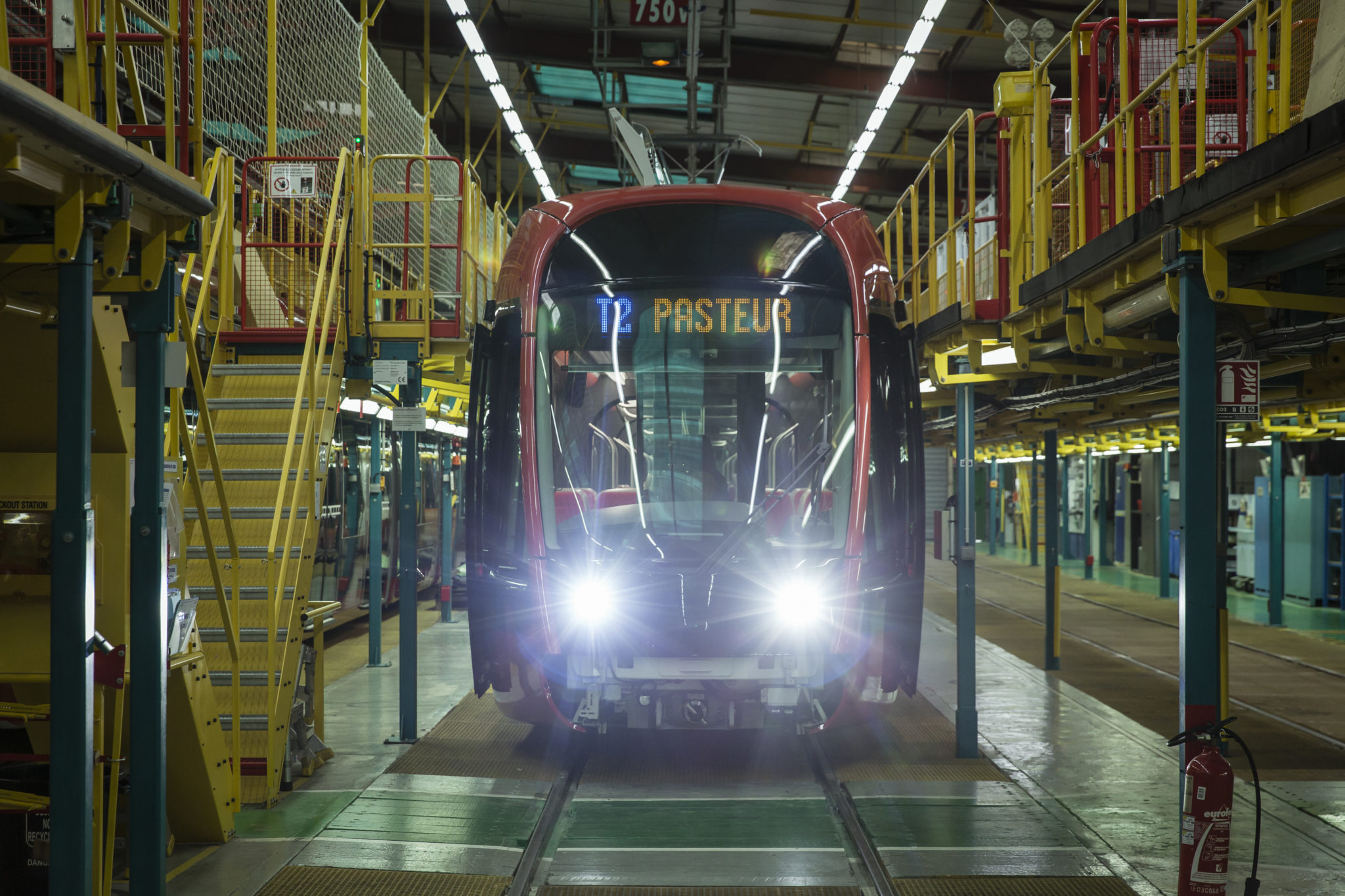 Read: Nice Orders 6 Additional Catenary-Free Citadis Trams
Nice Airport Tram Link Rolling Stock
The trams for the new line, L2, are Alstom Citadis X05 models. 40 percent of the vehicles' surface is glass, giving them a bright, spacious feel. To add to this, they also come with broad individual seats and improved access via the double doors. Despite delivering on a sense of space, the trams actually have an increased capacity of 10 percent. Other performance improvements include a station turnaround rate that is up by 20 percent and preventive maintenance costs that are down by more than 20 percent.
Read: Alstom's Citadis X05 Tram Begins Operations in Nice
Alstom's SRS Ground-Based Static Charging Solution
From an aesthetic perspective, it was important to the city of Nice to avoid unsightly overhead power lines. Alstom successfully delivered on this requirement with its SRS ground-based static charging solution. This is coupled with the on-board Citadis Ecopack solution, which is an energy storage system. The SRS technology charges these Citadis Ecopack units on the tram when the vehicle is stationary at stops. It does so during the 20 seconds or less it takes for passengers to board and exit the tram.
This system is based on the proven APS system of ground-level power supply. It is operational on the light rail networks of Bordeaux, Reims and Dubai.
T2 Inauguration
Christian Estrosi, the mayor of Nice, president of the Nice Côte d'Azur urban area and vice-president of the Provence-Alpes-Côte d'Azur region, presided over the event. Notable attendees included Georges-François Leclerc, the prefect of the Alpes-Maritimes department, Renaud Muselier, the president of the Provence-Alpes-Côte d'Azur region and an MEP, and Charles-Ange Ginésy, president of the Alpes-Maritimes department. The Alstom teams were also present.
Jean-Baptiste Eyméoud, Chairman of Alstom France, said:
"After the Cadam-Magnan portion became operational, the inauguration of the airport section is a major new step. The T2 tram in Nice is a great source of pride for Alstom and a showcase for the world to see the French rail industry's expertise. Many innovations designed by our experts have been used in this project: new-generation trams, the new SRS recharging system developed in Vitrolles, in the Provence-Alpes-Côte d'Azur region, and the first internet-connected tram as of spring 2019, with a tram-ground WiFi connection."
Christian Estrosi said:
"I chose an innovative, high-performance tram system to provide the highest level of comfort for people living in Nice and the surrounding urban area, and for all passengers who use this new line. Today, the west-east line runs to the airport so passengers can enjoy quick access to both terminal 1 and 2 as we have designed a tram station in direct contact with the airport and flush with the ground. Throughout the airport, we find public spaces that are as outstanding as they are along the rest of the line. I have also ensured that the price of an airport ticket is the same as for the entire Lignes d'Azur public-transport network. The west-east tram line will therefore take passengers straight to the airport from the city centre in just a few minutes for 1 euro. That is unique in the world!"