Keolis to Operate Gold Coast Light Rail Extension
Present operator of the Gold Coast light rail network in Queensland, Australia, Keolis Downer, has been selected to run the 7.3km Gold Coast light rail extension which will begin operating in 2018. Keolis will be responsible for the operation and maintenance of Stage 2, the first extension of the Gold Coast tram network, G:Link.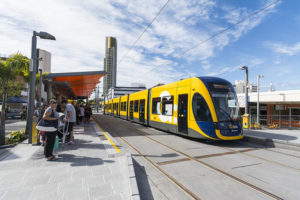 The extension will benefit from three new stations, park & ride facilities and four new trams. Substantial construction will commence in the middle of 2016 and is expected to be finished in time for the Commonwealth Games in 2018.
G:Link is the most recent light rail network in Australia. It is also Australia's first greenfield tram project which was obtained by a Public Private Partnership (PPP). The concessionaire is GoldLinQ, of which Keolis owns 10% of shares. It will subcontract operation and maintenance to KDR Gold Coast. Bombardier will be responsible for the provision of extra rolling stock to operate on the extended system. Civil construction will be carried out by CPB Contractors.
Gold Coast Light Rail Extension
The first stage of G:link began operating passenger services in July 2014. Over half a million commuter journeys were made in the first month, with around 6.5 million people travelling on the network in its first year. The fleet availability is figured at 99.99% (number of trans in service against the number scheduled). 97% of services were classified as "on time" (arriving within two minutes of their scheduled time). Customer satisfaction was 89.9% in December 2015. It serves 22,000 passengers per day.
The network operates 14 trams and 16 stations. G:link operates on a 13km route linking the Gold Coast University Hospital to Broadbeach. The extension will carry the line on from its northernmost point at the hospital on to Helensvale train station, which services Brisbane.
G:link has encouraged urban renewal adjacent to the light rail corridor and the wider Gold Coast. Around AU$6 billion in development has been created by the line. It has also contributed to a 25% increase in the uptake of public transport in the region, alongside an integrated bus network.
Bénédicte Colin, Keolis Downer's Chief Executive Officer, said:
"Keolis is proud to provide support and expertise for this extension project and will work in partnership with the GoldLinQ consortium and the Queensland Government, to ensure it is as successful as the current network. This contract shows the trust we have established with our local stakeholders, and demonstrates our leadership in light rail operations around the world."