Network Rail Unveil Britain's Innovative New Grinding Trains
Network Rail has unveiled three new grinding trains costing £36m, which we be deployed across Great Britain to keep the track in good condition and provide passengers with a smooth, reliable journey.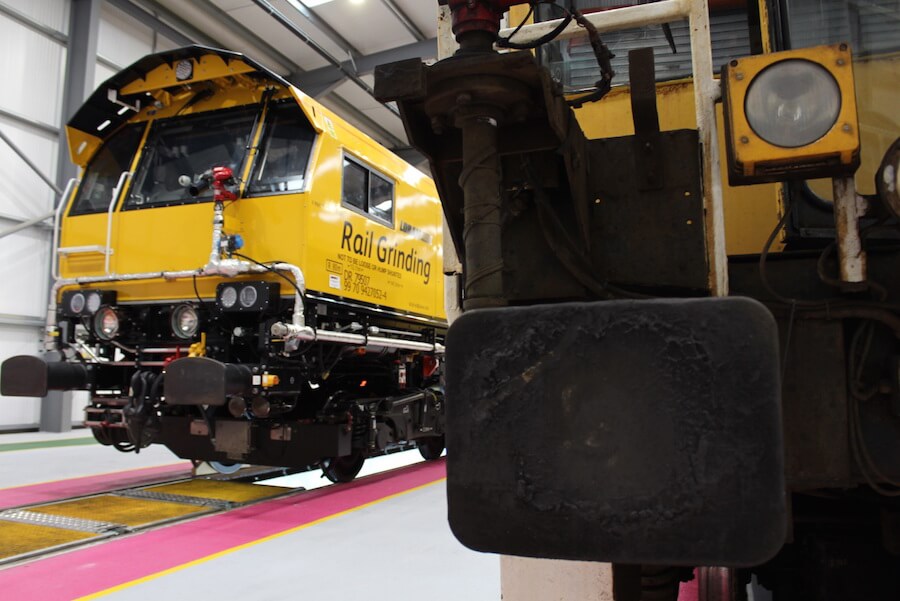 Grinding Trains
The multi-million pound trains, which remove small layers of metal from the railhead, represent a significant investment for Network Rail route services who worked with industry partners Loram and Colas Rail to design, build and maintain the new, improved models.
The three trains will replace a number of older grinding machines that are coming to the end of their life. The new models cost £1,000 less per shift to run, deliver 35 per cent more output, have increased reliability, better welfare facilities for the teams working on them and are expected to last for the next 30 years.
Benefits of the New Fleet of Grinding Machines
150-metre grinding train cost £12m and has a life of 30 years, which can be extended through timely maintenance
Increased metal removal due to more productive grinding at higher speeds, up to 15mph
Increased transit speed of up to 70mph to get around the network quicker impacting fewer passenger and freight services
The machines are modular, therefore can be attached together to make a larger machine, or stay small to be more targeted
Modular design also means replacement of parts and components can happen much quicker, which in turn reduces down time of the machine.
Improved working within third rail areas
Carry more water to dowse to prevent smouldering
Obstacle avoidance system to limit impact of track side furniture and equipment
Full welfare facilities on board meaning a more comfortable working environment for the teams
Two of the three machines are already out on track and the largest one will be in service over the Christmas period, after it completes its dynamic testing.
Leevan Finney, project manager at Network Rail, said:
"This has been a fantastic example of different parts of the rail industry working together to deliver new and innovative solutions which ultimately improve the railway for passengers. By working together we have been able to deliver a safer, more cost-effective, productive machine which also provides a more comfortable working environment for our people to work in.
Susan Cooklin, managing director for Network Rail route services said:
"Route services are here to provide the routes with the best equipment possible to help keep their railways running. The old machines were becoming unreliable and inefficient so the investment in the new grinding trains was absolutely essential to keep the tracks in good condition to minimise the chance of defects and to keep passengers safely moving across the network.

"I would like to thank both Loram and Colas Rail for the significant part they have played in helping us develop the new grinding trains. By working closely together we have been able to create an impressive new design using state of the art technology and innovation which will help maintain our railways for years to come."
Original article © Network Rail.
FOR ALL THE LATEST INFORMATION, NEWS, IMAGES, VIDEOS AND ARTICLES ON ALL ASPECTS OF TRACK MAINTENANCE, PLEASE CLICK HERE.