The Current Situation of the Rail Industry as a Result of COVID-19
The global pandemic has caused society and the global economy to face challenges that have never been seen before and as such they were unforeseeable too. MTM Power® takes the present situation very seriously, giving the health and safety of our employees the highest priority. At the same time, we are doing our utmost to take into account the permanently changing requirements in our customers' needs.
Railway technology involves long-lasting capital goods. Unaffected by the corona pandemic, MTM Power is currently working on ongoing projects. Planning concepts in the rail industry is based on longer implementation periods. Many projects were already scheduled prior to the pandemic, therefore MTM Power does not expect any major effects on railway vehicles already in production. The situation is different for projects that have not yet been finally decided. Here, it can be assumed that they will be implemented with a time delay. Especially when it comes to the test phase, projects cannot be timed as planned. With this in mind, MTM Power expects a slight decline until end of the year.
On a positive note, the current delivery of components for MTM Power rail products is consistently stable. The majority of the suppliers have implemented an emergency operation to secure demand, so that MTM Power has not had any significant losses in the supply chain so far. The only downside is that, due to the corona virus national and international supply chains have become more expensive, which is reflected in the steadily increasing transport costs of components.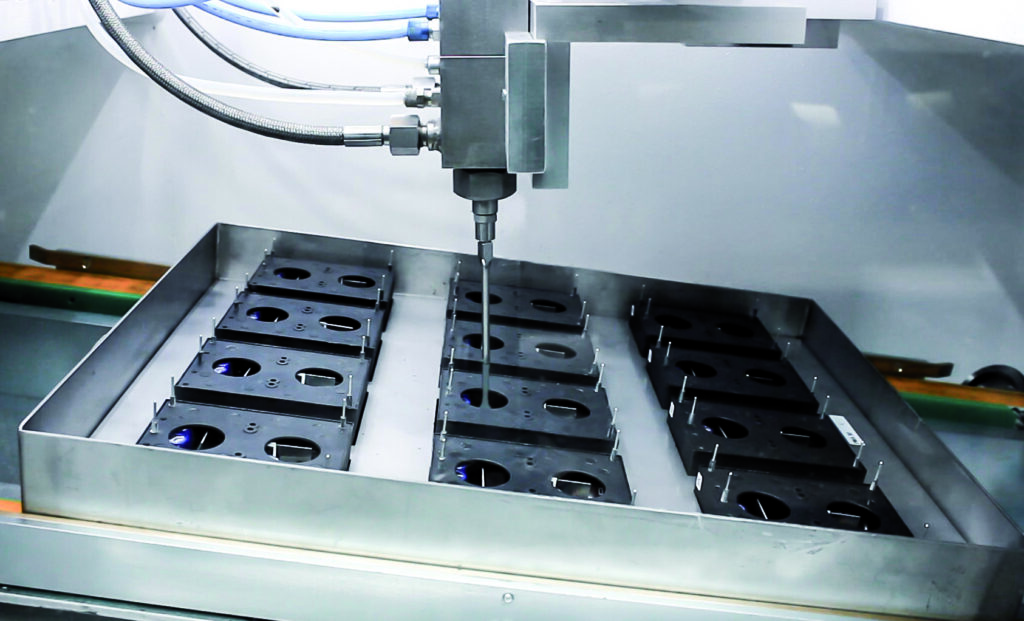 InnoTrans and Future Outlook
With the rescheduling of InnoTrans 2020, the railway industry has lost an important communication platform this year. For MTM Power, InnoTrans has become the most important event for its rail business. Therefore, MTM Power will definitely take part in InnoTrans 2021, which will take place in Berlin, 27–30 April 2021, to inform attendees about its latest developments and general power supply trends for sophisticated use in railway technology.
New Products: PCMDS250 DC/DC Converter Series
MTM Power is now investing this additional time in developing further series and bringing them to the market by spring 2021. The PCMDS250 series is one of the most recent developments in the DC/DC converter product range for use in railway technology.
MTM Power® GmbH has developed the new DC/DC converter series PCMDS250 for universal applications in railway and vehicle technology. The PCMDS250 series is based on a revision of the well-proven PCMD250 converter series after more than 10 years of successful market presence. The aims of the development were a further increase in efficiency and reliability and the integration of various features such as Power Good signalling and stand-by operation.
The converters with an output voltage of 24 VDC deliver an output power of 250 W. The design of the output voltage with U/I (constant voltage/constant current) characteristic allows the supply of critical loads and charging of batteries (optional Uout=27.6 VDC). Two input voltage ranges according to EN 50155 are available: 72 VDC (43.2…100.8 VDC) and 110 VDC (66…154 VDC) which allow the DC/DC converters to operate on common battery or on-board networks in Europe, in trackside applications and in stationary railway systems.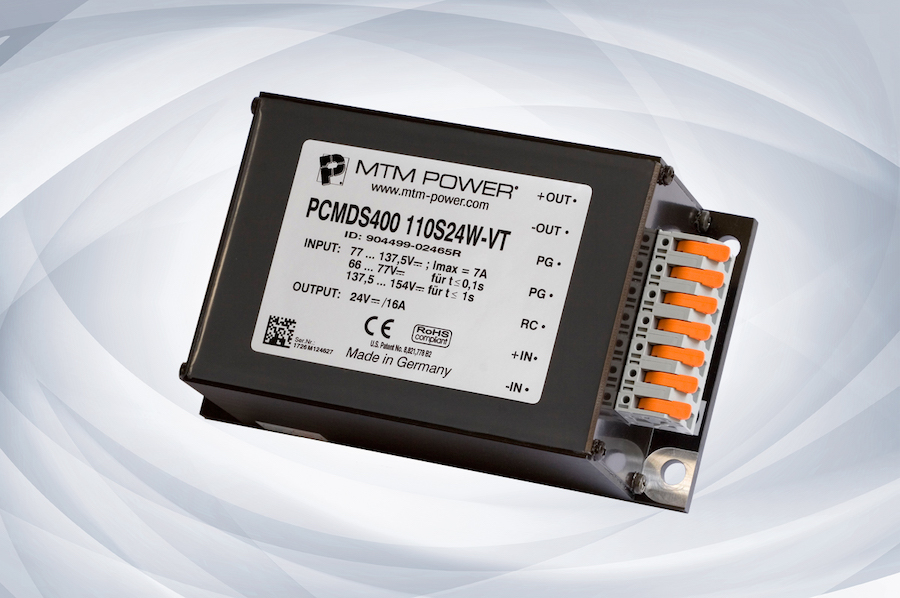 © MTM Power® GmbH
The devices have an 'Output Voltage OK' signal as a potential-free contact as well as a remote-control capability to place the converter in standby mode with the lowest power consumption. An undervoltage shutdown protects the converter as well as the application from damage during brownout effects of the supply voltage. Using a primary-related control input RC (Remote Control), they can be put into standby mode with the lowest power consumption; thus contributing to an increased availability of the supplied systems, especially during battery operation. The DC/DC converters are now connected via push-in cage clamp connectors with lever, which are designed for wire cross-sections up to 4 mm².
Designed for an operating temperature range of -40 to + 70 °C (class TX according to EN 50155) the cooling is guaranteed either by the integrated heat sink (option WK) or by mounting the base plate on a heat dissipating surface. Due to their compact design, the converters are suitable for applications where space is limited. Furthermore, they are robust against mechanical stress such as shock and vibration.
The maintenance-free converters are vacuum potted (EP 1 987 708, U.S. Patent No. 8,821,778 B2) and offer reliable protection against condensation, conductive dust and other environmental conditions. A version with protection degree IP67 is possible upon customer request. The compact dimensions of 170 mm x 110 mm x 38 mm (length x width x height) and the high packing density create an efficient, cost-saving solution for different power supply tasks.
Resistant to both mechanical stresses, such as shock and vibration, and environmental influences such as condensation, humidity and conductive dust, the MTM Power DC/DC converter series has been designed in accordance with EN 50155 and EN 45545-2 and is suitable for sophisticated use in trains, for mounting in containers in the roof or underneath the floor, as well as in driver's cabs, engine compartments and in the wagon.
Additional MTM Power Products
Besides these rail converters, the MTM Power product range includes transformers, filters and multi-power supply systems of up to 2 kW. At the same time, custom-made products and modifications of existing products can be realised also in relatively small volumes and in a short period of time.
All MTM Power devices are especially designed to ensure the delivery of operational requirements under rough and critical conditions. They also comply with all the requirements and standards specific to railway operations. MTM Power® provides its customers with the relevant Certificates of Conformity (CoCs) for fire protection, and short reports of the DVT (design verification test) and all railway operation products.