Series PCMDS150 as Base Plate or Heat Sink Version
The DC/DC converters series PCMDS150 from MTM Power® are specially designed as decentralised power supplies in vehicles and for supplying closed sub-systems in rolling stock applications. They are available with three wide input ranges thus enables the use of the converters on batteries with 24 V, 48 V and 100 V acc. EN 50 155. The converters are also suitable for use in industrial and telecommunication applications.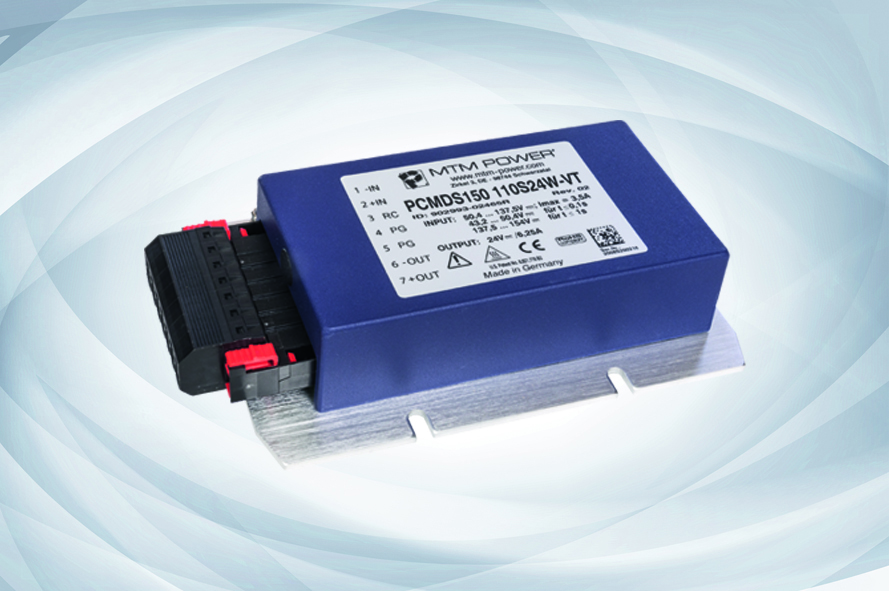 The PCMDS150 are available with 150 W output power and operate according to the push-pull topology with a frequency of 70 kHz. With the help of a transformer and a secondary linear choke, a galvanically isolated output voltage (12 V; 13,8 V; 15 V; 24 V; 27,6 V, 48 V oder 55 V) is produced which is adjusted by pulse-width modulation according to the current mode principle. The devices can be operated in a temperature range of -40…+70 °C without derating and have an efficiency of up to 90 %. The dimensions of the base plate version are 170 x 115 x 38 mm. Due to the rugged design with contact-cooling (BPC technology), it is possible to reduce the power loss via heat dissipation through the mounting plate while increasing the life-time of the devices at the same time. In addition a heat sink version with 160,5 x 115 x 65 mm (length x width x height) is available.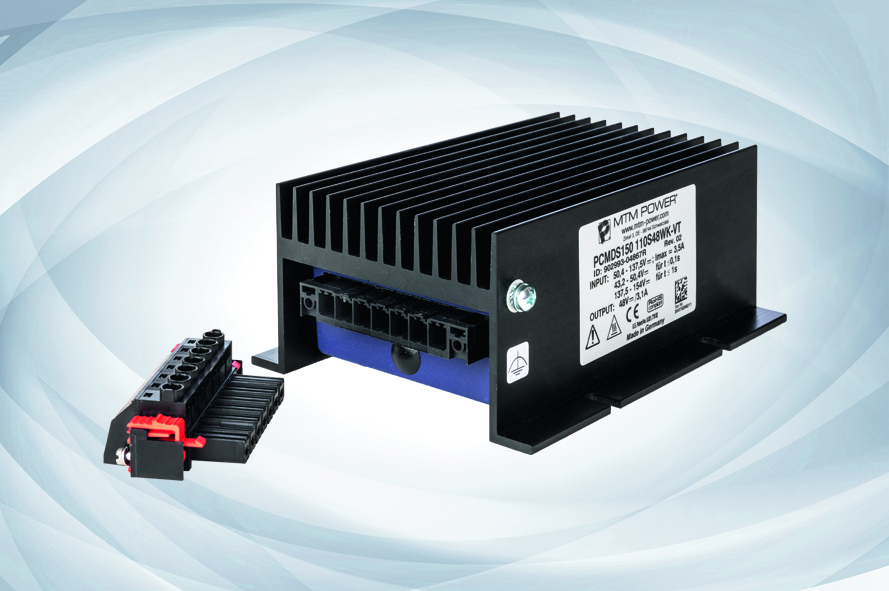 © MTM Power
The thermoselective vacuum encapsulation guarantees homogeneous heat dissipation within the modules as well as an excellent resistance against environmental influences such as shock, vibration and humidity. The converters need no ground load and are short-circuit protected by primary and secondary power limiting. They are maintenance-free, prepared for the use in devices with Protection Class II and fulfil the fire protection directive EN 45 545-2. Using a primary-related control input RC (Remote Control), they can be put in a stand-by mode with lowest power consumption; thus, contributing to a longer availability of the supplied systems, especially during battery operation.