Mitigating Track Closures with Environmentally Friendly Slope Stabilisation
Stabilising slopes and landscapes that are adjacent to railways is essential for protecting and increasing the performance life of the railway system.
Engineered Earth Armoring Solution offers an environmentally-friendly solution to mitigate rail closures due to unstable slopes and erosion.
These systems have most commonly been used to protect roadways; however, this same technology can be used to protect railways from slope instability. Propex Engineered Earth Solutions has been protecting and stabilising steepened slopes for over 20 years. With over 35 million square yards of successful installations, Propex can provide solutions to design for the most challenging of environments.
Multiple sections on Wolf Creek Road in Lane County, OR required stabilisation and erosion protection due to roadside slides. The contractor originally used gabion baskets on one section of the road but decided to try SCOURLOK® because it offers robust slope stabilisation and installs faster than other armouring options.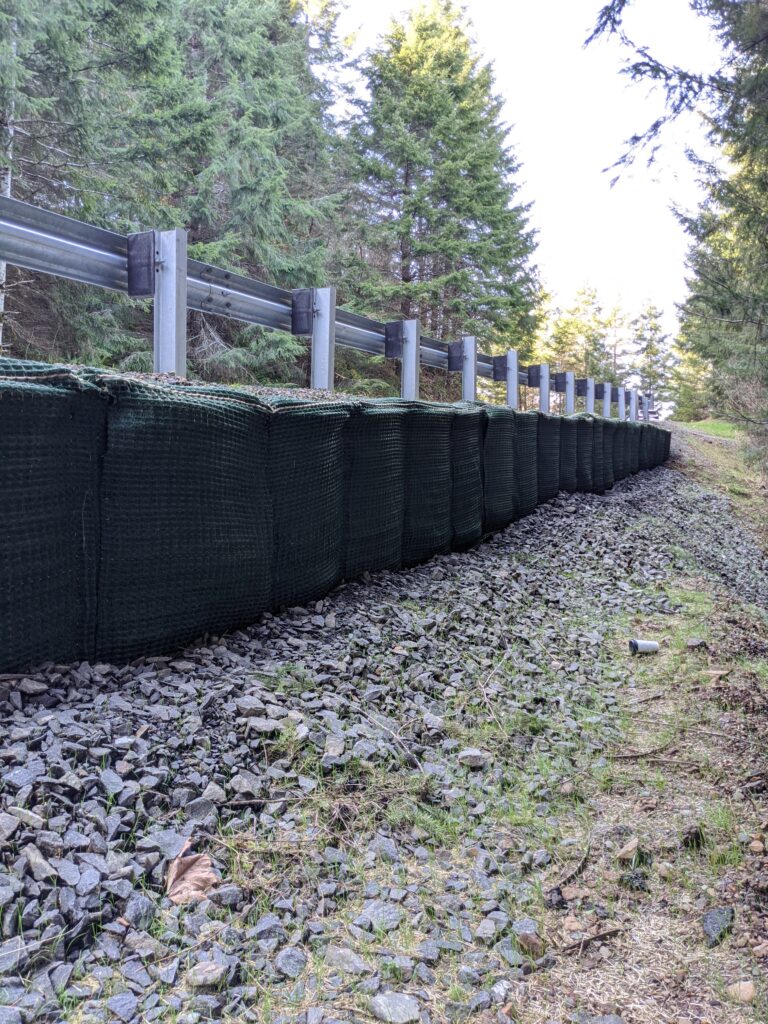 SCOURLOK is a versatile stabilisation system that features rigid and interlocking cells armoured with erosion protection from a highly UV-stabilised High Performance Turn Reinforcement Mat (HPTRM). The system is engineered to provide a vegetated gravity wall system that resists sliding and overturning for up to 75 years.
In only two hours, two people were able to install 23 metres of SCOURLOK. In comparison, it took six people the same amount of time to install just 4.5 metres of gabions. In addition to significantly reducing labour and installation costs, the length of time that the roadway was closed during repairs was greatly reduced.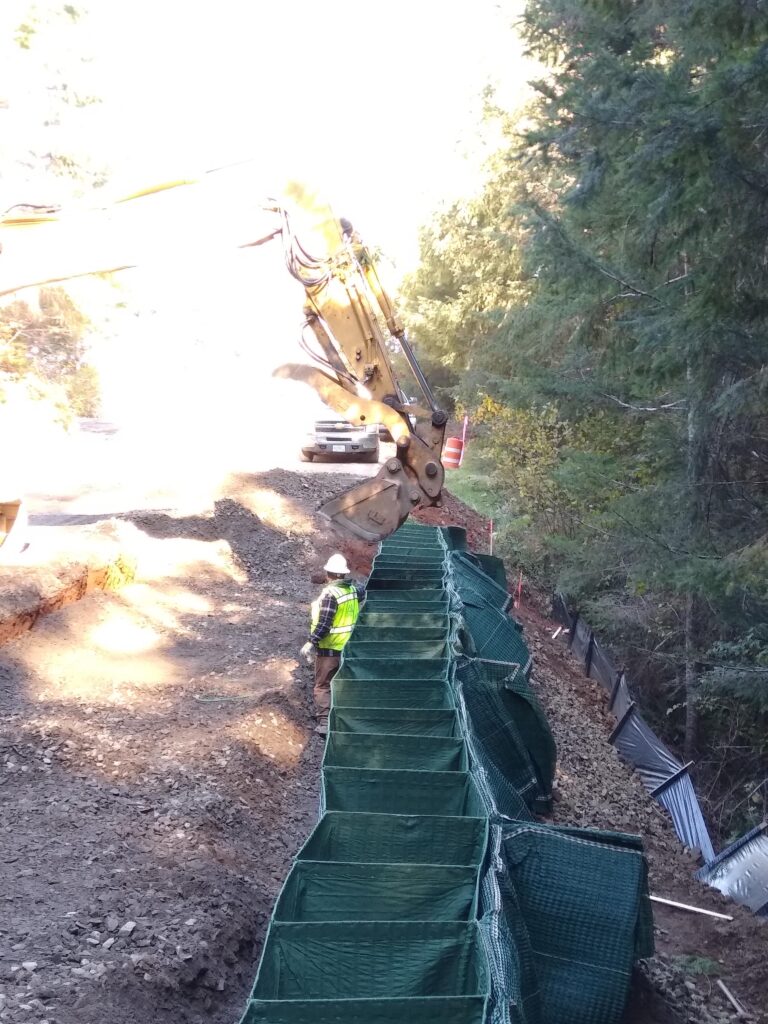 © Propex GeoSolutions
The SCOURLOK system features robust HESCO® units as used to protect military and civilian personnel in dangerous environments. These units are filled with soil and other materials and can easily be connected and contoured to accommodate projects of any size. Another benefit to using the SCOURLOK system on the Wolf Road project was that a mixture of dirt and rock left over from the road reconstruction was used to fill the SCOURLOK baskets. This material could not be used to reconstruct the road and would otherwise have been discarded. The ability to use this material saved the cost and time of hauling it offsite.
SCOURLOK also provides more environmental benefits than gabions and other alternatives such as rock and concrete. The HPTRM component of the SCOURLOK is engineered to lock seeds and soil in place to promote rapid root development for long-term vegetation. This technology has been recognised by the Environmental Protection Agency (EPA) as a best management practice (BMP) to improve water quality.
Another environmental benefit of the SCOURLOK system is its small carbon footprint. One square metre of its HPTRM has a cradle-to-grave carbon footprint of 2.7 kgCO2e. Comparatively, the carbon footprint of concrete and rock-based alternatives is up to 30 times higher.
Geotechnical slope failure and soil erosion can occur in any region. Steepened slopes often require stabilisation and protection from surface erosion. In some cases, when the slope is stable, protection from surface erosion is still required. The incorporation of an Engineered Earth Armoring Solution can assist in remediating geotechnical slope failure by passively resisting soil movement. Propex's solutions promote reinforced vegetation and are highly UV-stabilised to perform in the harshest environments, even when vegetation is sparse.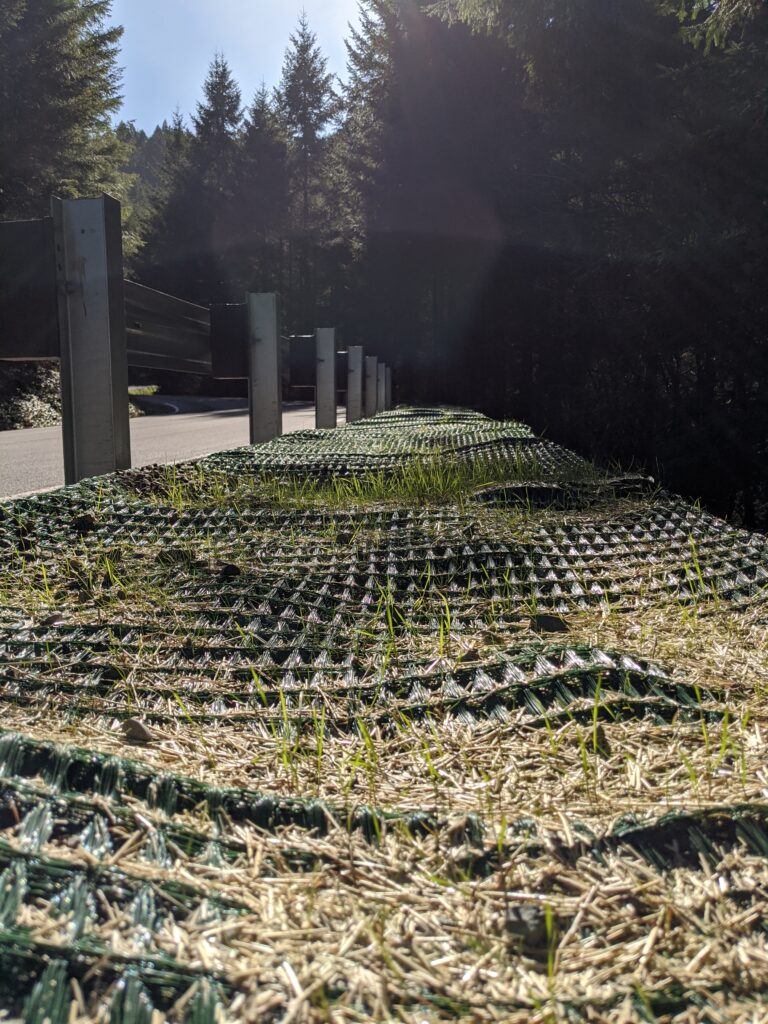 © Propex GeoSolutions
Propex's manufacturing facility houses the largest geosynthetics capacity under one roof, worldwide. This facility has the capacity to produce 400 million square metres annually, and currently ships to 34 countries across the globe.
To learn more about SCOURLOK and our other solutions for slope stabilisation and erosion control, please contact Randy Thompson at [email protected]