Lord Adonis Proposed as Crossrail 2 Chair
The Mayor of London Sadiq Khan, UK Chancellor George Osborne and Transport Secretary Patrick McLoughlin have jointly proposed Lord Adonis as Crossrail 2 Chair. The appointment remains subject to approval by the London Assembly and Transport for London Board.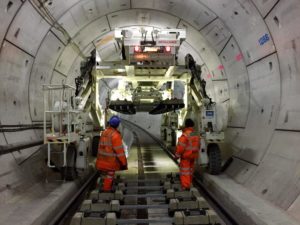 The proposal follows the Mayor and the Transport Secretary meeting to agree the remit for the role. Crossrail 2 is a proposed project to create a new rail line running south-west to north-east across London, complimenting Crossrail 1, known as the Elizabeth Line.
Lord Adonis is former Secretary of State for Transport and Minister for Schools, as well as a member of the independent Armitt Commission which recommended the establishment of an independent National Infrastructure Commission in 2013.
Crossrail 2 Chair Recommendations
Lord Adonis said:
"Without Crossrail 2 London will grind to a halt. There are no greater challenges facing London than overcrowding on the transport network and the city's acute housing crisis. Crossrail 2 will help tackle both.

"I am delighted to be nominated to be its chair, whilst continuing the vital work of the National Infrastructure Commission, and I look forward to making it happen."
Secretary of State for Transport, Patrick McLoughlin, said:
"At this year's Budget, the Chancellor gave the green light to Crossrail 2, a railway to transform how people travel in and around our nation's capital. This transport project needs strong and experienced leadership and we agree with the Mayor of London that Lord Adonis will bring all of the vital skills and knowledge needed to drive the project forward.

"We now look forward to working in partnership with Transport for London and Lord Adonis to fully develop the business case for Crossrail 2. We are investing billions in projects right across the country because we know good transport links help people get around and get on."
The Mayor of London, Sadiq Khan, said:
"As London grows, it is imperative that we plan now for the transport infrastructure it needs for the long-term. So I am delighted to announce my proposal to appoint Andrew Adonis as Chair of Crossrail 2. He will bring vital experience to help ensure Crossrail 2 gets off the ground and is delivered as quickly as possible."