Keeping Up With Change in Wireless Communication
Egbert Stellinga, TE Connectivity's product manager for antennas, explains how train manufacturers and operators can keep up with the fast pace of change in wireless communication.
Rapid development of digital railway technology and growing customer expectations for mobile communication mean that wireless traffic is growing fast. This is presenting the railway industry with a major challenge.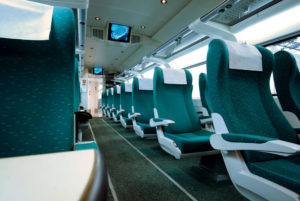 Whereas trains are designed for a 30-year life, communication hardware such as radios, antennas and switches must be replaced every 5–7 years. Many train builders are already installing high-performance Category 7 cabling to support future upgrades. Shifting to higher-capacity, cellular networks will open up the potential to offer more data services to passengers, as well as enable smoother operation through adoption of condition-monitoring systems. OEMs (original equipment manufacturers) and refitters must specify equipment such as antennas with care. While every application for antennas is different, the top priorities for rail antennas are compatibility with frequency bands (frequency range) and mechanical aspects of performance such as the air speed, IP (ingress protection) rating and DC (direct current) grounding.
Frequency Range and Bands
A large frequency range and the number of frequency bands supported are important. A large range will ensure that an antenna will be compatible with the frequencies in multiple countries. The most commonly used frequency bands in rail are: cellular or LTE (Long-Term Evolution), WiFi or WLAN (wireless local area network), GPS (Global Positioning System) and the Tetra band, which is used by emergency services.
However, multiple antennas can be housed in one enclosure, meaning that a single unit can take the place of four. This saves time during installation and maintenance and can reduce the number of spares required. One benefit of this is that it minimises the number of holes in the train roof. Refitters can upgrade to a new antenna with a standard four-hole mechanical mounting that fits as a like-for-like replacement.
Future-Proofing Data Transmission
Like other industries, rail operators are shifting towards faster technology, such as fifth generation 5G cellular technology which will potentially be four times faster than today's 4G network when it is rolled out from 2020. Operators may need to install new antennas to accommodate 5G as it will probably use the 700MHz and 3.5GHz bands.
Looking ahead, the next big step in WiFi technology is the IEEE 802.11ax standard (AX). This will
introduce a new type of WLAN with maximum speed predicted to be 10 Gb/s, four times faster than the current technology. It achieves this by squeezing signals to get more data into the same bandwidth using MIMO (multiple- input and multiple-output) antennas.
Although AX won't be available until 2019 or later, it will be compatible with today's state-of- the-art antennas that operate in the 2.4–2.5 GHz frequency range and is likely to become the rail industry's standard for WiFi.
Mechanical Performance
Under the hood, railway antennas are very similar to those in consumer electronics and other industries. The main difference is that rail antennas can survive harsh conditions and meet high safety standards.
This is particularly true for units installed on the roof of high- speed rail cars, which are housed in weatherproof enclosures shaped like a shark's fin. These cut through air to minimise aerodynamic resistance and withstand mechanical shocks and electrical surges, even in the extreme case of a catenary line falling on to the train roof.
Interior antennas and those for the exterior of metros and commuter trains are less streamlined and withstand lower air speeds although they must also be weatherproof. The same is true for stationary antennas in trackside installations.
FOR ALL THE LATEST INFORMATION, NEWS, IMAGES, VIDEOS AND DOCUMENTS FROM TE CONNECTIVITY PLEASE CLICK HERE.