Kapsch CarrierCom Next Generation Railway Communication System
Kapsch CarrierCom has announced that it has reached a milestone in developing the next generation railway communication system by successfully executing the first Functional Addressing call utilising SIP signalling based on the IP Multimedia Subsystem (IMS) in its Vienna lab. The Functional Addressing Service (also known as "Follow Me") is a crucial operational aspect of railway communication networks. It allows a calling party to reach a "function" or role, for example, the "train driver" doing away with the necessity of dialling an explicit directory number.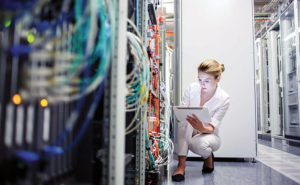 Next Generation Railway Communication System
The milestone was reached by combining softphone based user equipment, IMS capabilities and the service logic hosted within the SCP5 application server. The Service Control Point Release 5 (SCP5) is a convergent Service Delivery Platform (SDP) and allows for centralised service and functional transparency of the underlying network architecture. It will also enable a smooth transition between networks currently operating and the future Full-IP System.
Kapsch will launch its second Next Generation Product which uses standard COTS (commercial off-the-shelf) hardware. It is enabled for virtualisation and is flexible and cost-efficient for deployment in railway data centres.
The system used for the functional call demonstration meets the concepts discussed in working groups relating to user requirements and system architecture defined by the UIC project, Future Railway Mobile Communication Systems (DRMCS). It will form a part of the innovative developments of the European SHIFT²RAIL joint initiative.
Kapsch's Next Generation Strategy will be more reliable and available, safer and more cost efficient than alternative communication systems. As railways transition over to new communication and signalling systems over the coming years, they will move over to IP-infrastuctures including these.
Jochen Nowotny, Vice President Product Line Management and Research & Development at Kapsch CarrierCom, said:
"The successful execution of the first call is an outcome of the fruitful collaboration among the experts of Kapsch CarrierCom's nine R&D sites. We have set a strong focus on research for the evolution of Kapsch's railway portfolio, and challenged ourselves to provide a convergent solution for today and tomorrow. With our approach we are combining IT and telecommunication excellence for the benefit of our customers."
SHIFT²RAIL
Kapsch became an associate member of the SHIFT²RAIL initiative in December 2015, working on the analysis, specification and implementation of a prototype for a future communication system emergency call under the Innovation Programme 2 (IP2). SHIFT²RAIL is a European project bringing together industry leaders to develop market-driven solutions which will improve the capacity of the European railway system, creating new innovations, products and solutions which will reduce life-cycle costs and enhance the competitiveness of the European railway industry.
This latest development will also form a part of Kapsch's work on Luxembourg's railways to develop a national railway communication network based on GSM-R which will encompass 271km of track.