Inspiring Stories for International Women in Engineering Day – Emma Gilchrist
Emma Gilchrist is the founder of Motion Rail, a telecoms company that has worked on prestigious projects such as Crossrail and Thameslink.
With the International Women in Engineering Day (#INWED17) coming up on 23 June 2017, I wanted to find out how Emma didn't just get into this male-dominated industry, but how she came to run her own successful company.
Emma's Story
I put my first question to her: "how did you come to work in the rail industry?" She laughs. (Emma laughs a lot.) "It was a bet!" I like her already.
She explains, she was working in a pub in Devon, waitressing at the time. She was 18 and trying to pay her way, having had a son when she was just 15. There were engineers staying in the pub and they were in the bar talking about their work and boasting about how much money they were making. She told them she could do that too. They said, "bet you can't!" and Emma obviously retorted, "I bet I can!" so they took her to work and she assisted with a fibre joint. The men were impressed with her, saying she had patience and the small fingers necessary to do the delicate work.
Emma absolutely loved the experience and went straight home to tell her mother that she wanted to train as an engineer. Her mother laughed and asked her, "what do you want to do that for?" – but not because she didn't think it was a suitable career for a woman. Emma's mother in fact trained as a welder and had worked on the Channel Tunnel.
Emma says she had to convince her mother that she was serious at first because she hadn't really stuck with anything up until then and after having had a child at 15, she needed to prove herself. She went to the Prince's Trust for help who gave her a £500 grant to complete a fibre optic training course. Emma is full of praise for the Prince's Trust.
Once Emma's family believed she was serious, they were incredibly supportive. Her grandparents gave her her inheritance early so she had some money to support herself and her mother looked after her son. Emma took courses with a company called Optical Technology Training in Yorkshire. It was there that she met Richard Ednay, who she says was hugely supportive, encouraging her to go for her chosen career.
She then returned to Devon and went to the Job Centre every day, looking for work. A hospital relocation job came up in Swindon, a four-month project, and she took it. Helpfully, she adds, she broke her arm the day before the Swindon job started. But she was one of a team of engineers, all of whom were helpful. This placement was hard for her because she had to be away from her son. She travelled up on Mondays and back down on Wednesdays to see him midweek, before travelling back up again early on Thursday mornings.
A Job with Thales
Emma had also applied for a job with Thales. She actually missed two interview dates, but then got a call from the HR department insisting that she show up for the third one. Emma went and got a job as a railway telecoms maintainer in Wales so she moved there with her son.
Emma had to be on call for this job and it also required her to work nights. Luckily, she had a brilliant childminder, she says, and a great boss. She got training at Thales to apply her skills to the rail sector specifically.
Throughout her journey Emma got a lot of help from family and encouragement from mentors and bosses. She said though that with peers she really had to prove herself as a woman – she had to work harder and be better to be accepted by them, to "be one of the guys". Emma seems to have taken it in her stride. She has always been willing to work hard and from the ground up for what she wants. Her grandfather has been a big influence in her life, she says. He was a commander in the navy but started out peeling potatoes.
Another person who was a big influence on Emma was a man called Lionel Gray. She describes him as old-school, a rail engineer who was a constant source of encouragement to her, a mentor. She tells me he was her boss and they both applied for the same job and she got it and after that they never spoke again. I get the feeling that if she could change anything, it would be this.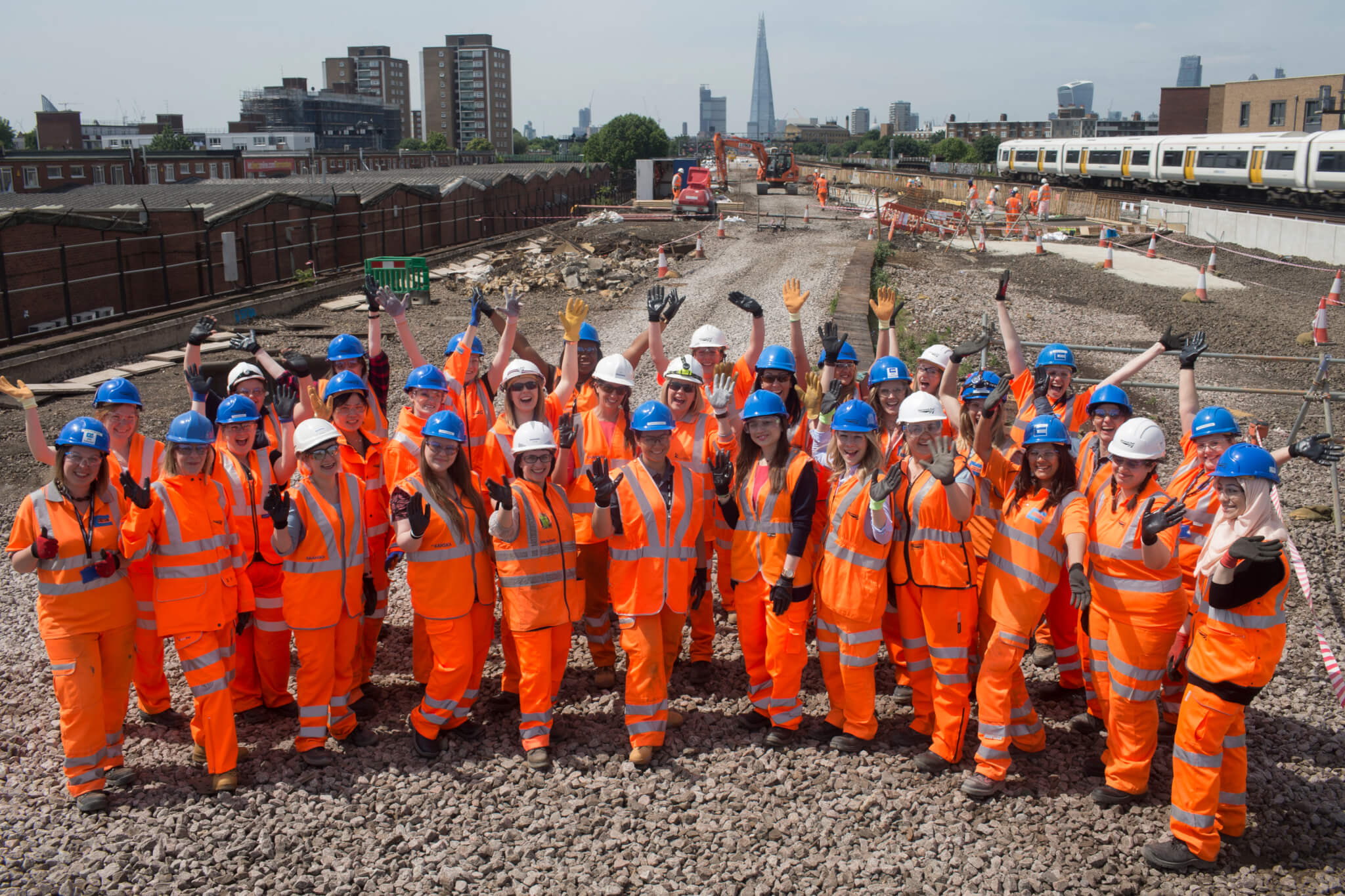 Emma moved from engineering to management in Thales, which she found quite lonely in comparison. So in 2009 she left Thales and started working at Track Safe Telecom Ltd. She laughs again. "I was quite excited because I got an Audi as a company car." In the end, however, she was made redundant and took a job at a coffee shop.
Next Step: Her Own Company Motion Rail
After some soul-searching she reached a decision. She had had seven years of training and had obtained her IRSE licence. She decided to set up her own company: Motion Rail. Again she started out small, just her in a van, with the company entirely paying for itself. She didn't want to take out any loans. She had had a daughter who was four at this point. She worked long days and relied on the help of au pairs.
Since then her company has gone from strength to strength. She got her first employee, Craig, she has worked on the Severn Tunnel, Crossrail, Thameslink, the decommissioning of Liverpool Street… In 2012 she became an approved Network Rail supplier and in April 2016 she got her rail contracted certificate.
Her son, who was 3 when she embarked on this journey, is 20 now and also works for Motion Rail. It is important to Emma to give something back. She has had so much help and support along the way, vital encouragement and training opportunities.
Emma has signed up to Jobs Growth Wales, a programme for 16–24-year-olds established by the Welsh Assembly Government to get young people into work. The young people taking part in the scheme get a six-month placement where half the wages are paid for by the company and the other half by the Welsh government. This is how Emma came to hire her first female employee, Lauren, whom she has now taken on permanently to work in finance and tendering. Emma tells me she won't get any more senior in her field so her goal now is to pass on her knowledge. Lauren is getting her driving licence through Motion Rail, as well as her Level 3 accountancy certificate and her Personal Track Safety card. Emma is also about to take on two further young people from Jobs Growth Wales.
But Emma's desire to give back goes further. She is keen to have a rail training academy in Wales. She is in the process of setting up a not-for-profit organisation, a training school for the underprivileged. She says it can be a huge barrier that young people need at least 5 GCSEs to even get started. This mind-set also harks back to one of her grandfather's philosophies. 'Some people are worth saving'. By which he meant, sometimes people need another chance because they will come good.
Emma's career in rail has brought her personal happiness as well. It was on a job with her company Motion Rail that she met the man she would end up marrying, Liam, a Network Rail employee. She describes herself as always having been a bit of a tomboy, and she likes working with men – they're simple creatures, she says, straightforward, so she is clearly a little embarrassed to say that when she met Liam she went a little bit, well, giggly. I like to think of it as being in keeping with her no nonsense attitude. "That's the one I want, that's the one I shall have."
I comment that she seems to have received a lot of support and encouragement along the way, particularly from her bosses, whereas maybe her peers have been the toughest on her. I ask her whether she experienced any other challenges by being a woman in a male-dominated workplace. She says she got the 'locker room talk' when she was younger. Not from her own colleagues but when they went on site visits – comments like 'get your boobs out luv' and wolf whistles. But that doesn't happen anymore, she says.
Paying It Forward
It's another example of how Emma seems unperturbed by the difficulties she's faced, yet she is passionate about making it easier for the next generation. She is involved in several campaigns. She is a registered STEM Ambassador – there are more than 30,000 of them who give their "time, enthusiasm and experiences to encourage and inspire young people to achieve more and progress further in science, technology, engineering and mathematics". She's a technical mentor with the IRSE. The Institute of Engineering and Technology have launched an awareness campaign, #9PercentIsNotEnough – only 9% of the engineering workforce in the United Kingdom is currently female. This campaign, along with International Women in Engineering Day, is one Emma cares deeply about and wants to highlight.
When I started my interview with Emma, I initially envisaged a piece that addressed more of the background of what prevents girls and women from choosing STEM subjects at school and STEM careers later in life and what additional obstacles they face and what makes them leave these fields again (and there's a whole other story on how we should raise and educate the next generation of boys too). But apart from being really rather taken with Emma's story, I am also aware that girls need role models. They need to see women achieving and succeeding in all aspects of life, in particular in fields they might not immediately think of. It's why I have always liked A Mighty Girl, which is "dedicated to raising smart, confident and courageous girls" because sometimes we just need to see examples of how it's done. And if there's a girl out there who hears about Emma's life and thinks "I could do that", then that's a victory.