INPS is a leader in the Transit Industry.
We provide a comprehensive and diverse range of products and services. Kindly explore our diverse product line.

1. Control Panels: Panels are custom manufactured to achieve the best results for each Cab Enclosure. Fire retardant and scratch resistant exterior provides for a clean, new-looking finish. Optional embedded LED backlighting.
2. Anti-Graffiti Film: Keep your windows clean and maintain your professional image by applying 4 layers 2 layer or single layer film. Featuring 3M™ Scotchgard™ Multi-Layer Protective Film 1004.
3. Extruded Products: INPS offers extruded aluminum and various plastic and rubber products. We offer both stock and custom extrusions which meet Fire, Smoke and Toxicity requirements for the Transit Industry.
4. Thermoforming: INPS thermoforms wall panels, window panels, stairwell panels and seat shrouds for train interiors.
5. Braille Signage: Polycarbonate embossed braille signage with 3M adhesive.
6. Station & Platform Signage: INPS offers comprehensive wayfinding solutions for stations and platforms.
7. Advertising Frames: Made from durable aluminum extrusions. Custom sizes, round or square corners and no tooling required.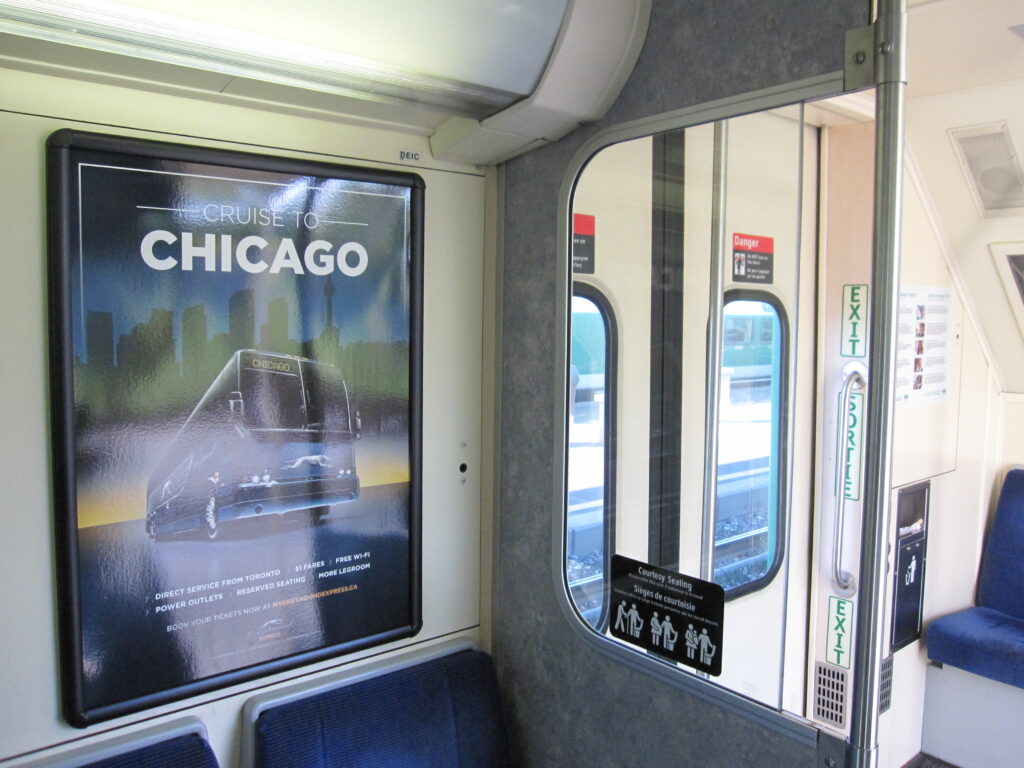 © INPS Group
8. HPPL Signage: Firefly™ High Performance Photoluminescent (HPPL) decals not only comply with the latest industry standards, but have set the bar in HPPL decals.
9. Stairs & Stairway Markings: INPS fabricates fiberglass stairwells and is capable of building custom solutions to suit any railcar. INPS offers Anti-skid/Anti-slip resistant solutions for stair safety and LLEPM solutions.
10. Frangible Panels: INPS manufacturers custom covers for fire extinguishers, first aid kits, emergency tool kits and door access.
11. HPPL LLEPM: Firefly™ Low-Level Exit Path Markings (LLEPM) products are manufactured using the highest quality materials in terms of durability and safety. They are suitable for new or existing rubber, carpet floor coverings and walls.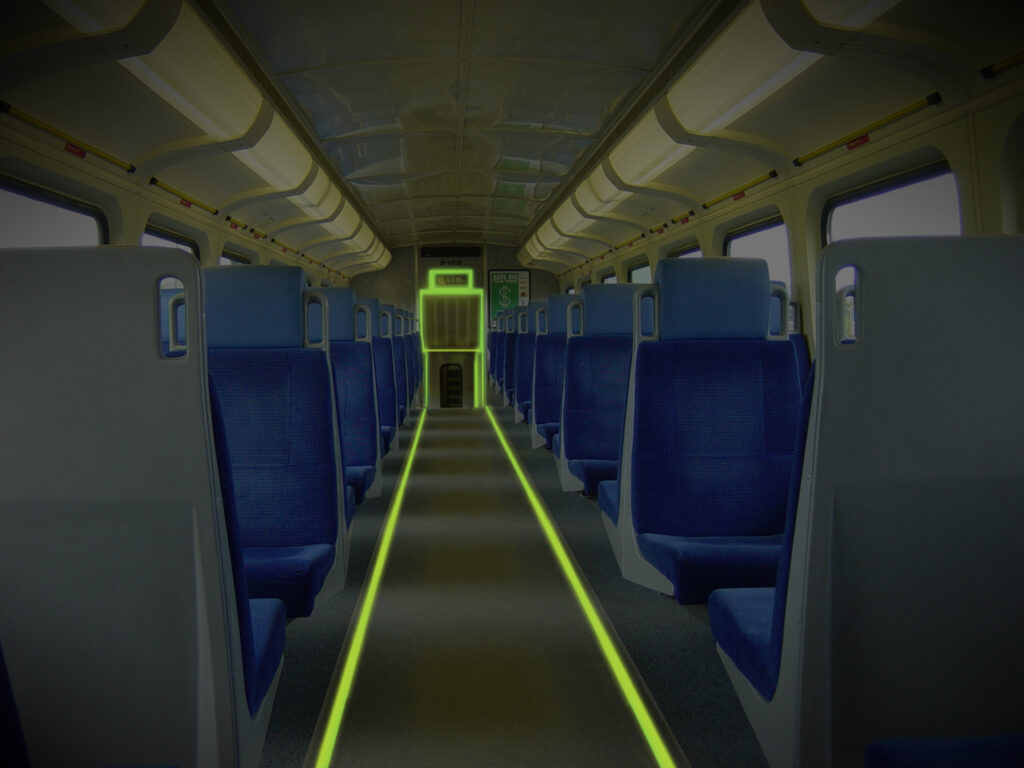 © INPS Group
12. Vehicle Wraps: INPS manufactures high quality, reflective exterior transit graphics; from full vehicle wraps to safety decals and striping. As a 3M Select Platinum Graphics manufacturer and installer, we design, produce and install vehicle decals and wraps for the transit industry.
13. Interior Wraps: INPS uses 3M films to create stunning graphics on interior walls and windows. We use 3M™ DI-NOC™ Architectural Finishes and 3M™ FASARA™ Glass Finishes.
14. FRP: Fiberglass is able to be molded in various complex shapes ideal for interior solutions.
15. Regulatory Decals: We offer a large range of interior graphic components that serve both functional and aesthetic purposes.
Additional Products and Services
Distribution of Locomotive and Transit Parts: INPS Group helps authorities across North America save on parts, reduce sole-source dependence, and develop new solutions.
Air Conditioner (A/C): Each component offers a modular design for ease of installation. The locomotive Orange (A/C) unit has 72VDC power and no inverter.
Auxiliary Power Units (APU): The proprietary Banana APU is designed to reduce excess idling, save fuel, reduce locomotive engine wear and keep your crew comfortable.

© INPS Group
Why Work with INPS?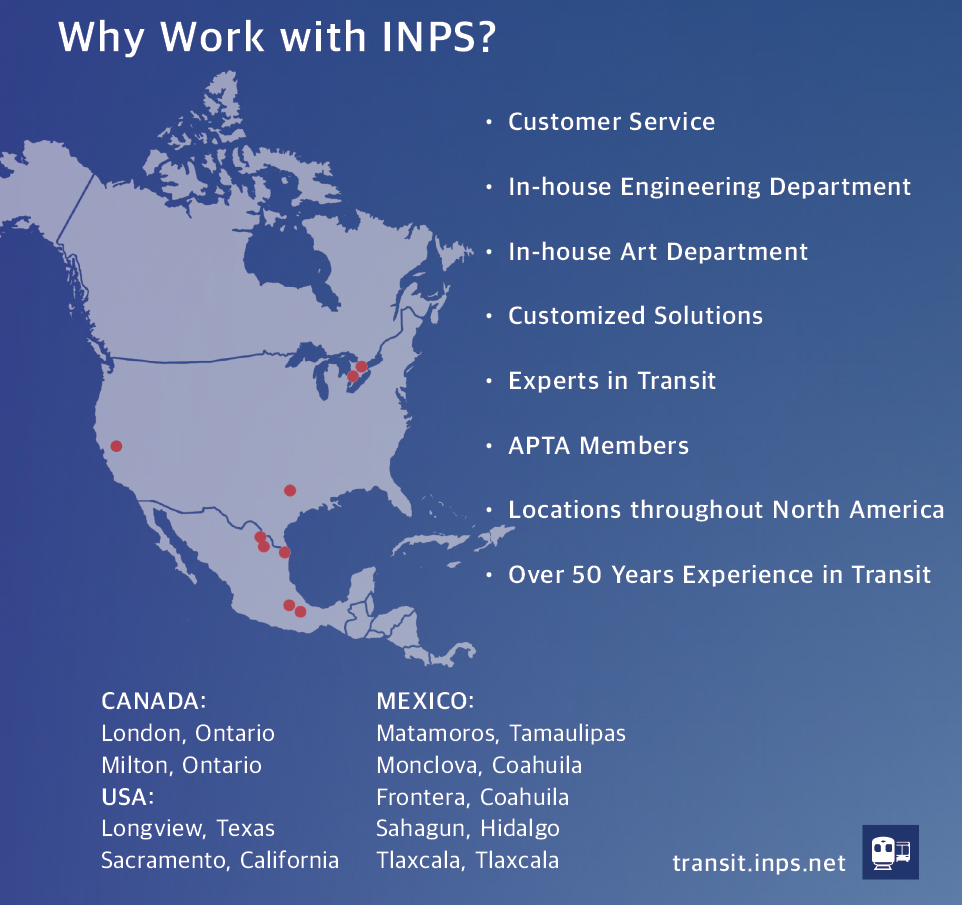 If you're attending the APTA Expo in Orlando, visiting booth #2888 would be a great opportunity to get more detailed information about INPS products and discuss your specific interests with our team.
This article was originally published by INPS Group.