HS2 National Audit Report: "Too Ambitious"
Following the National Audit Office (NAO) report which said that High Speed 2 (HS2) is facing pressures relating to cost and schedule. It notes the good progress with key procurements. The UK's Department for Transport has asked HS2 to reconsider the programme schedule in order to move confidence for delivery from 60% to 80% without increasing costs.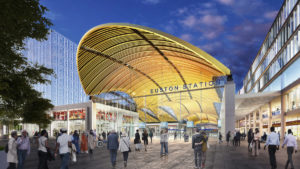 The report is not the first to label HS2's timetable and cost schedule as ambitious. For this report alone, three formal review points had to be delayed by teen months in order for HS2 to meet them. It took until May 2016 for HS2 to reach a point it should have been, had it adhered to its own schedule, in July 2015. Already in the preliminary stages, the project is well behind schedule.
Phase 1 of the project, from London to Birmingham, is projected to cost £27,384 million, which is more than £204 million more than the available funding. The issues with funding just Phase 1 of the funding call the cost-benefit ratio into question, and that taking into consideration the wider economic benefits, the benefit-cost ratio will fall from 1.7 to around 1.5. The report advises that HS2 look into options to reduce costs.
Phase 2 of the project, from Birmingham to the north of England, is already estimated to exceed available funding by £7 billion. Department of Transport works have identified £9 billion of potential savings, £2 billion of which have been secured. However, this Phase is still very much in the planning stages.
Recommendations in the report are also that HS2 builds up its organisational capacity and produce more detailed plans for the coming stages, as well as to obtain delegated authority so that the programme can be delivered efficiently.
Amyas Morse, head of the National Audit Office, said:
"HS2 is a large, complex and ambitious programme which is facing cost and time pressures. The unrealistic timetable set for HS2 Ltd by the Department means they are not as ready to deliver as they hoped to be at this point. The Department now needs to get the project working to a timescale that is achievable."
All of this does not take into account, however, the looming financial recession in the UK, the loss of EU funding from the project (which as recently as last week received funding from the Connecting Europe Fund), and what the economic reality for the UK is in the coming months and years.
David Higgins, on the BBC's Today Programme on 28 June 2016, said in reference to pausing the project following the Referendum:
"If there has been anything we have learned from the Referendum, it's not to take the midlands and the north for granted. For generations we have under-invested in transport in the north, we know there's a north-south divide. HS2 is all about balancing the economy. It's providing jobs. It's not only making the north better connected, it's the connections within the north and the major cities."