The insulation monitoring device, type ISOLGUARD HIG99, is designed for monitoring the insulation status of single-phase, multiphase and direct ungrounded IT power supply systems.
The Insulation Monitoring Device HIG99 is also able to monitor combined IT power supply systems, type AC/DC according to standard IEC 61557-8. The device is mainly designed for use on rail vehicles and industrial systems containing rectifiers, inverters and frequency converters.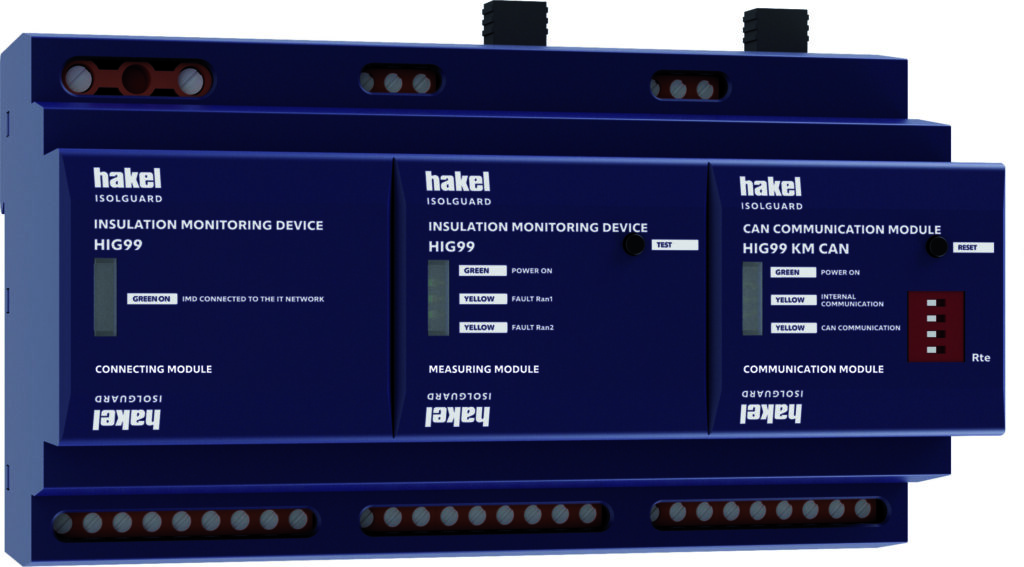 Maximum operating voltage of monitored IT power supply system is 1000 V DC / 710 V AC. The device is directly connected to the monitored IT power supply system, no additional inductor is needed.
This device is also equipped with a blocking function thanks to which it is possible to disconnect HIG99 from the monitored system.
HIG99 monitors two insulation status's critical levels, it is equipped with signalling diodes for local status of the device and IT power supply system signalization. Local signalization is complemented by a pair of switching relays for IT power supply fault status signalization. It is possible to realize remote signalization using communication module type HIG99 KM by CAN interface with CAN OPEN protocol.
Using the CAN communication module, numerical information on the status and value of the insulation resistance can be read, the device's settings can be checked and changed or test cycles can be performed.
Please contact HAKEL for more information.