Gotthard Base Tunnel Opening Ceremony
The world's longest and deepest rail tunnel, the Gotthard Base Tunnel, opened in a spectacular ceremony on 1 June 2016. Attended by guests of honour, the ceremony befitted "the grand scale of the project [presenting] Swiss values such as innovation, precision and reliability to the world," according to the Gottardo2016 website. It was attended by German Chancellor Angela Merkel, French President François Hollande and Italian Prime Minister Matteo Renzi, who also were among the first passengers to pass through the tunnel.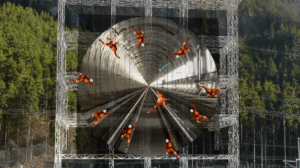 Gotthard Base Tunnel: Facts & Figures
The Gotthard Base Tunnel is a marvel of engineering; 17 years in construction, it is 57km long and 2.3km below the mountain peak, moving through 73 different kinds of rock. The construction required shifting 28 million tons of rubble. It will cut journey times between Zurich and Milan to only 2 hours and 40 minutes. The journey through the tunnel takes just 17 minutes on a passenger train. 65 passenger trains and 265 freight trains will use it every day. It is expected that the shift to rail for freight will remove 600,000 trucks from the roads every year.
The Opening Ceremony
The ceremony included artistic presentations by 600 actors, dancers, acrobats and musicians at the tunnel portals. The works on the themes of the myths of the Gotthard massif, modernity and North-South reconciliation included musical works, dance and visual arts led by theatre director Volker Hesse.
The ceremony also featured milk floats driving in procession, a topless woman with wings hovering over actors representing the nine construction workers that were killed whilst building the tunnel, a man dressed as a goat, impressive acrobatics and dancers dressed as construction workers.
The tunnel was opened by Swiss President Johann Schneider-Ammann, who said:
"Today is a historic day for our country: We have completed the Gotthard Base Tunnel, an epic feat of engineering, a project that has involved generations, from the first sketches, to the planning and construction of the tunnel. I feel extremely proud, but also quite humble… Epic achievements are still possible in Switzerland and Europe."