Go-Ahead's First Flirt 3 Trains for Baden-Württemberg Take Shape
Preparations are underway to get Go-Ahead Baden-Württemberg's first Flirt 3 trains, built by Stadler, ready to hit the track.
As part of the process of launching operations, the final steps will be carried out to get the fully-assembled rail vehicle ready for service. This involves such steps as the loading of software and the checking of all technical elements. From the emergency brake function to sanitary facilities, all relevant aspects will be thoroughly tested, fine-tuned and optimised.
The first trains for service on subnets 2 and 3 of the Stuttgart Network in Baden-Württemberg will then be ready for operations.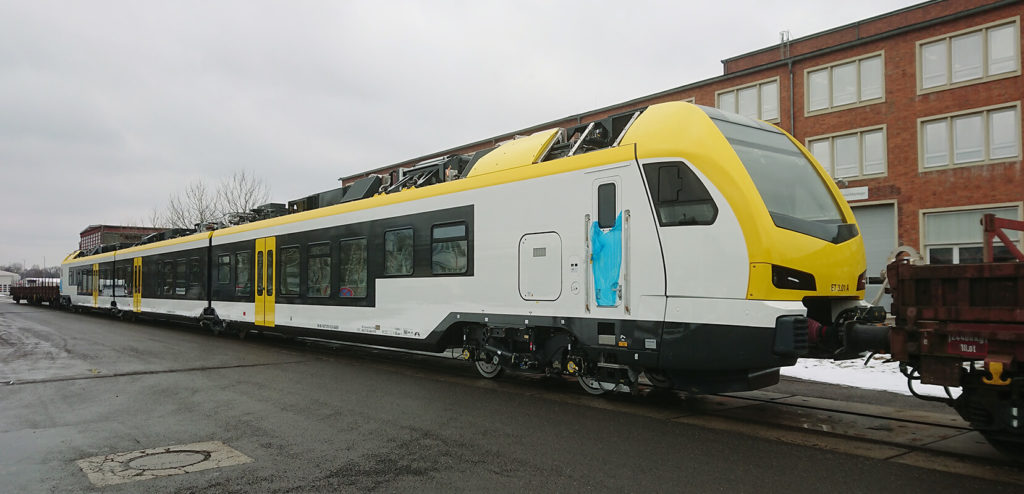 Dr. Peter Raue, Technical Managing Director of Go-Ahead Baden-Württemberg GmbH, said:
We are delighted that together with our partner, Stadler, we are making such good progress with vehicle construction. Passengers in Baden-Württemberg can look forward to new, completely modern and comfortable trains as of July 2019.
About Stadler
Stadler has been manufacturing trains for 75 years. The supplier of rolling stock manufacturing solutions is based in Bussnang in eastern Switzerland. Over 7000 employees work at numerous locations in Switzerland, Germany, Spain, Poland, Hungary, the Czech Republic, Italy, Austria, the Netherlands, Belarus, Algeria, and the USA. Stadler offers a comprehensive product range in the field of main-line and city rail traffic – high-speed trains, intercity trains, regional and suburban railways, underground railways, tram-trains and trams. Stadler also produces mainline locomotives, switchers and railway carriages. Europe's strongest diesel-electric locomotive is among them. As before, Stadler is the world-leading producer of rack railway rolling stock.
Original press release credit: Go-Ahead 
FOR ALL THE LATEST INFORMATION, NEWS, IMAGES, VIDEOS AND ARTICLES ON ALL ASPECTS OF ROLLING STOCK, PLEASE CLICK HERE.