Stadler to Acquire Swedish Train Modernisation Business
Stadler is taking over the Knorr-Bremse subsidiary Swedtrac, which specialises in train modernisation. The acquisition of Swedtrac will enable Stadler to strengthen its presence in the Nordic countries.
The strong sales and service market in Sweden will also be consolidated thanks to this additional site. Stadler is taking on 106 Swedtrac employees, to whom it wishes to extend a warm welcome.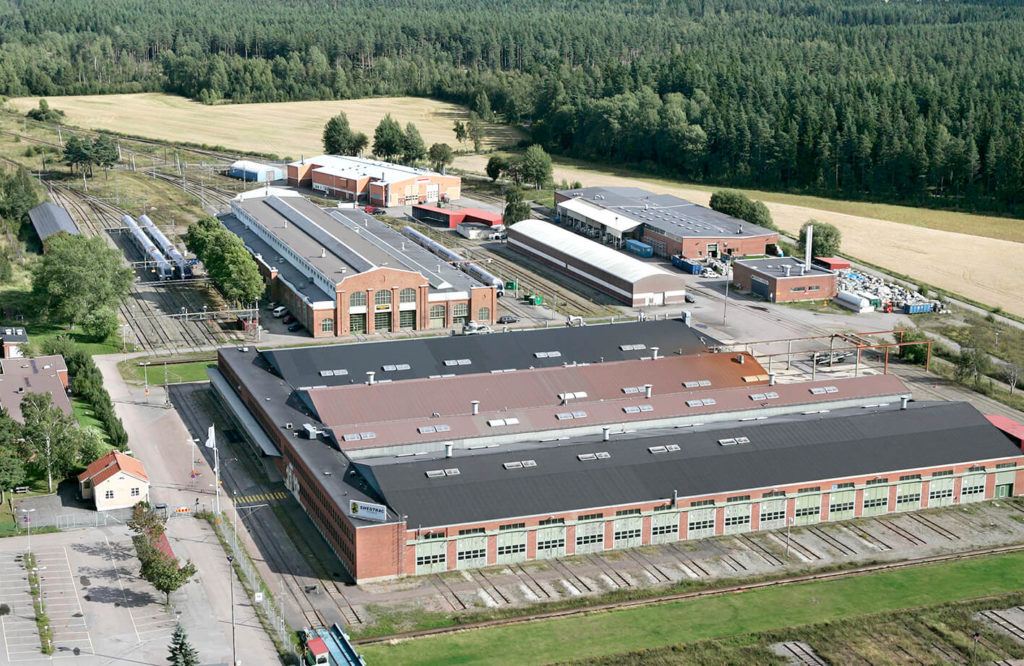 Train Modernisation and Maintenance
When Swedtrac joins the Stadler group in the first quarter of 2018, Stadler will be acquiring a company specialised in train modernisation and maintenance. Swedtrac is mainly working on two major contracts at present, "OTU Refurbishment" and "X2000 Comfort Upgrade". The "OTU Refurbishment" contract involves replacing and refitting the interior and exterior of 111 trains for the Swedish customers Skånetrafiken, Hallandstrafiken, Transitio and the Danish DSB by August 2021. From June 2018 onwards, a comfort upgrade will be carried out on the X2000, which is the flagship train operated by Swedish state railways SJ. Swedtrac, which is headquartered in Tillberga just North of Västerås, became part of Knorr-Bremse in 2013. Knorr-Bremse is the world's leading manufacturer of braking systems for rail and commercial vehicles.
Expansion of Stadler's Presence in Sweden
Over the past few years, Stadler has expanded considerably in the Nordic countries, and intends to pursue its development in the region. Stadler has secured various contracts in Scandinavia in recent years:
In Sweden it landed with MTR Express contracts for customized FLIRT trains as well as full service, and was tasked with the implementation and integration of a technical upgrade of the Swedish high-speed train, the SJ X2000, as part of a project headed by ABB.
In Norway, Stadler received orders for FLIRT trains from the NSB/Norske Tog, and for trams from Bybanen in Bergen. It has also signed two full-service contracts: one with Bybanen in Bergen and one with Gjövikbanen in Oslo.
In Denmark, Stadler won a full-service contract for trams in Aarhus.
The vehicle base of 81 Stadler manufactured trains and trams in Scandinavia in 2013 will have risen to a total of over 300 vehicles by the year 2020. This represents growth of almost 400 percent. Currently, around 30% of all Stadler trains on this market are maintained by Stadler Service.
The potential of the Nordic market has by no means been fully exploited. Stadler has identified further growth opportunities and is preparing accordingly. In the long term, it intends to transform the Tillberga site, which is approximately 100 kilometres from Stockholm, into a major Stadler Service center of expertise for Sweden.
Jürg Gygax, Executive Vice President of Stadler Service AG, stresses the importance of Swedtrac for Stadler:
"We are proud to be expanding our modernization activities of existing vehicle fleets with this takeover. This is the perfect way to incorporate our know-how about a wide model range of complete trains and to ensure even greater customer proximity. We are looking forward to be working with the Swedtrac specialists and wish to extend to them a warm welcome."
Original article © Stadler.
FOR ALL THE LATEST INFORMATION, NEWS, IMAGES, VIDEOS AND ARTICLES ON ALL ASPECTS OF TRAIN OVERHAUL/MAINTENANCE, PLEASE CLICK HERE.