Global Railway Sector to Meet at Eurasia Rail
Eurasia Rail – which hosted 200 companies and 11,949 visitors from 25 countries last year – will again host the leading names of the global railway sector in Izmir, between 10-12 April 2019.
The latest innovations, developments, technologies and investments in the sector will be discussed in simultaneous conferences at Eurasia Rail, which is "the only railway exhibition in Eurasia region and one of the three biggest railway exhibitions in the world".
Leading companies of the sector such as Siemens, Alstom, Yapıray, Ministry of Transport, Turkish Railways (TCDD) and its subsidiaries, Bozankaya, Bombardier, Knorr Bremse, Metro Istanbul, Metro Izmir, Caf, Kardemir and Aselsan will participate in Eurasia Rail, which will have significant exhibitors from countries including Germany, France, Czech Republic, China, Italy and Russia.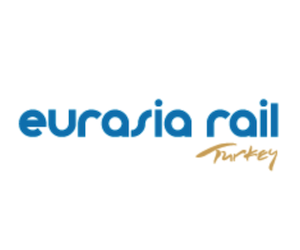 Eurasia Rail 2019
Eurasia Rail – 8th International Rolling Stock, Infrastructure & Logistics Exhibition, which is organized by EUF – E International Trade Fairs, one of the group companies of ITE Turkey which organizes leading exhibitions in leading sectors of Turkey, will open its doors between 10 – 12 April 2019 at fuarizmir in Gaziemir, Izmir.
The exhibition which will be held in an area of around 14,000 m2, is supported by Republic of Turkey Ministry of Transport and Infrastructure, Republic of Turkey State Railways, The Union of Chambers and Commodity Exchanges of Turkey (TOBB), KOSGEB and Republic of Turkey Ministry of Trade.
The Eurasia Rail, which attracts great attention from local and foreign sector professionals, will contribute to creating new business and cooperation opportunities while the latest innovations, developments, technologies and sector investments will be brought to agenda with the conferences.
ITE Turkey Transport & Logistics Group Director Semi Benbanaste:
"Thanks to their fast, economical, environment-friendly, safe and modern nature, rail systems become more and more important throughout the world. While the investments of especially European countries continue in order to increase modernization and transport capacity of railways, our country also set great targets and investment plans in this direction. Within this scope, Turkey has set the goal to reach 25,000 km of total railway length. High-speed train investments have great importance in achieving this goal and we are aiming to connect 42 cities, where 77 percent of the country's population lives, with high-speed railways until 2023. We are planning to build 3,500 km of hyper-speed railways, 8,500 km high-speed railways. In addition to that, we are planning to reach a total of 25,000 km railway length in 2023 by building 13,000 km of new railways and 1,000 km conventional railways. On the other hand, there are also targets of renewing 4,400 km of railway, completing the renewal of all lines, increasing the railway conveyance rate to 10% for passengers and 15% for freight. We aim to support the sector in reaching these valuable targets with Eurasia Rail, in which we have brought together the leading sector representatives of the world since 2011."
Pointing out that Eurasia Rail is the only railway exhibition in Eurasia region and one of the three biggest railway exhibitions in the world, Benbanaste gave information about the exhibition to be held in April. Benbanaste added:
"Eurasia Rail, which helps professional visitors to meet the top producers of the sector and gives them the chance to closely follow innovations, is preparing to become a very productive platform for railway sector as it does every year. There will be important participants from countries such as Germany, France, Czech Republic, China, Italy and Russia. In fact, France Office of the Commercial Counsellor has announced that it will support only Eurasia Rail in Turkey in 2019, which is a very important decision. In addition to these important developments, leading companies such as Siemens, Alstom, Yapıray, Ministry of Transport, Turkish Railways (TCDD) and its subsidiaries, Bozankaya, Bombardier, Knorr Bremse, Metro Istanbul, Metro Izmir, Caf, Kardemir and Aselsan have approved their participation. While it is planned that the bilateral negotiations to be held within Eurasia Rail which we will be organized for the 8th time in Izmir on 10-12 April 2019 will make a major contribution to the railway sector and national economy, we will also talk about the latest innovations and technologies in the sector with our comprehensive activity program."