Germany experienced extreme weather in July that caused significant damage to the rail infrastructure in two of Germany's federal states.
Now, four months after the floods, parts of the Ahr Valley have been reconnected to the rail network. The first section of the badly damaged Ahr Valley Railway has become operational again today. Trains are now running twice per hour per direction between Remagen and Ahrweiler. The sheer volume of water caused large sections of the track, which is more than 110 years old, to be washed away. In Heimersheim the water washed away the whole platform, destroyed the railway embankment over 1.5km and ripped more than 1.2km of tracks from their setting. In order to repair the track, several tons of rubble had to be removed. After that, the experts from Deutsche Bahn and contractors rebuilt the tracks, embankment and additional infrastructure.
"Trains have returned to the Ahr Valley – bringing back another bit of normalcy for the people in the region. It was a major effort to repair the damage. Our employees, together with the experts from the construction companies, worked tirelessly to repair and rebuild the damaged rail infrastructure. Thanks to this commitment and the excellent collaboration we were able to complete the works four weeks sooner than originally planned. I'm very grateful to all those involved for this. We want to make good progress on the remaining routes as well: people should be able to take the train again as soon as possible in all the areas affected by the flooding."
In order to fix the route between Remagen and Ahrweiler, Deutsche Bahn had to lay 4,200 tons of gravel and 7,800 tons of ballast. Five kilometres of cables, one kilometre of track, 1,500 new sleepers and two new railway crossings needed to be replaced. Currently trains are only running on one of the tracks – the repair of the second track will still take some time. There is also currently no stop at Heimersheim.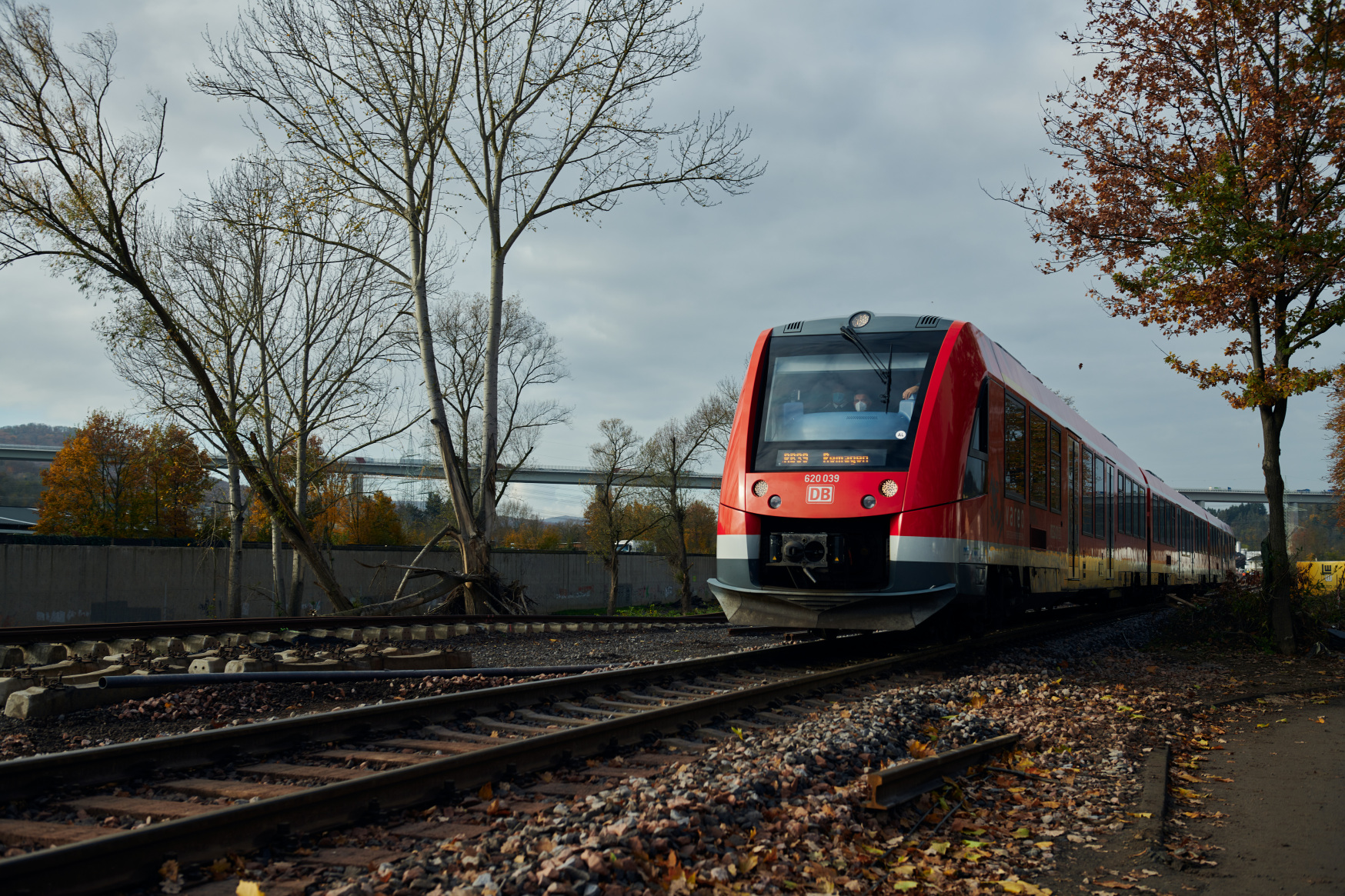 The next section of the Ahr Valley Railway will start carrying passengers again when the new timetable comes into effect on 12 December. At this point there will be passenger traffic between Ahrweiler and Walporzheim again.
The works on the remaining Ahr Valley Railway, between Walporzheim and Ahrbrück, will take substantially longer. The damage here is particularly severe: Deutsche Bahn must replace eight bridges and almost all support structures. It must also lay new tracks. In addition, DB has to repair seven level crossings and the destroyed signal boxes in Dernau and Kreuzberg. The electronic signalling centre for the Ahr Valley Railway, which is under construction, is being redesigned from the ground up.
Alongside this planning has got under way for the complete overhaul of the railway infrastructure and for the potential electrification of the line. Deutsche Bahn says it cannot yet give estimates as to when this line as well as the lines between Euskirchen-Bad Münstereifel and Rheinbach-Euskirchen will open again.